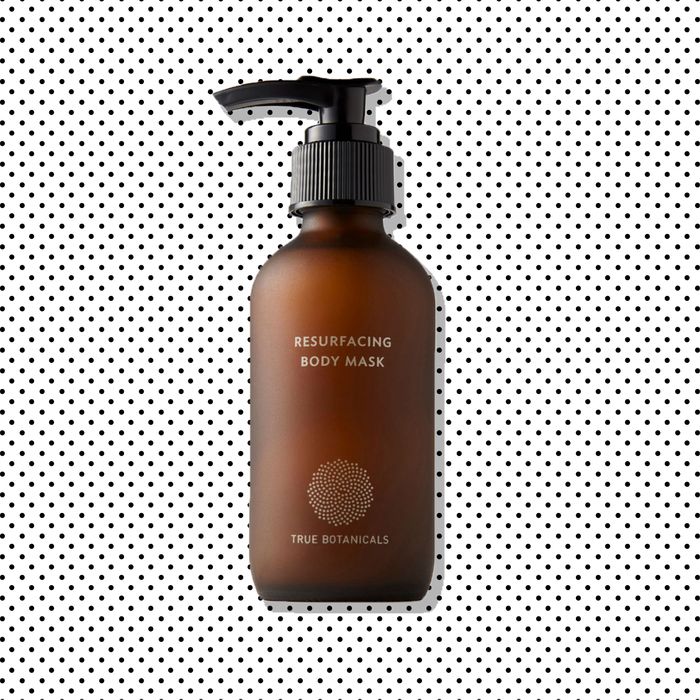 Photo: Courtesy of the Retailer
Back in the day, beauty lore had it that Jennifer Lopez would slather La Mer face moisturizer over every inch of her 5'5" body. At this point, J.Lo has probably moved on to purchasing the $195 body lotion La Mer now offers. But have you ever thought of pulling a J.Lo and dousing your entire body with the internet's favorite face serum, Sunday Riley's Good Genes, or an equivalent? Welcome to the True Botanical's Resurfacing Body Mask.
Much like Good Genes, it's a gentle lactic acid product for skin — but for the skin on your body, not your face. It works pretty much the same way Good Genes works, by gently exfoliating dead skin to reveal brighter, softer skin underneath. It smells, well, not great, a little metallic. And it feels a tad sticky, although not unbearably so. Unlike a face serum, you leave it in for 5–15 minutes to dry and then wash it off in the shower. And then you get glowy, super-soft body skin.
Good-bye, dry brushing. Good-bye to all the hard work of actually physically sloughing of dead skin. Good-bye to drenching myself in sticky body lotion after. My legs were so soft after using this that they felt freshly shaved. The mask even gently removed some old, grungy, brown self tanner that I had been patiently waiting to fade, and made my Achilles heel as smooth as Carrara marble.
You'll need to use it a few times to really get your skin to glow. But I look forward to having polished, dewy kneecaps very soon.