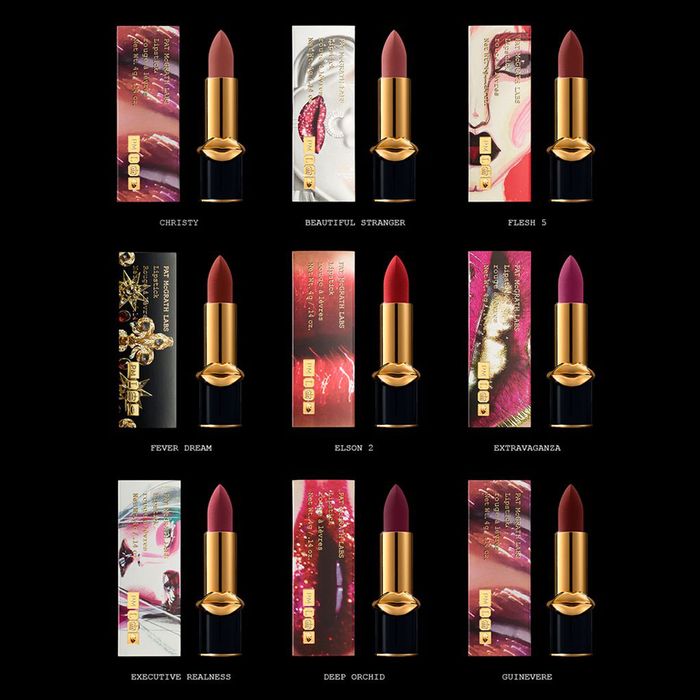 Photo: Courtesy of the Retailer
I don't share Pat McGrath lipsticks. Not with anyone — not even my own mother. "They're amazing!" I tell everyone, while hoping no one asks me for a sample. But when the mother of makeup herself sent me all ten of her new shades of Matte Trance lipstick, I knew I couldn't keep them all to myself. That would have been as sick and selfish as eating an entire birthday cake by myself in an air-conditioned room.
So I semi-reluctantly handed the luxurious, very matte lipsticks out to my New York Magazine co-workers and asked them to write about their experiences. Read on for pictures of the shades and their thoughts on what I've been calling one of the greatest lipsticks of our time.
Stella Bugbee, Editor-in-Chief
Next to my desk I have several brands of matte lipstick in imperceptibly different shades of red. I have to admit, they all seem pretty much the same to me: Pretty, but dry and chalky. Some are so dry they make my lips feel like the Badlands of South Dakota. But they look so nice on other people that I always think I should wear them too.
Pat McGrath's latest matte lipsticks are no exception, and yet there is one important difference between hers and some of the torturous others which I use interchangeably. When I wear Forbidden Love, I actually get compliments. When I wear the others, no one says a word.
Why, I wondered is this the case? I have a few theories:
1. This lipstick has more pigment, or perhaps a more pure pigment than my other matte reds.
2. I am actually bothering to use my finger to tap it into my lips (and their many parched creases), so it looks less like a coating and more like a stain. I only use my finger because Kathleen Hou, our beauty director, tells me that Pat insists on it. It's a good technique, even if it's messy.
3. Pat McGrath is the genius everybody says she is, and has made a product that is somehow subtly better than the competition.
Erica Smith, Beauty Writer
With lip color (Deep Orchid), I'm either all in or completely out. If I'm going to take the time to apply something, it better have a good color payoff and stay on until it's time to scrub it off. This one in particular was great.
I applied it with my finger and was honestly shocked by how easily the color transferred. With this method I could customize the finish, building the color from more of a statement stain to full-on statement lip. I wore this out to dinner and drinks and the best part was that I continually forgot that I had lipstick on in the first place. It was so light and smooth, I could barely feel it. This product also gets bonus points for not chapping my lips, and for staying on my lips instead of my teeth.
Emily Sundberg, Instagram Editor
My lip products of choice are moisturizing balms, hydrating glosses, and SPF chapsticks. I'm realizing this may be the first time I've tried a matte lipstick.
As a first time matte user, I didn't initially love the velvety texture of this lipstick (I'm wearing the shade Fever Dream). But combined with lip balm and some gloss, I loved it! It lasted for a few hours (around five), before I thought about reapplying.
Alexia Lafata, SEO Editor
I go through phases with lipstick. Sometimes I don't feel like my outfit is complete without it, and other times it makes me feel like I'm trying too hard to look put-together. Lately I've been in the latter camp, so I haven't been wearing any lipstick at all. But this may have convinced me go back, because it is very, very good.
I'm wearing the Christy shade. It's a little more pink than I would normally go for, but it still looks really nice. While wearing this, I stuffed my face with chips and licked my lips repeatedly to get the salty crumbs off, and this lipstick barely budged. It didn't dry out my lips or seep into fine lines. Yet despite its staying power, all I needed to take it off later was a tissue and some water. When I do wear lipstick, I normally reach for the NARS satin lipstick in Rosecliff, but I would definitely consider swapping it for this one.
Tara Abell, Vulture News Editor
The color I tried, Guinevere, was so, so pretty. The shade is a deep red with a brown undertone. But honestly, this lipstick wasn't for me. In the first application, it came on very strong and dark and I was not prepared for that. Since the formula is so long-lasting, I had to be incredibly precise with the application and that's a little too much work for me. I also found it incredibly drying. While the color is beautiful, I felt a little silly wearing it in the middle of the day in August. It would pair much better with a cream turtleneck and a snowstorm.
Izzy Grinspan, Senior Editor
Kathleen does not lie: Pat McGrath's Lust Matte Trance lipstick is pretty great. I've been wearing it in a "my lips but better" shade called Beautiful Stranger. It's matte without looking too fake, pleasantly creamy, and highly pigmented, almost like an oil pastel — the kind of lipstick you could use to scrawl a truly devastating message onto a mirror (if that's a thing you're into).
I do think it's a little drying, as all matte lipsticks are. But more than once recently, I've put it on, forgotten all about it, then caught a glimpse of myself in the mirror and thought, "Damn, why do I look so good today?" And if that's not an endorsement, I don't know what is.
Gazelle Emami, Vulture Deputy Editor
Boy, was I surprised to find how comfortable I felt wearing this lipstick. The best thing about it is the texture: It's incredibly lightweight and glides on smoother than any lipstick I've ever tried. After I applied it, I forgot I even had it on.
That's partly because it wasn't super long-lasting. To be fair, I wore it to a wedding, so it was a challenging test run. Once I started eating, drinking, and dancing — and I started doing all three almost immediately — the color faded pretty quickly. This shade (Flesh 5) was also a tad too bright for my skin tone anyway. I tend to like a color that blends into my lips as the day wears on. This one did the trick — by the end of the night, it had settled into a nice stain.
Kathleen Hou, Beauty Director
Although I claimed to be magnanimous in sharing my lipstick bounty, I still kept two shades for myself. One was a bright magenta-ish shade called Extravaganza. I wore it all afternoon and through a dinner of kimchi stew where it clung to my lips so well that the server even complimented me on my lipstick.
If you buy something through our links, New York may earn an affiliate commission.