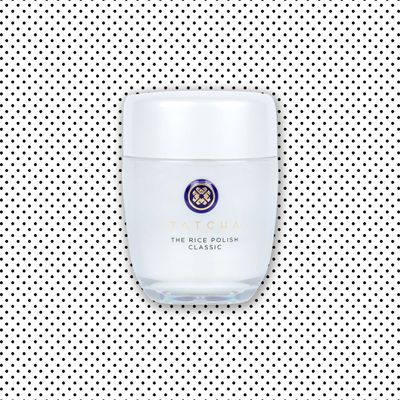 "I really love the Tatcha Rice Enzyme Powder. It just sort of foams on your face and gives you a really subtle exfoliation," a pre-royal Meghan Markle once said. Despite the powder's wide and enthusiastic fan base (it has close to 1,000 five-star reviews at Sephora), last month the brand reformulated the product to make it even better. The new Rice Polish still contains enzymes that gently slough off dead skin, but the powder becomes an even creamier foam once it mixes with water. And it's now pH-neutral, which skin-care obsessives will appreciate since that allegedly makes it less hard on skin.
We asked several Cut staff members tested out the new formulation. Here are their takes on the new and improved exfoliator and whether it works to get softer, glowier skin.
Erica Smith, Beauty Writer
I usually skimp on the whole exfoliating part of my skin-care routine because (a) I forget about it until something goes awry, (b) historically, it hurts, and (c) I'm kind of lazy. But I'm pretty sure this magical powder is going to change all that.
First of all, it's fun: When the water hits the powder in your hands, it turns into the softest foam. You only need half a teaspoon of powder at a time, so this seems like it'll last a while, which is also fun. Secondly, the whole experience is very soothing — it feels more like moisturizing than exfoliating. My skin didn't feel raw or stripped afterward and it's been looking smoother, brighter, and more even ever since. I will happily file this under "cult favorite products that actually lives up to the hype."
Sarah Spellings, Fashion Writer
Like many people, I will try any product that Meghan Markle uses on her now-royal skin. When I heard that she uses this gentle, daily exfoliant, I reacted in the same way that Scooby Doo does when he smells a sandwich — I had to have it. I have combination skin with especially dry cheeks, so I exfoliate at least once a week to keep them somewhat smooth.
With the addition of water, the powder quickly turns into a creamy foam that feels luxurious on the skin. The texture is super light and mousse-like. It left my skin feeling softer (even my cheeks!) and practically squeaky clean. I usually use it at night. But today, I used it in the morning, which turned my face into a nice, even "canvas" for my SPF, BB Cream, and highlighter. It's definitely not as potent as an acid mask, but it's a gentle, everyday solution that now has a permanent place in my skin-care routine.
Kelly Conaboy, Writer-at-Large
Exfoliators tend to scare me with their abrasiveness, so I generally stay away. I was excited to try this one, though, as it allegedly turns into a gentle, non-scary foam with the addition of water, and I wanted to see if it would still irritate my skin and make me want to die. It didn't!
The tiny bit of powder I used — which I was happy to see pours easily from a tiny hole at the top of the container — did turn into a creamy foam that easily covered my entire face. (Though I still felt a little bit of powdery scrubby-ness, but maybe that was due to a mistake I made.) It left my skin feeling and looking very clean, though also a little on the dry side. It says you can use it twice a day but, if I incorporate it into my routine, I'll probably still only use it a couple times a week, because of that little bit of dryness. But I do love the clean feeling.
Daise Bedolla, Social Editor
The same things that drew me to Tatcha's Rice Polish are also the ones that initially made me wary of the product. The powder is so fine that you can barely feel it in your hand, especially when mixed with water — how would it work as an exfoliator? You only have to massage the polish on your face for 15 seconds — how can you accomplish anything in 15 seconds?
It turns out you can do a lot in 15 seconds. My skin was not at all irritated, blotchy, or red after using the product, but it did look glowy and feel smooth. The next morning I woke up to find that my skin looked like it belonged to a person who sleeps 8 hours every night and drinks 64 ounces of water every day. One point for Tatcha, zero points for the actual five hours of sleep I got that night.
Liane Radel, Senior Photo Editor
Using this was absolute heaven. I have super, super, super sensitive skin and wear a very light amount of makeup daily. It's been nearly impossible to find an exfoliant that really cleans but also leaves my face feeling silky.
I use this to start my day because I want to feel refreshed. This felt really gentle and left a great glow. I completely felt like my face tone was brighter, and it left my skin feeling incredibly soft. I also love that the scent is light and it has the perfect amount of creaminess. I would use this as a body exfoliant if they made it. I am addicted!
If you buy something through our links, New York may earn an affiliate commission.