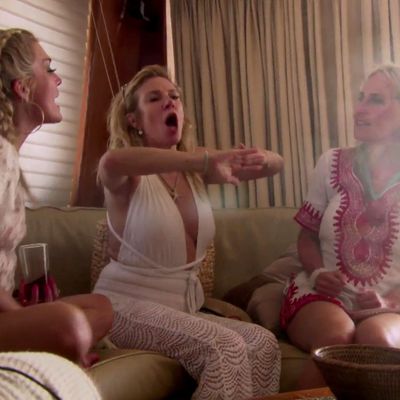 Real Housewives of New York on a boat.
Television as we know it was forever changed on Wednesday night, when an event so horrifying, so shocking, and so suspenseful aired on Bravo's epic Real Housewives of New York: the ladies had a "boat ride from hell" in Colombia.
But first, a little backstory: long before this episode even aired, way back in February, "Page Six" reported on the nightmarish experience these women had to endure. The gossip column said at the time that the cast ended up "awash in vomit and fearing for their lives as their boat caught fire and started sinking." That, my friends, doesn't even do justice to the true extent of the drama from the episode, which you can and absolutely must watch online here.
The sounds of screams, waves, and Ramona and Sonja yelling simply must be heard, but if you don't have time, here is a detailed play-by-play of what transpired on the vessel:
• Having had to flee the private island in Colombia they'd boated to, due to "choppy" seas, the housewives board a yacht.
• The boat is rocking, causing alarm, then Tinsley admits that she'd been on this specific boat before — though she claims the rocking was "normal" — much to the annoyance of Sonja. "That is not normal!" Sonja yells at her. "It is normal!" Tinsley yells back.
• Sonja announces she has peed on a swimsuit in fear, and then throws the swimsuit on Tinsley.
• "This is no fucking joke. This is like taking an airplane with one propeller," Sonja says as she cradles Ramona. "I just peed my pants."
• Bethenny has to take off her hat. "I love my hat too much."
• The women start screaming about having children and dogs.
• "Hello … I can't swim," Ramona proclaims.
• Carole vomits as the boat violently rocks back and forth. In a voice-over, Bethenny says, "Carole's vomiting in a bowl. I'm trying to comfort her, and a table and chairs comes flying at me. I'm losing my mind."
• The women scream and hold each other as the boat starts taking on water. The women smell smoke. A siren starts going off. The camera crew has to stop filming. But, miraculously, everyone survives.
Truly … I have no words. The only thing to say is: