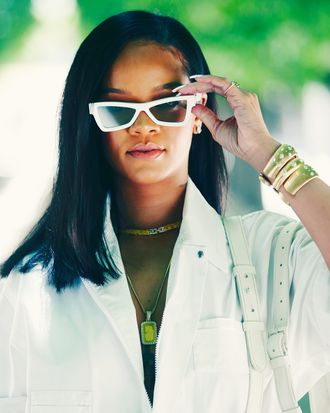 Rihanna.
Photo: Chesnot/WireImage
Rihanna may not be able to unseat Bruce Springsteen as The Boss, but she is an incredibly kind one who uses her insurmountable power for good. To wit: When Rih found out that her makeup artist lost her luggage earlier this week, she helped her side-step a miserable airport bureaucracy and got that shit back herself.
Priscilla Ono, who has been described as "Rihanna's right-hand woman and Fenty Beauty's global make-up artist," was initially following KLM Royal Dutch Airlines's typical misplaced-baggage protocol, but she quickly became frustrated with the long wait times and creeping feeling that the company didn't care, which compelled her to take her grievances to Instagram.
"I have filed a report but I cannot get in touch with anyone," she wrote on an Instagram of a call screenshot. "Today I waited 40min on hold and then the phone hung up. This is so frustrating not to mention so sad. I have tools in there for the past 14 years that are irreplaceable!"
In swooped Rihanna with a "got you sis" comment, before she headed straight to KLM's Instagram to leave them a message.
"Sorry @KLM but my makeup artist @priscillaono traveled with your airline and has yet to receive or hear anything about her missing luggage from your company!" she wrote. "I'm asking because we have a big production starting tomorrow and maybe some help from you would be nice as her work kit went missing on her flight with you! Thank you!"
Just one hour later, the airline responded to Ono's Instagram, assuring her that they had her luggage, and that it would soon be back in her possession. Upon receiving that note, Ono changed her Instagram caption to update the situation and thank Rih: "Still don't know what exactly happened, all I know is as soon you all had my back I got a message saying the bags were on their way. Im so grateful for friends like you!"
While Rihanna may not be The Boss, she's certainly my boss, just as she is my pope.