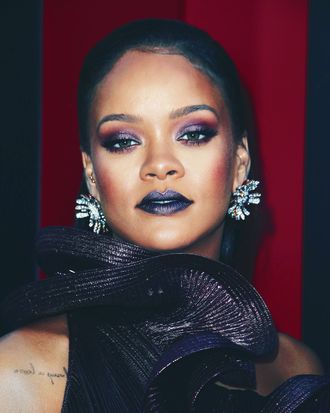 Rihanna.
Photo: Matt Baron/REX/Shutterstock
Like free burgers and Alexander Wang, Rihanna naturally makes New York Fashion Week much more fun. This year, she's also making it sexy. Hold on to your prairie dresses because Rih will close out New York Fashion Week on September 12 with a Savage x Fenty fall 2018 presentation in Brooklyn. Everything shown will be available online immediately.
It starts at 7:30, bumping Marc Jacobs from the finale spot (he shows promptly at 6 p.m.). Rihanna will also notably be bringing the fashion crowd out to Brooklyn — though it hasn't been announced where, specifically — for an "immersive experience."
For those unable to attend or whose invitation got lost in the mail, there will be pop-up shops in New York, Mall of America, and two other (currently unknown) locations this fall.