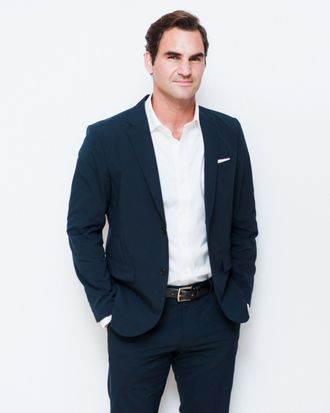 Roger Federer.
Photo: Hagop Kalaidjian/BFA/REX/Shutterstock
Roger Federer recently shook the tennis/fashion world by leaving a sponsorship deal with Nike for a deal with Uniqlo, which was unusual, as Uniqlo is not a performance-driven brand like Nike. Federer revealed details of the sponsorship yesterday, including the very important info that it's AWOK.
"Sometimes I have called her up in the past for advice; I asked her about Uniqlo… she thought it was a great idea and would be a wonderful match-up if it would work out," he said at a press conference. "Sometimes she also likes to know what I'm going to wear…. It's all so I bring cool stuff to tennis, and Anna has been incredibly supportive."
At Wimbeldon, Federer played his first game in Uniqlo gamewear. His contract with Uniqlo lasts for ten years — probably outlasting Federer's time left as a professional tennis player. The immediate focus of the sponsorship will be Federer's performancewear, but after that, anything is possible — including expanding into everydaywear.
"It feels different because it's not just about tennis clothes or a limited-edition situation going on," Federer told the Cut. "I feel like when I do something now with Uniqlo it will be for the masses, which is great. It's something I couldn't do in the past."
Federer is no stranger to the fashion world. In addition to his friendship with Wintour, who has taken him on tours of various design houses through Fashion Week, he has been named GQ's Most Stylish Man of 2016 and sat front row at many a fashion show.
"It used to be a lot of tennis clothes or suits, but in the past five, ten years I've taken a lot more joy in and care about what I wear in between," he explained. "I think that's also why I think I've become more famous in fashion, because I care about what I wear on a daily basis. My style is classic, traditional, but with a twist."
Federer's favorite piece of Uniqlo clothing (as of now)? The socks. For only $4 you can be one step closer to GQ's Most Stylish Man. If you want to go all the way, his deep red gamewear set is now available for pre-order. Following Uniqlo's mantra of simple made better, the polo has a mandarin collar instead of a traditional larger, more preppy one.
Photo: Courtesy of the Retailer
If you buy something through our links, New York may earn an affiliate commission.