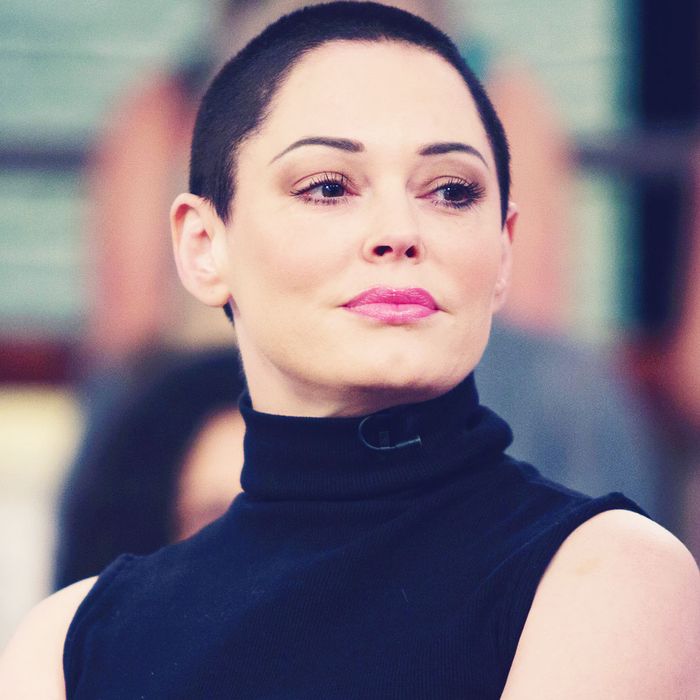 Rose McGowan.
Photo: NBC/Nathan Congleton/NBC
Nearly one year ago, actresses Rose McGowan and Asia Argento became vocal proponents of the #MeToo movement after coming forward to accuse Harvey Weinstein of rape, which in turn led to a bond over their unfortunate commonality. Now, McGowan says that her "heart is broken" upon reading the New York Times story that Argento allegedly paid actor Jimmy Bennett nearly $400,000 after sexually assaulting him in 2013.
In the report, which published Sunday night, Bennett claims that Argento performed oral sex and that they had intercourse five years ago, when he was just 17 years old and she was 37. (The age of consent in California is 18.) The two had gotten to know each other nearly ten years earlier, when Argento played Bennett's mother in the 2004 film The Heart Is Deceitful Above All Things.
On early Monday morning, McGowan vocalized on Twitter that she was brokenhearted over the allegations against Argento; she also asserted her intention to continue advocating for victims of sexual violence.
"I got to know Asia Argento ten months ago," she tweeted. "Our commonality is the shared pain of being assaulted by Harvey Weinstein. My heart is broken. I will continue my work on behalf of victims everywhere," McGowan wrote.
McGowan added that she's being careful not to jump to any conclusions, as Argento has yet to respond to the Times report.
"None of us know the truth of the situation and I'm sure more will be revealed," she tweeted. "Be gentle."