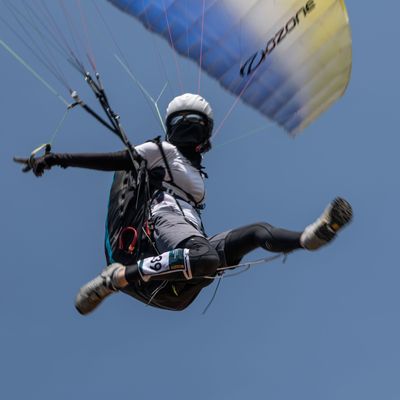 Photo: Fred Dufour/AFP/Getty Images
Paragliding, I've always assumed, is an activity for extremely chill people — the kind who exclusively wear Tevas and have multiple carabiners on them at any given time. But one extremely rude paraglider in the U.K. is proving that wrong, one bout of airborne assholery at a time.
According to The Independent, people in the seaside town of Bexhill-on-Sea say they've been repeatedly terrorized by an "aggressive" paraglider. Here's what a local police spokesperson had to say about it:
"Over the past two years Sussex Police has received reports of the paraglider causing criminal damage, obstructing the highway, being abusive and hostile towards members of the public and generally behaving in an antisocial manner. It has also been alleged he intimidates people by flying low over the seafront."
One man was even brave enough to come forward with his harrowing story:
"He is evil," said Richard Porter. "His language foul and obscene. We fell foul of him on more than one occasion. My wife will no longer go up there in case he is there."
The authorities are now hunting for this dreaded paragliding menace. In the meantime, may you you never fall foul of him.