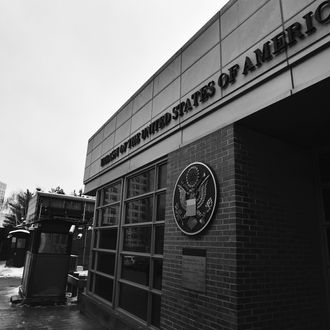 The U.S. Embassy in Moscow, Russia.
Photo: ALEXANDER NEMENOV/AFP/Getty Images
For ten years, a woman who is now believed to be a Russian spy was working inside of the U.S. Embassy in Moscow. CNN reported on Thursday evening that the woman was employed by the U.S. Secret Service, and during a recent security check, it was revealed that she was regularly having unauthorized meetings with FSB, the Russian intelligence agency.
The Guardian reported that an unnamed source within the intelligence community claimed that the U.S. Secret Service was trying to quietly fire the woman to hide any possible security breaches. The woman was reportedly dismissed from her duties last summer, after the unauthorized meetings with FSB agents were discovered in January 2017.
"At no time, in any US Secret Service office, have FSNs [Foreign Service Nationals] been provided or placed in a position to obtain national security information," read a statement released by the Secret Service. The Guardian's report contradicts this claim, with an unnamed source claiming that "she had access to the most damaging database, which is the US Secret Service official mail system."
At this time, the identity and job title of the woman have not been revealed. In the United States, another woman was recently alleged to be a spy for the Russian state. Maria Butina was charged last month with "conspiracy to act as an agent of the Russian Federation." No word yet if this new accused Russian spy also has a Vladimir Putin phone case.