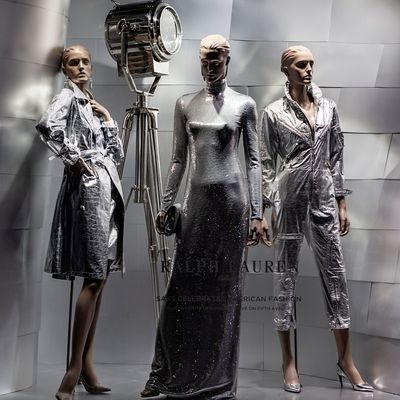 The window display for Ralph Lauren.
Photo: Luis Guillen for Saks
Over the past couple years, many naysayers have predicted the death of New York Fashion Week. But things are looking up! At least, that's how Saks Fifth Avenue sees it. Their windows for the days leading up to Fashion Week commemorate designers who, whether or not they were born here, have chosen New York City as the home of their collections. The windows will be on display until August 30.
It's a clear message: New York Fashion Week is here to stay. NYFW heavyweights like Calvin Klein 205W39NYC, Carolina Herrera, Marc Jacobs, Michael Kors, Oscar de la Renta, and Ralph Lauren take center stage in the windows. Also featured are Alexander Wang, who recently switched up his own fashion-week schedule, and NYFW prodigal sons Proenza Schouler.
Saks chief merchant Tracy Margolies said in a statement, "New York is a fashion capital of the world and we wanted to celebrate the designers and their creativity that brings the city to life … American fashion has been and always will be important to Saks." That sentiment is shared by many of the designers featured. Michael Kors said, "[Saks] is one of those unique destinations that feels very romantic and luxurious in an old-school New York way but at the same time is modern and relevant to the fashion world today. And I think the same could be said about New York Fashion Week."
As for Proenza designers Jack McCollough and Lazaro Hernandez, the windows are a homecoming of sorts. This season will be their first back in New York following two seasons showing in Paris — a departure that, at the time, set off a great Fashion Week panic. They seem pretty happy about their return: "It's a good time to be an American designer as there's an openness to new voices and trying out things in new ways," they said in a statement. "Gone are the rules of the past and new, more modern ones are currently being written which is always an exciting thing."
Cynics may cry that Lady Liberty doth protest too much. But a window display for an iconic New York store is the ideal place to set a positive tone for the season. See more of the display below, or mosey over to Fifth Avenue and East 50th Street to see the windows in person.