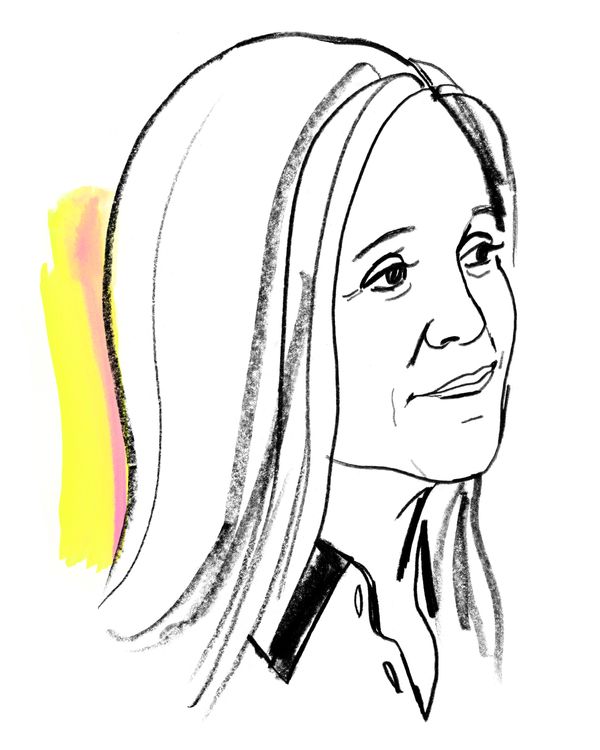 Samantha Bee.
Illustration: Lauren Tamaki
When Samantha Bee launched Full Frontal With Samantha Bee on TBS in February 2016, she became the first female comedian to host a late-night satirical news show — and transformed late-night TV. Bee got her start doing sketch comedy in Toronto, garnered notoriety for her work on The Daily Show, and now her much-beloved TBS show (which airs on Wednesdays) is nominated for seven Emmys. The 48-year-old Canadian lives on the Upper West Side of Manhattan with her husband, comedian Jason Jones, and three kids. Here's how she gets it done.
On a typical morning:
During the school year, I wake up way too early, around 5:30 a.m., and I read the news on my phone in bed, which is a bad habit because it's making me blind. Then I get up around 6 a.m. and make my own breakfast first. I consider it like being in an airplane and putting your own oxygen mask on first, so that you can do right by others. I always have eggs, so sometimes I'll make a vegetable frittata. Sometimes I make a burrito with spicy salsa. Lately I've been favoring scrambled eggs with sliced tomatoes and lots of salt and pepper and hot sauce. Delicious. And always, always, always coffee and a big glass of water and probably an iron pill. Then, I make the kids' breakfasts and lunches, and I wake them up around 7 a.m. My husband sometimes travels for his show, but if he's in town, he then drops the kids off at school. This entire routine is starting up again in September and I don't know how I'm going to do it.
On exercising:
I usually go to SoulCycle in the mornings. It's a total surrender to a process that I'm mostly terrible at — but I really like it because it's too loud and intense for me to reflect on my own life.
On packing her lunch:
I like to bring my own lunch to work. I am a creature of habit; I'm thrilled by the predictability of a really hearty lunch. I make a very delicious chili. I also do a nice kale and rice combo — and always with chocolates at the end. Usually dark-chocolate peanut-butter cups. With doing a show like this, it's all about having systems in place so that you know how much energy you have for the entire rest of the day.
On making an episode of Full Frontal:
The most topical part of the show starts to solidify on Monday, when we all meet to discuss about what stories we think will have enough meat on the bone for us to talk about when we tape the show on Wednesday. We do that knowing full well that the news could entirely shift and we could have to throw it all away. Tuesday is when everything really gets refined. Wednesday is a long process of getting the show in place. We make changes, rehearse, do rewrites, adjust graphics. Then we try to tape the show around 6 p.m. The other executive producers then edit the show and deliver it to the network around 9 p.m.
Her nighttime routine:
If it's a show night, I literally hop in a car after filming and go right home. My kids are usually doing homework by then, and I get to eat with them. Hopefully my husband made dinner — otherwise, it's crackers and hummus for all of us. I normally go to bed early (around 9 or 9:30 p.m.) but on a show night I stay up as late as midnight. I have a hard time going to sleep on show nights.
On jet lag:
Usually if I have to go to California, I'm only there for two or three days tops, or I'll try to turn it around in 24 hours: fly out first thing, take the red-eye home. I do try to stay on New York time as much as possible. I'm in Vancouver right now actually — we're filming The Detour here — and I'm still keeping to my New York time. I woke up at 2 a.m. today. In the middle of the night, I was really hungry and ready to make breakfast.
On getting started in comedy:
I did sketch comedy for a long time in Toronto with an all-female sketch group called Atomic Fireballs — one of the members of the Fireballs is a correspondent and producer on Full Frontal, Allana Harkin, so we still work together. But it was a great time. There's not as much career movement possible in Canada, so we mostly just did sketch because we loved writing and performing together. It's a different experience when you're just doing it out of love versus when you have goals in the horizon.
We performed in bars and small theaters, and we made posters for the shows that we would staple to hydro poles and wooden fences. A lot of the things that we put in place during those years really led to where I am now. I still have the sketch mentality, where everybody takes a Rubbermaid tub from the back of the car that's full of wigs and gets it into the bar so we can do the show. That will probably never leave.
On Twitter:
Twitter teaches me a lot, but it's also a dark abyss in a lot of ways. If you turn your notifications off, you can have an almost correct experience of it. That is the secret to happiness on Twitter.
On emails:
My inbox is a nightmare. I am such a horrible emailer, and I take responsibility for that, but I can tell you that my inbox has 38,000 emails in it — and I will never clear it out.
On hobbies:
The closest thing I have to a hobby is a straight-up obsession with what I'm eating. I love to shop for food, I love to cook, I'm constantly thinking about cooking or what I'm going to make, and if I'm relaxing, I'm just reading about where to eat, what to eat, and kitchen science. I tried to learn how to make croissants last summer. They were not good — they weren't terrible, but I could tell from the dough that they weren't my perfect croissant. So I'm going to try a new recipe this summer, and I'm going to nail it.
On TV:
I don't watch a ton of TV, but I definitely will binge stuff. I just finished Killing Eve. I also love the Great British Bake Off. I've learned a lot from it, like how yeast works. I really love watching dough rise and the different rises you get through the techniques. I feel like my future life will be very much about baking bread, so I really like watching the successes and failures of yeast on television.
On being one of the only women in late night:
Everyone's working so hard in their own bubbles, so it's not like we all get together and have a dinner party to commiserate (though we totally should have a party at some point). But I'm just excited by new voices. I'm excited by Michelle Wolf; I'm sad that The Rundown is done. I recall pitching a topical show years ago for myself, and the feedback that I got from that was, Why would we want another show like that? We already have Jon Stewart. It really felt to people that there was only one voice needed in that landscape. I hope that we have proven that to be false. You don't know what voice is needed until you hear it, so there's a lot of room to grow.
On adjusting to having her own show:
The big difference for me was really managing a large staff of people. You don't get into comedy so you can manage a workplace, so I really came to it with an open heart and probably a lot of bad ideas. Being responsible for people has been the biggest learning curve, for sure. In some ways I have succeeded, and in some ways I have failed, but I'm always trying to do right by everybody. Also, as the end stop for whatever editorial choice you make, there's really just no one else to blame for your successes or failures. Grappling with that extra responsibility has been very challenging — it's mostly a joyful challenge, but sometimes in the past, it has been overwhelming.
This interview has been edited and condensed.