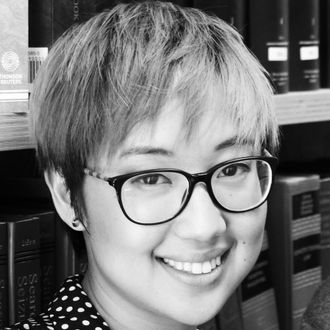 Sarah Jeong.
Photo: www.sarahjeong.net
When the Verge's editor-in-chief Nilay Patel saw the mounting right-wing backlash to the New York Times' decision to hire his former employee Sarah Jeong, a talented reporter who was facing bad-faith accusations of tweeting "anti-white" sentiments, he had one impulse: to publish an interim edition of The Internet of Garbage, Jeong's out-of-print book that outlines the very types of online harassment to which she was being subjected.
In early August, after the Times announced that Jeong was joining its editorial board, the conservative right tried to argue that Jeong was not fit for the role because she was racist against white people — an absurd stance that the Times arguably legitimized when it acknowledged the outrage with a response. The Verge, on the other hand, released a condemnatory statement of its own, calling the backlash against its former reporter "dishonest and outrageous." Patel, who says he felt "aghast" that people were falling for the disingenuous attacks, felt that it would be fitting to publish The Internet of Garbage 1.5 with a new preface from Jeong.
"I immediately thought that the last thing we should do with Sarah is publish this book that literally lays out how these tactics work, and how the systems we have to police this kind of behavior don't live up to the task," Patel told the Cut, stressing that people are more than their Twitter feeds. "It is deeply ironic and a little ridiculous that no one is paying attention to the fact that Sarah Jeong is a person who has done this work at the highest of levels, and her body [of work] illuminates what has happened to her."
As an attempt to make the e-book as widely accessible as possible, the Verge announced today that The Internet of Garbage will be available for free as a PDF, on ePub, and as a .mobi eBook file; on the Amazon Kindle store, it costs the minimum allowed price of 99 cents. The Verge also has excerpts from the third chapter, titled "Lessons from Copyright Law," on its website.
What Patel believes was lost in all the noise online was that Jeong is an experienced tech reporter — one he wanted to hire right after he read The Internet of Garbage in 2015, but who had at the time just agreed to join Vice's science and technology site, Motherboard. In conversation with the Cut, Patel recalled a story Jeong had written about sexual-assault allegations against a high-profile security researcher during the year she spent at the Verge. While he was sad to see Jeong go, he knew there was "no one better" for the job she had accepted at the Times.
"Lost in all of this noise was the fact that Sarah Jeong is an actual person — a person who was an integral and beloved part of The Verge's team, and a deeply respected journalist for years before that," Patel writes in his editor's note. "Discussing Sarah's tweets in a vacuum without contending with her life's actual work in the very field of online communities and harassment is, quite frankly, ridiculous."