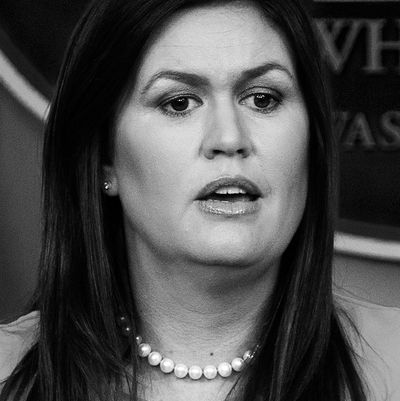 Sarah Huckabee Sanders.
Photo: SOPA Images/LightRocket via Getty Images
After claiming multiple times that she has personally heard a recording of Donald Trump using the N-word, former White House aide Omarosa Manigault Newman leaked a tape of Trump staffers discussing how they would handle the fall-out if the N-word tape were to circulate.
Trump denied uttering the racist slur in a series of offensive tweets about Manigault Newman, and the incriminating recording has yet to surface. In a press conference this afternoon, though, White House press secretary Sarah Huckabee Sanders couldn't bring herself to deny the existence of it, which certainly makes it seem like it exists.
In the past two weeks, Manigault Newman has made a number of concerning — though not all that surprising — claims about Trump's "mental decline" and behavior in the lead-up to the release of her tell-all book, Unhinged: An Insider's Account of the Trump White House. Out of all of the allegations, though, the one that has received the most media attention is Trump used the N-word and other racist slurs during his time on The Apprentice and during his presidency, which prompted NBC News' Kristen Welker to inquire about the existence of a tape at the Tuesday afternoon briefing.
"Can you stand at the podium and guarantee the American people will never hear Donald Trump utter the 'N-word' on a recording in any context?" Welker asked Sanders.
"I can't guarantee anything," Sanders replied, "but I can tell you that the president addressed this question directly. I can tell you that I've never heard it. I can also tell you that if myself or the people that are in this building serving this country every single day doing our very best to serve our country and make it better, if at any point we felt that the president was who some of his critics claim him to be, we certainly wouldn't be here."
For all the times Huckabee Sanders has flat-out lied to the American people, it's surprising that she decided to be more circumspect in this specific instance.