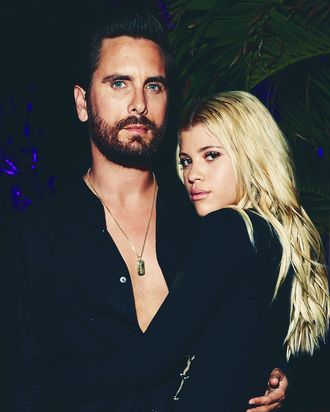 Congrats.
Photo: Andrew Toth/Getty Images for Dujour
For the past year, Scott Disick, a 35-year-old father of three, has been dating Sofia Richie, a teenager — a romantic arrangement that is technically legal. But today, all of that changes, because today, Sofia Richie turns 20. (Happy birthday.)
The couple still seems to be together, even after Disick was spotted "looking flirty" with a "dirty blonde, green-eyed girl" at Kanye West's Ye listening party in Wyoming back in June. Although the dubious Life & Style claimed Richie is worried that Disick's ex, and the mother of his three children, Kourtney Kardashian, is trying to steal him back, Gossip Cop's "Richie confidante" says that's "not true."
In June, when rumors of Richie and Disick's split were swirling, one source told Entertainment Tonight that after they fought about Scott's indiscretion, the two were stronger than ever.
"Sofia is really good for Scott; she has a great head on her shoulders and the two get along well. Scott still likes to have a good time, but he's been much calmer while dating Sofia."
Before, Sofia was just a teen who had the opportunity to help a 35-year-old father learn to grow up, but now, she's a 20-year-old who will have the opportunity to help a 35-year-old father grow up. And in just one year's time, she'll be able to legally drink while doing it. Congrats!