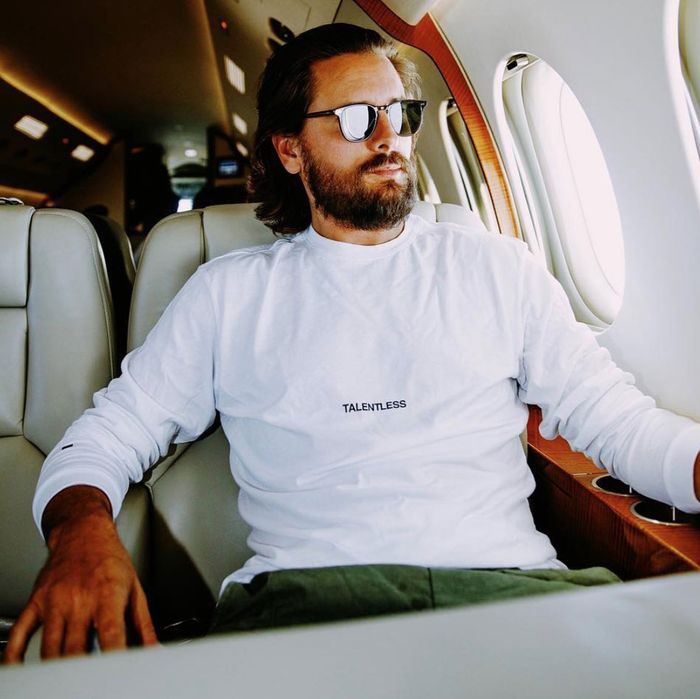 Photo: Instagram/letthelordbewithyou
Fashion happens faster than ever these days. Each week, we attempt to make sense of it in a column called, "What Is Fashion?"
When you Google-search Scott Disick's name plus the word "talentless," his new brand by that name is not the first result. In fact, it's not even a result at all. Nor is Disick's non-existent Wikipedia page. Instead, all you'll find a gossip-y article from the Mirror last year in which Disick's former manager, David Weintraub, is quoted calling Disick an "entitled yet talentless" couch-surfer.
In addition to the title of "talentless," Disick is best known as Kourtney Kardashian's estranged partner and father to their three children. (At 35, he is now in a relationship with 19-year-old Sofia Richie.) In a 2016 article for GQ titled "Money for Nothing," writer Carrie Battan summed Disick up as a man "routinely mocked on national television for being the one without any skills in a family of people who are famous for not really having any skills."
Perhaps this is why Disick decided to name his brand what he did: Instead of fighting his reputation, he's owning it. Sticks and stones may hurt Scott Disick's bones, but insults are something he can print on T-shirts ($58), hoodies ($148), and baseball hats ($50) for a considerable profit. This is what the Kardashians do best: They commodify your disdain for their enterprises, or lack thereof.
(The Cut reached out to Talentless numerous times for comment, but unsurprisingly, we got nowhere.)
"For real talent check out my new brand @talentless," Disick wrote in an Instagram caption last week, officially announcing his latest venture to the world. His ex-mother-in-law Kris Jenner liked the post, and Richie commented "Cutie" with a heart-shaped emoji. Commenters, meanwhile, projected that this was part of his grand plan to "get Kourtney back."
In a follow-up post on his Instagram story, Disick shared the brand's motto:
Talentless is an homage to the new wave of creators, innovators, and influencers who've made a name for themselves by going against the conventions of what it means to be "Talented."




-Lord Disick
This is not Disick's first business venture. In addition to being paid to show up places and promote products like CBD-infused water, he's also reportedly tried his hand at producing tanning lotion and menopause supplements for men. (Both of which failed.) It's hard to say who, exactly, will want to buy into Disick's new fashion line — perhaps the "new wave" of talentless influencers he speaks of? — but the good news is that failure would be very on-brand this time.
The only reason Talentless might succeed (besides the fact that it is Kardashian-adjacent) is because it so deeply, unapologetically 2018 — a garbage time in which the untalented hold the highest positions of power, and the dominant PR strategy seems to be: When they go low, we go lower. It is also reminiscent of Paris Hilton's unabashed early aughts wardrobe, which included T-shirts with slogans like "Don't be jealous." Except now just add the line: "No, really, don't be."
The launch of Talentless fittingly comes just weeks after Disick's ex-sister-in-law, Kylie Jenner, was deemed "a self-made billionaire" by Forbes magazine, inciting backlash due to her family's enormous wealth and influence. "Lately, the air has been crackling with financial resentment," wrote Jia Tolentino in her response for The New Yorker, which also touched upon the rage against Refinery29's recent Money Diaries column. "It is not 'cool' to be blindly privileged," she adds. "To have lived your life on the soft velvet cushion of family wealth."
And yet Disick is taking this air of resentment and toking it. He is the definition of hashtag-blessed and the opposite of self-made. As someone who bought himself a knighting ceremony on the internet, he's always inflated his sense of worth to combat the public's depreciation of it. But maybe doing the opposite is the only way to maintain this lifestyle today. Self-owns are the new self-promotion.
Conventionally speaking, talent is the one thing money cannot buy. It is what allows those who aren't Kardashians to work their way up in the world, and actually produce things of substance. But this is America! We applaud those who fake it 'till they make it — the talentless scammers whose talent is getting us to buy into them. It's a tantalizing prospect: that your non-skill is actually the key to your success. Almost enticing enough not to hate it.
The Talentless tagline says it all: "We must be doing something right."