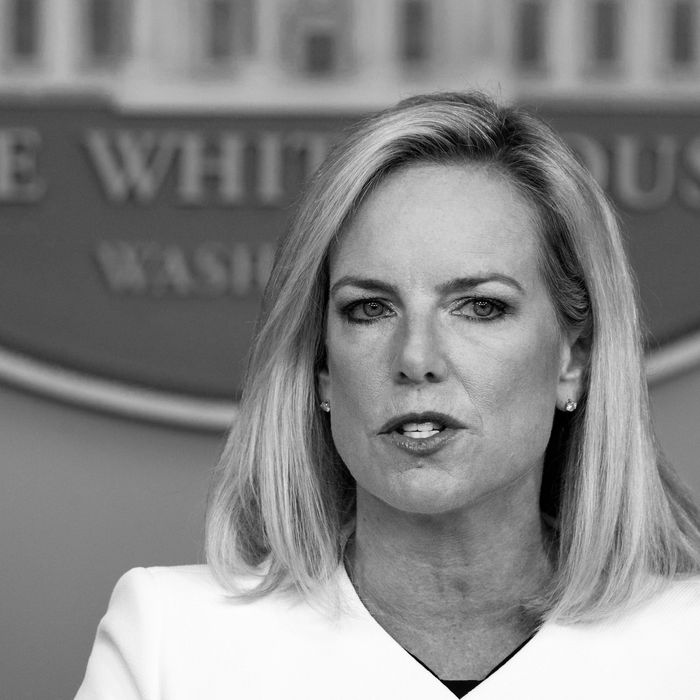 Secretary of Department of Homeland Security Kirstjen Nielsen.
Photo: NICHOLAS KAMM/AFP/Getty Images
Elizabeth Warren, Kirsten Gillibrand, Richard Blumenthal, Bernie Sanders, Mazie Hirono, and Cory Booker co-signed a letter on Monday addressed to the Secretary of the Department of Homeland Security, Kirstjen Nielsen, asking that allegations of "coerced labor" within immigrant detention centers be addressed. According to a report by CNN, the six senators are concerned that detained immigrants were being pressured into "volunteer labor" by privately run detention centers.
The letter cites multiple reports, including from the Department of Homeland Security itself, stating that privately run detention centers were being inadequately monitored. The substandard oversight has allegedly led to detainees being coerced into "volunteer labor" so that they can have access to basic necessities such as food and hygiene products.
"When detainees are unable to receive outside funds to purchase supplies, they feel coerced into volunteering to participate in work programs," the letter states. "This includes performing tasks such as mopping, sweeping, waxing floors, scrubbing toilets and showers, washing dishes, doing laundry, cleaning medical facilities, cutting hair, and preparing meals."
Senator Warren told CNN in an email that "the Department of Homeland Security has a legal and moral obligation to take immediate action to ensure that private detention centers follow the law and treat all people in their custody with dignity and respect." Senator Gillibrand characterized the allegations as ""illegal" and "inhumane."
According to the letter, a private firm called Nakamoto Group inspects nearly four times as many privately run detention centers than the U.S. government. The senators requested that oversight of privately run facilities be more tightly regulated, asked that more funds be directed to government oversight of private facilities, and that facilities that failed to comply with stricter regulations within two years be closed.
The letter from the senators is the latest development in an ongoing push for improved treatment of immigrants within private and government detention facilities.