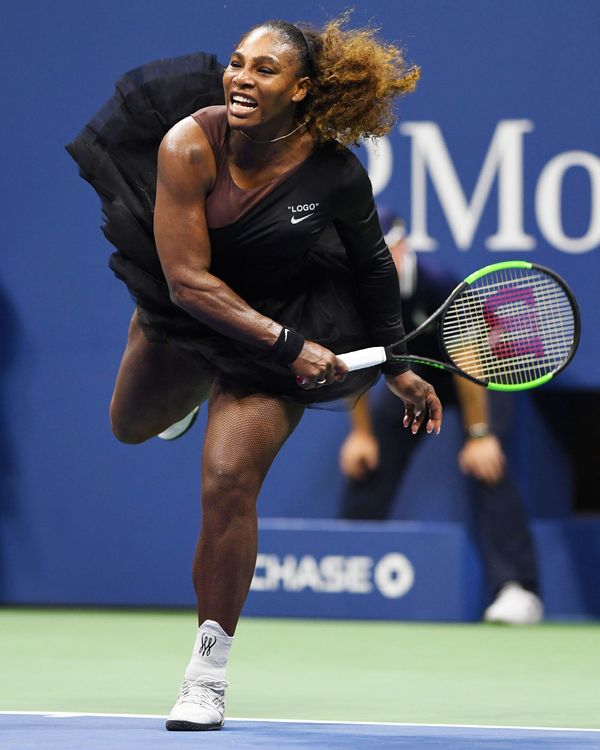 Serena Williams.
Photo: Larry Marano/REX/Shutterstock
Serena Williams did not let the recent controversy surrounding her Nike catsuit keep her from dressing up at the U.S. Open on Monday night. For her first match of the tournament, Williams played Magda Linette of Poland wearing a black, one-shoulder tutu designed by Virgil Abloh for Nike's new "Queen" collection. On her feet were a pair of sparkly silver sneakers from the collection as well.
While swapping ideas with Williams this summer, Abloh learned that she had a serious love of dance. She even has her own dance team.
"When I train, I try to do a little dance because I got tired of doing cardio," Williams said at a Nike tennis event in Queens last week. "I just needed a different form to express myself." She loved dancing so much, that "for a second" she was angry at her parents for not encouraging her to be a ballerina instead of a tennis champion.
On the court, Williams's powerful strokes, leaps, and sidesteps look something close to dance, and her outfit last night only made this more clear.
"When I teamed up with Virgil and he pulled out this tutu, I was like …" Williams made prayer hands and sang to the sky. "This is the moment I've been waiting for."
Unsurprisingly, she beat Linette in two sets.