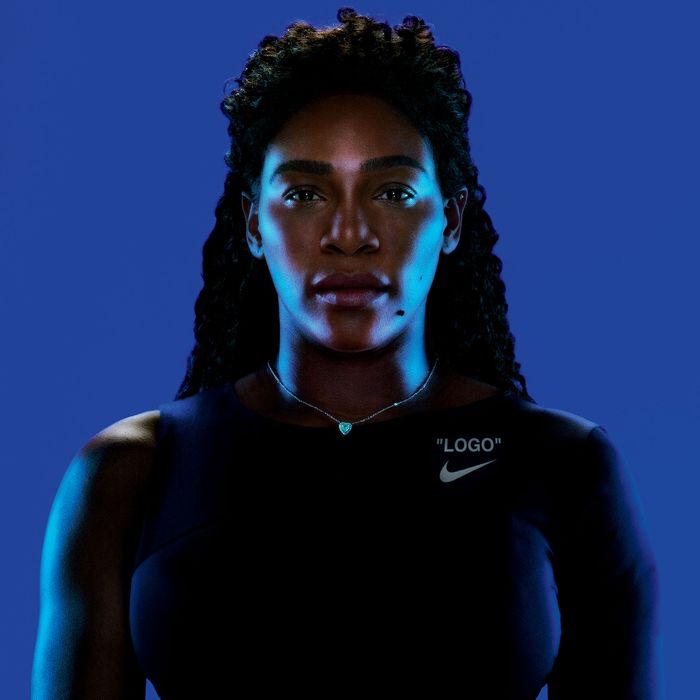 Serena Williams.
Photo: Courtesy of the Retailer
It was only yesterday that Louis Vuitton and Off-White designer Virgil Abloh announced that he was working on a collaboration with Serena Williams for Nike. Because Abloh is a designer for the internet age, he unveiled the collection 18 hours later. Bless him.
The Virgil Abloh for Serena Williams collection is fittingly called "Queen" and features many hallmarks of Abloh's Off-White. Most notably, "Serena" (quotes included) is written on the sleeve of the signature performance tennis dress and a utility belt strapped below the collar of the leather jacket also in the collection. Inspired by Williams's love of dance and ballet, the dress includes a tutu and one full sleeve. It comes in white and black, apparently for day vs. night tennis playing. Sure, but it's also definitely something to look out for at Fashion Week next month.
 "So the dress is feminine, but combines her aggression," Abloh said in a statement. "It's partially revealing. It's asymmetrical. It has a sort of ballerina-esque silhouette to symbolize her grace. It's not about bells and whistles and tricks. It's just about it living on the body, and expressing Serena's spirit with each swing of the racket."
Abloh had previously redesigned ten Nike shoes for the brand, but this is his first time working in ready-to-wear. Williams will wear the dress and hopefully the jacket at the U.S. Open later this month. People who are not Serena Williams can score the dress at NikeLab and Nike Soho for $500 and the jacket for $900. See more of the collection below.