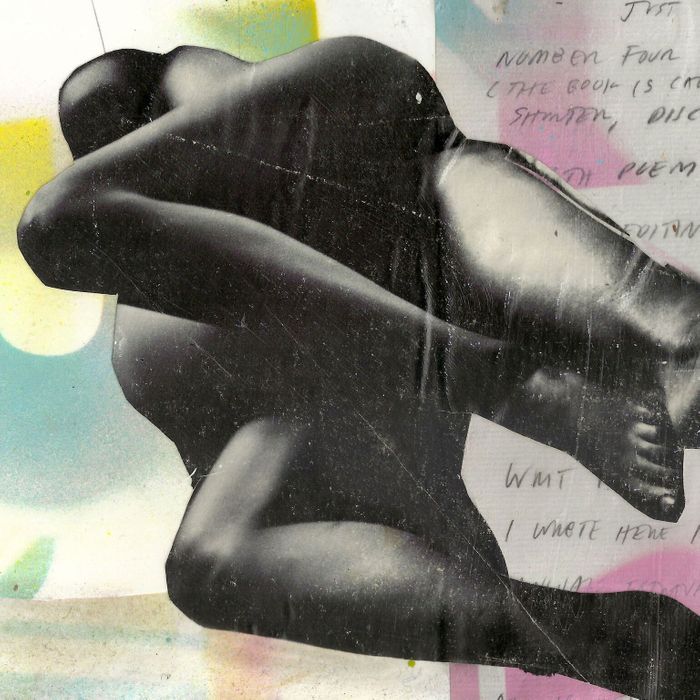 New York's Sex Diaries series asks anonymous city dwellers to record a week in their sex lives — with comic, tragic, often sexy, and always revealing results. This week, a nanny juggling texts from multiple men over a long weekend: 26, straight, female, downtown Brooklyn.
DAY ONE
8 a.m. I drag myself out of bed and walk straight to my small studio kitchen to brew coffee and prepare lunch to take with me to work. I don't want to put clothes on or leave my AC in this heat wave …. but I am looking forward to seeing the sweet 6-month-old baby girl I take care of during the week.
11:30 a.m. Baby girl and I are out walking, dripping with sweat, when I hear a guy in a group of men say "Look, a hot mom" and everyone turns to stare at me pushing the stroller. I feel flattered and a little violated at the same time. Right now, I don't have kids but would like a couple someday, with the "right" person. For now, I take the Pill religiously and use condoms, most of the time. I'm used to strangers assuming that the baby I'm taking care of is mine — I usually just go along unless it comes up that I'm her nanny.
4 p.m. On our afternoon stroll to get coffee, a tall attractive black man in baggy clothes starts a conversation with me and begins walking alongside the stroller. The conversation is easy and comical. I tell him I'm the baby's nanny, and he asks if I want to hang out sometime when I'm not on duty. His name is RJ, a graphic designer. He seems pretty nice and genuine, so I give him my number and tell him not to text me before 7 p.m.
7:30 p.m. I'm on the subway heading home from work and see this light-skinned black man bopping to his music and immediately feel some good energy. I sit down next to him and let my leg lean gently on his as the train makes several stops. He doesn't move. I can see him taking peeks at my curvy white thighs. I consider getting off at my stop and masturbating to the fantasy of him when I get home, but instead I initiate contact by flashing him a funny meme about being an average white girl listening to trap and hip-hop on the way to yoga. He laughs and says those are the only two kinds of music he listens to. He asks for my Instagram and we talk about getting together to smoke a blunt sometime. He has the same name as my dad so I tell him I'm going to call him Swag instead. He gives me a smile and says I can call him whatever I want.
11:30 p.m. Happily going to bed alone and stoned with my laptop. Who has energy to take care of a boyfriend anyway? It's not that I'm against having a partner — I just haven't met someone I want to be exclusive with yet. I've only had one long-term relationship: We were on and off for five years, until we broke up about two years ago. The last year of the relationship and the breakup were brutal … since then I've been focusing on myself and admittedly, keeping emotional walls up to protect my heart.
DAY TWO
8 a.m. I wake up hot and horny. I remember that it's my last day of work before a long weekend and vow to get some ass on my time off.
2 p.m. Pretty average day at work — baby girl has been sleeping for hours.
9 p.m. I'm invited to go out tonight with a white male-female couple I met on an app — I have a feeling they want me to be their unicorn. I do like FMF threesomes but definitely have to be turned on by both people. They tell me they've got bottle service at this swanky club and that they'll pick me up on the way. I'm not really interested in hooking up with them but I know they're a good time and the club will be full of eligible people. I slap some makeup on my face and make sure to eat carbs for dinner.
1:30 a.m. The club has been fun but is starting to die down. A cute shorter guy wearing grillz ends up at our table offering us coke. I don't do coke every time I party, but when a flirty rapper offers it to me, I tend to say yes. His name is Lawrence and he's got a Lil Wayne vibe to him. I'm into it.
2:15 a.m. I'm feeling some type of way. Cross faded and ready to go home. Lawrence sees I'm leaving and invites me to his recording studio a few blocks away. I convince him to come home with me instead.
4:30 a.m. We've finished a joint and begin to hook up … next thing I know, I'm on my third orgasm from the head he's giving me. I'm pleased but getting tired … I reach to give some back his way, but he stops me before I do anything and says he's had too much coke. Then he moves down to my feet and asks if I want a foot massage. I make a joke about him having a foot fetish and he says, "Nah, I just want to see you relaxed and happy."
DAY THREE
11:30 a.m. Lawrence and I are just waking up. He asks if I want to get brunch. My immediate reaction is usually, "No, thanks, I've got a lot to do today." But today I say, sure let's get some food.
1 p.m. We part ways, exchanging numbers and giving a brief good-bye hug. I'm relieved to be alone again and am walking with a bounce in my step.
10 p.m. I get a text from the subway dude, Swag, asking if I want to hang out. I was invited to a friend of a friend's party but don't like going anymore — instead, I tell him to meet me at the nearby park where I like to decompress.
10:45 p.m. We're talking about music, relationships, Brooklyn life. I'm trying to focus on whether I like his energy enough to invite him over.
11:15 p.m. I decide I'll give it a good dick interview and can always ask him to leave if it's not going well.
11:45 p.m.  Holy shit: He has such a nice, huge dick. I'm ready to hop on it and am happy he pulls out a condom. There is something really primal and rough about sex with him. The opposite of last night with Lawrence. I like how he's confident and telling me how much he likes my body. It starts to get more intense and he's starting to grunt, "That's my pussy, tell me it's mine." Yeah, no. Last time I checked it's MINE.
12 a.m. We have both come and are lying breathless in bed. He's acting like he's going to sleep over so I get up to make a snack and hint at his departure. He continues to hang around so I have to say firmly that I want to sleep alone tonight and that doesn't mean I never want to see him again, I just really like my space and anyway, the two of us just met … on the train. As he's leaving he gives me big good-bye kisses. Too much too fast. Not sure if I will see him again.
DAY FOUR
10:15 a.m. My body wakes up naturally and even though I've had enough sleep, I consider rolling over and letting myself drift back to oblivion. I lie still, reflecting on the past few days and decide I'm going to focus on taking care of myself today.
11 a.m. Back in bed with a cup of coffee and bowl of cereal watching Netflix. I feel a surge of gratitude for my independence and a sense of contentment with myself.
6:30 p.m. I have dinner with my younger brother. We smoke weed and sip wine, laughing about how bizarre our childhood was in our small, predominantly white town.
DAY FIVE
8 a.m. I wake up to my alarm and messages from Swat and Lawrence that came between midnight and 4 a.m. I'll deal with responding later.
3:30 p.m. Out walking with baby girl again and bump into RJ. We have been texting a little bit but he's a little eager so I'm trying to pump the brakes. He asks me what I'm doing after work and I tell him the gym and then no plans. We talk about getting together to smoke a blunt and he says I should text him when I'm free later.
6 p.m. I just finished an amazing workout, feeling strong and sexy. On my way home with Chipotle and don't feel like I need anything else.
8 p.m. I have almost forgotten to respond to my texts from last night. I text Lawrence back explaining I was asleep and today was busy with work, gym, etc. I decide not to text Swag back.
9 p.m. I forgot to text RJ after the gym, but he texted me asking how my workout was. We exchanged a few texts and made a plan to meet at my little park spot to chill for a bit.
10 p.m. Conversation is going well, but I'm high now and wanting to be in bed. I like how respectful and sweet this guy comes off. I tell him I need sleep and we hug good-bye.
12 a.m. Lying in bed watching The Affair and swiping mindlessly through Bumble. That little voice in my head keeps saying put the phone down and go to sleep …
DAY SIX
10 a.m. I start to wake up slowly, remembering I don't have anything in particular to do until teaching my 7 p.m. yoga class.
3:30 p.m. I'm home and a little bored. I decide to have RJ over since he keeps texting me and I'm curious. I tell him he can only stay until 5-ish.
4:30 p.m. We are watching stand-up comedy on Netflix and he makes a move. The kissing is not my favorite but not horrible. He starts fingering me and then undresses me and goes down. I'm not loving his technique although I can tell he's trying hard. Always awkward to give too many instructions on the first hookup. I direct toward sex and after about 45 seconds he pulls out and comes all over my belly. He apologizes profusely and tries to go down on me again. It just feels off. These situations are unfortunate and somehow I feel like I always end up stroking their ego more than their dick. I make a big deal that I need some time to prepare before teaching my class and he leaves, with a good-bye peck on the cheek.
6 p.m. En route to the studio and I get a text from RJ saying "Hey hope u enjoyed yourself but I can do better! Next time. I was just a li'l caught of guard." I have no idea how to respond so I pretend it didn't happen and go over the yoga sequence again in my head.
8:30 p.m. I just finished class and am floating. Leading mostly strangers through yoga is such an honor. Any time I can share a fraction of what I've received through this modality, I am happy and forget completely about dating. I make a point to avoid all romantic and sexual connection with my students. In my six years of teaching, I can confidently say I've never fucked a student. I have had people I'm dating come take a class, but I've never met someone through class. I plan to keep it that way unless I'm feeling future-husband vibes, ha.
DAY SEVEN
9:30 a.m. Still riding high off teaching last night and decide to hit the gym in the morning for a change. I am stretching and warming up on the mats next to a hot guy with braids in a bun. UGH, what is it about men physically working hard that turns me on so much?! We make eye contact a few times and I feel my body working harder knowing he's right there, probably watching. He gets up and says something but I can't hear him because I'm blasting Teyana Taylor's "W.T.P." I pull an ear bud out and loudly say, "What." He smiles and says, "Have a great day."
11 a.m. I'm officially wet and inspired to touch myself in the shower when I get home.
9:00 p.m. Wondering if I should take another sex cleanse. Every year or so, I decide to be celibate for at least a month, giving my body and spirit a full cycle to reboot. It reminds me that I can control my sexual impulses, and that about half of the men will want to hang out and get to know me and the other half run when I say sex cleanse. My mama taught me to listen to my intuition over everything else and that's how I approach sex and dating. Well, sometimes it's a little fuzzy … but I'm working on it.
Want to submit a sex diary? Email sexdiaries@nymag.com and tell us a little about yourself.