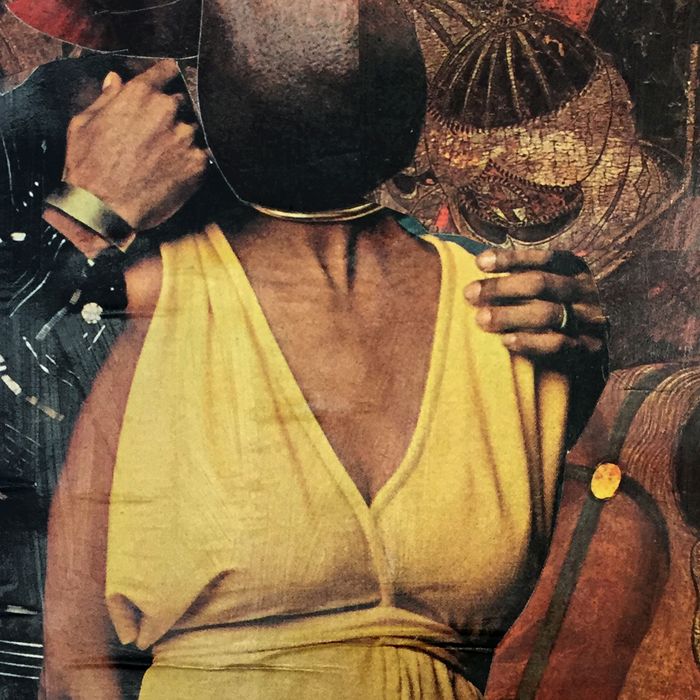 Illustration: James Gallagher
New York's Sex Diaries series asks anonymous city dwellers to record a week in their sex lives — with comic, tragic, often sexy, and always revealing results. This week, a woman going back to school and outlining her future plans: 27, bisexual, D.C. area.
DAY ONE
7:40 a.m. Friday! I get myself out of bed at the last possible minute and throw on my scrubs, deciding to brush my teeth once I get to the office. As I run out the door I kiss my passed-out boyfriend, Brandon. We've been living together for the past year.
8:05 a.m. Not sure anyone notices or cares, but I always arrive at least five minutes late (if not more) on a daily basis. I feel guilty — though clearly not enough to stop hitting snooze on all five of my alarms.
I work at a health clinic as a receptionist. This is after six months at a start-up that absolutely was soul-sucking. My supervisor was a wack job. Plus, I couldn't really stand behind the product or the company's partnerships with far-right Republican radio hosts. Now I'm in school for massage therapy. I'm telling myself that it will help me lead a more Zen life. Plus, a career in massage therapy will hopefully mean that I can live between D.C. (where I live now) and NYC (where I was living, and want to go back to).
I grew up in the D.C. area and come from a very nuclear family — mom, dad, brother, and myself. We're very close to our extended family and my brother and I were brought up to respect our family and their beliefs. We were like Crazy Rich Asians, but with a lot less crazy and not even close to rich. We were a lower-middle-class Asian American family (my mom hails from Vietnam and my father from China).
11 a.m. I decide to go home for lunch. During my drive, I call my other boyfriend, Jim. We met when I still lived in Brooklyn, before I moved back to the D.C. area to be close to my family. He serviced the plants at my office and whenever he'd come in I'd flirt so hard that my co-workers laughed at my ridiculousness. I asked him for his number … and what was supposed to be a random fuck before moving home turned into another loving and caring relationship. Who knew!
12:30 p.m. I'm going to be late getting back to the clinic because I drop off Brandon at the metro station so that he can get to work. We've been together for seven years now — it's amazing how fast it all goes by.
Our relationship's been open since day one. I'll admit it was the first time I'd been in such an arrangement and at first I did NOT like it. But now I'm the one with a second partner … so it's safe to say I came around. Over the years I began to understand the value of not owning your partner and allowing them to flourish, sexually or otherwise. Brandon has been open for all of his adult life and at two different points tried maintaining two partners at the same time - never with me - but those always ended poorly, or so he says. In our sevenish years together we've both had other sexual partners, much more in the beginning… nowadays it's harder to fit into our schedules.
3 p.m. My weekend is officially here! I drive back to the metro but this time it's to pick up Jim. He's coming down from NY so we can take a roadtrip to North Carolina, with our married friends, Anna and Liam. No, we don't swing with them. They're going to a wedding and we agreed to all drive down and back up to NY afterwards.
A lot of people assume that when you're open or poly you probably sleep with anyone and everyone. Not the case. I don't have orgies, first of all. And it's actually still difficult to come by someone that vibes with you sexually. I've been on Tinder for a bit and damn that does not work for me, no vibes at all.
3:15 p.m. Jim gets in the car and I can't help but immediately make a snide comment about his outfit (an off white bucket hat and patchwork blue denim jeans; must be on trend somewhere in the world, right?) — he's cute but I don't often agree with his fashion choices. Still: We've been dating about a year and only see each other about once a month. The "passion," or whatever, is still alive.
3:30 p.m. We get to my house and start to unload the car. Very romantically I say "If we're going to fuck we better do it now before we get sweaty from cleaning out the car." Jim laughs and we start getting sweaty from sex instead. Neither of us come; probably because I'm stressed about the trip and he says he jacked off twice earlier in the morning. There's nothing wrong with sex sessions that don't end in orgasms!
7 p.m. Car is clean. Showers done. We nap.
10:30 p.m. Brandon gets home from work and we all hang out down in the living room. We turn on Netflix and watch a docu series on Legos. Brandon sits on the floor and Jim and I are on the couch. I notice Brandon caressing Jim and I say, "You know that's not my foot …?" to which Brandon replies "I know! I'm trying to show HIM some affection, not you!"
Jim and Brandon met in person last year but have known about each other since I first starting seeing Jim. Brandon knew I wanted to ask out the cute guy who visited our office and encouraged me to get his digits … and Jim knew on our first date that I had a long term relationship and we were moving in together in just a few short weeks!
They've always been pretty good at bein' buds from the jump. I think it helps that they have similar interests and outlooks on life. They are levelheaded, logical dudes, who are both very far from being uptight - it works since I can be aggressively Type A at times - so we all compliment each other. I often wonder if I was attracted to Jim because I've developed tastes for people similar to that of a person I already loved? Or if my attraction for him grew out of just feeling that he and Brandon would make a good team? Who knows really, but it sure helps!
DAY TWO
12 a.m. Our friends are here! They took a bus down and have finally arrived so we can start our trek to N.C. We wrap up our Netflix and chill sesh with Brandon and say our good-byes.
4:30 a.m. I've been driving for the past few hours. Everyone is sleeping and I'm thinking about my future.
Am I making the right life choices? What if I'm wrong? Was leaving my higher-paying job to go back to school the right thing to do? Because of my paycut, Brandon has been paying my rent since November and Jim has been paying for all our travel expenses. It's awfully good of them, but I want to be an independent woman. They say it's not a big deal and I'll return the favor in the future, which is the plan, but what if there's no future where I can do that? It's all starting to get me down.
8:30 a.m. We finally arrive to our Airbnb and all go into our rooms to take naps before seizing the day. However, I feel a kick in energy so Jim and I have a quiet quickie before promptly passing out.
2 p.m. We all get up and are hungry so head to a cute local cafe. After Googling things to do in the area we see there's an Oscar de La Renta exhibit at the art museum. We check that out, and it's amazingly inspiring. Anna and I contemplate wearing elbow length gloves this fall, while Jim only cares about Oscar's home gardens and Liam couldn't care less about the dresses.
9:30 p.m. Anna and Liam have to go to a pre-wedding soiree. They invite us along but I say we're exhausted from the drive. It isn't a complete lie …
10 p.m. Now we can really get into it. We make out on our way up the stairs, bust through the bedroom door, and before Jim can even take his shirt off, I pounce. He pushes my dress up and I expose my tits and he pounds me from the edge of the bed. Is it me or is it hotter when you still have your clothes on sometimes?
DAY THREE
9 a.m. We wake up and lie around in bed for a while scrolling IG and well … we're already naked… so why not have sex? I decide it might be hot to film something so I position his iPhone while we are in missionary.
9:15 a.m. Nope! Was NOT hot! Didn't feel myself at all. Watching my belly rolls and triple chins fuck my boyfriend (who happens to be particularly slim) doesn't do much for my self-esteem.
12 p.m. Anna is in the wedding so she leaves early to get ready with the bride. Liam, Jim, and I all hang and spend the day exploring a few art museums. One of the exhibits is a bit challenging for me — photojournalism at its most raw, with real-life violent killings and horrific accidents. I start to feel "off."
4 p.m. We drive Liam to the wedding venue. As Jim and I drive away — BAM. Crazy anxiety and overwhelming depression hit me like a truck. It's been building for days and I've felt it creeping up but was hoping it would hold out till after this trip. I lose it.
Jim tries to console me. His comfort doesn't do much.
9 p.m. I've been trying to sleep for the past few hours but anxiety jolts me awake. Jim texts Brandon giving him the heads up that he'll most likely be passing me back in a state of despair.
DAY FOUR
9 a.m.  We get up. I don't feel much better but at least I'm rested. Lack of sleep might have propelled my bout of sadness.
9:15 a.m. Jim is feeling a bit horny. I'll be honest: Depression kicks the shit out of your sex drive. I try to get into it, but I'm dry as a bone. We bust out the lube and attempt a microsession … still not feeling it though, so we get up and get ready.
3 p.m. We've been on the road for a while and are making the trek to back NY. I'm still reeling a bit but don't want to appear down in front of our friends.
6 p.m. We reach the D.C. area and stop for dinner. Korean BBQ. My appetite isn't all there, but it's KBBQ so I shove as much into my face as I can. It helps that since we're all eating we don't have to talk very much.
DAY FIVE
1 a.m. We're in Brooklyn! We circle around to find parking. Why do people own cars here again?
3 a.m. Still not asleep, just feeling awful. Poor Jim has work in the morning and I'm keeping him up. He decides he's not going to make it in on time and would rather see me off before I drive home by myself because he's worried I won't get there safely. He emails his boss that he'll be doing a half-day. We try to get some sleep.
11 a.m. We're up. Our wonderful friends and hosts have let us to sleep in and are both out already at work. Jim and I lie there and chat for a bit. He's still worried about my drive back and texts Brandon about it. I tell him I'm fine and have scheduled a therapy appointment for when I get back.
4 p.m. I decide to stop by my cousin's on the way home. It turns out the whole gang is there: my aunt, uncle, grandmother, my parents, and cousins. We all talk and catch up. I'm feeling better already from being surrounded by them.
10:30 p.m. I've been home for a bit chilling with roomies. Brandon gets in and we cuddle as we catch up on Westworld. It's really nice being home, and even better to be in his comforting arms.
DAY SIX
7:50 a.m. Wake up later than usual. Scrubs, kisses, out the door. Back to the grind.
3 p.m. After an unusually quiet morning at the clinic I head to class.
4:30 p.m. Sitting in traffic for five-ever. Gotta love D.C. Gives me time to think about my future. Brandon, Jim, and I are all getting along swimmingly right now. The hope is that we can stay together for a few more years — maybe even until kids enter the picture. Biologically speaking, B doesn't want his own kids; J is open to it and … so am I. We've all talked about having two or three kids and staying mostly the same, just functioning as a "normal" family would. Two dads and a mom. Similar to a product of divorce, without the divorce.
7 p.m. Finished with class and heading home. I call Jim and we talk about how I'm doing. Since I'm feeling much better we decide to FaceTime when I get home.
10:30 p.m. Brandon gets in and Jim and I are still on FaceTime. He joins us and we all chat for a while. It's pretty fucking cute.
DAY SEVEN
12 p.m. We sleep in because Brandon and I both have the day off. Since we work opposite schedules I really cherish the day spent together. We order breakfast to be delivered.
1 p.m. I eat my pancakes and he eats his biscuits and gravy while we listen to Trevor Noah's audiobook in bed.
3 p.m. My sex drive is back! I'm horny, which is a relief — it must mean an upswing is being set in motion. I ask Brandon if he wants to fuck … and he doesn't.
His sex drive has mellowed out as he's aged. Our age difference is 12 years. When we first met he was all about the sex and I wasn't. Now we've switched places.
He offers to eat me out, but I'm feeling a bit gross since we've been in bed all day.
7 p.m. We've been watching Queer Eye for a while now and pretty sure that's how we're going to end the day. Season 2 Episode 1 already has us sobbing like a bunch of babies. Hopefully next week proves to be less challenging for my mental health and I can reset accordingly. I feel lucky that no matter what, I'll have a strong support system to back me up.
Want to submit a sex diary? Email sexdiaries@nymag.com and tell us a little about yourself.