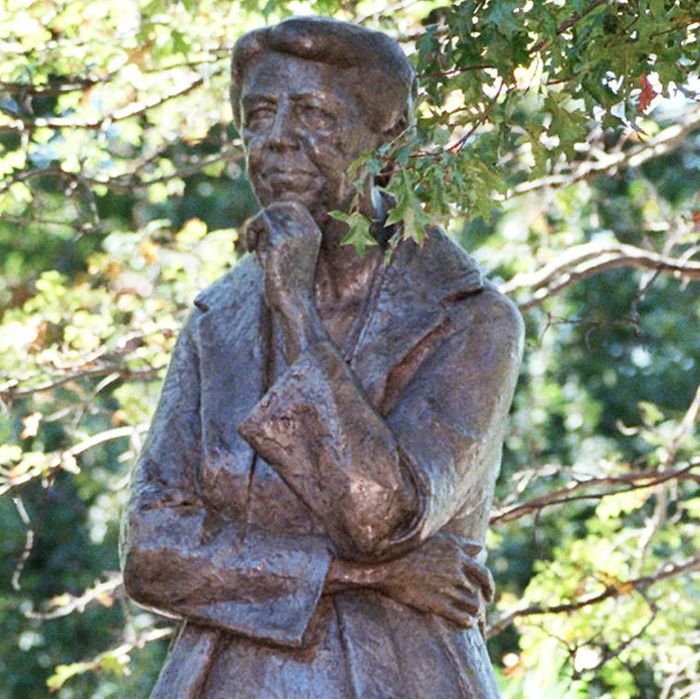 Statue of Eleanor Roosevelt in Riverside Park.
Photo: WALLY SANTANA/AP/REX/Shutterstock
There are currently over 1,000 monuments and statues across New York City, according to Gothamist. Of these, 145 honor important male historical figures, and one honors a dog (Balto). Only five honor women.
Back in June, First Lady of New York City Chirlane McCray and Deputy Mayor Alicia Glen announced She Built NYC, a campaign to increase the number of public art works that recognize the critical contributions women have made to the city.
In order to decide which woman (or women) would be memorialized, the campaign opened up its nominations to the public. To qualify, the person or people nominated must no longer be alive, and the historical events for which they are known must have happened at least 20 years ago.
Just a few weeks after the campaign was first announced, when the call for nominations closed at 11:59 p.m. on Wednesday, August 1, She Built NYC had received 1,899 nominations, far more than even Glen had anticipated.
"[1,899 nominations] is way more than we expected, which I think speaks to the fact that we have struck a nerve with people," Glen told the Cut on Wednesday. "Talking about this issue has proven that people have a lot to say about women, and the lack of women in the public realm. We're at a moment in public time where people want to be part of this discussion."
While Glen says it will take some time to parse through all the nominations, some names have stood out.
"There have been a lot of people advocating for Shirley Chisholm," Glen noted. In 1968, Chisholm became the first black woman elected to congress to represent New York's 12th Congressional district, and in 1972 announced her bid for the presidency, making her the first black presidential candidate for a major party, and the first woman to seek the Democratic Party's presidential nomination.
Other nominees are more obscure. Kate Walker, for example, manned the lighthouse on Robbins Reef Lighthouse station near Staten Island for over 30 years after the death of her husband.
It will be a while before we find out who the city will choose to memorialize. As Glen explained, the city still needs to sort through the hundreds of nominees and identify whether they all fit the requirements, and whether some women have been nominated multiple times. Then, an advisory committee of 19 people — including students, artists, academics, and CEOs — will go through the nominees, and make their recommendation. The city plans to announce its choice at the end of the year, so production of the statue or memorial can begin in 2019.
"There are big gaps in our city's public art, with few statues of women, trans and gender nonconforming people," Chirlane McCray said back in June. "The message that lack of representation sends is that these people have no value and did not make contributions to our city. This first step we are taking will help us more accurately show the diversity in the people who helped make New York City so great."
"This has been so fantastic because it's just bubbling up," Glen told the Cut. "I have two daughters, and I wish there were books written about each one of these young women, and not just, you know, Amelia Earhart. I used to look for books about great women for my kids when they were little. Can you imagine the Kate Walker story, and the picture of her in the lighthouse? I'm loving it."