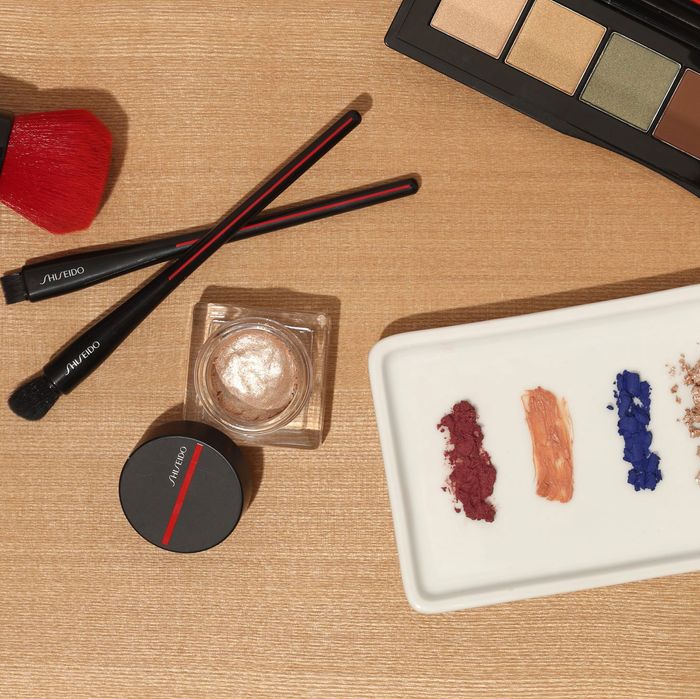 Shiseido's newly revamped makeup line.
Makeup products have been divided up into incredibly literal categories since the dawn of time. Where are you using it? On your eyes? Lips? Cheeks? Body? But Shiseido has decided to shake things up a bit.
The Japanese prestige brand is relaunching their entire makeup line by playfully subverting tradition. You can now choose your makeup products based on a feeling and texture. In the future, their products will be broken down into four tactile groups: Dews, gels, powders, and inks. The dews are essentially highlighters, the gels include several glosses and balms, the powders are formulated to be applied with your finger, and the inks are inspired by Japanese calligraphy. It's a fun way to frame the entirety of a new product launch. Who hasn't dabbed lipstick on their cheeks or blended last night's mascara into something (hopefully) resembling a smoky eye?
The biggest takeaway here is that all of the formulas are brand new, and the old products will be gone. It's the beginning of a brand new era for the collection, which will pull inspiration for shades and names from Tokyo streets and Japanese nightlife. So, go forth and shake things up. And then apply those things to your face however you see fit.