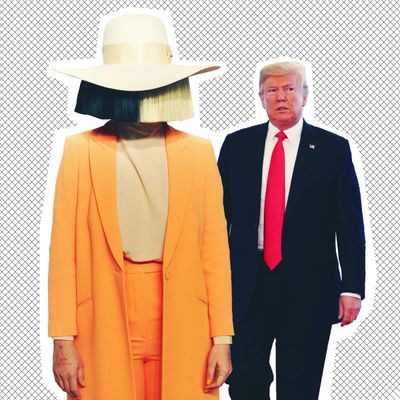 Sia, Donald Trump.
Photo: Getty Images
The mysterious Australian pop star Sia — best known for her face-concealing wigs and high-concept music videos — recently opened up in a story with Rolling Stone. She discussed building her idiosyncratic career, her self-care, and her dating life. But we're not here to talk about any of that. We're here to talk about Sia's most stark confession. We're here to talk about a tale of intense gastrointestinal woe.
We're here to talk about Sia getting diarrhea after meeting Donald Trump.
Let's go back to November 2015, when the then-presidential candidate hosted Saturday Night Live. Sia was the musical guest, and says Trump tried to get a photo with her after the show:
"We've got to get a photo!" Trump said. Lurking behind him was Ivanka, camera in hand. Sia froze. A self-described co-dependent, Sia lives in fear of hurting people's feelings. On the other hand, she could imagine the outrage over a photo of her and Trump, arms around each other, plastering the Internet. And so she managed to meekly reply, "Actually, do you mind if we don't? I have a lot of queer and Mexican fans, and I don't want them to think that I support your views."
She relays that he "didn't seem angry or hurt in the slightest" and perhaps respected her for "protecting her brand." And then:
"I was like, 'Thank you so much,' " she recalls, "and then I went into my dressing room and had crazy diarrhea."
Truly the most relatable celebrity anecdote of our time.