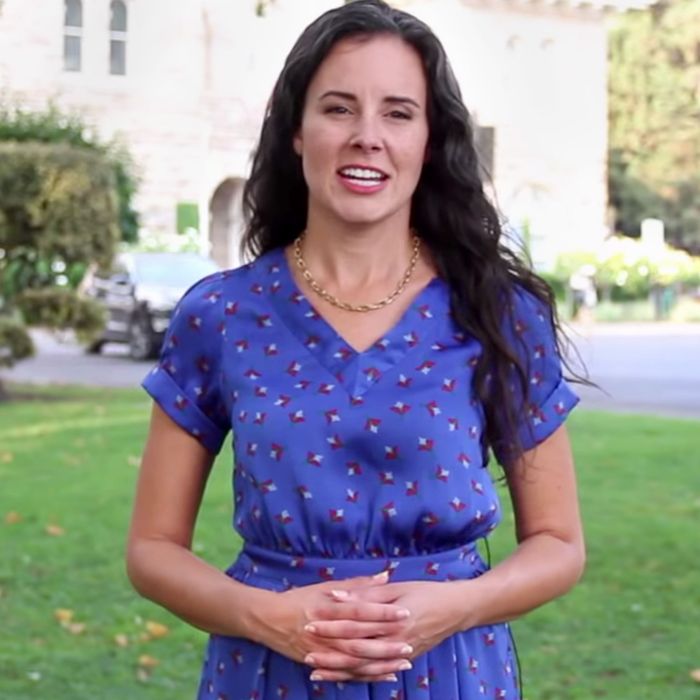 Mayor Rachel Hundley.
Photo: Friends of Rachel Hundley for City Council 2018/Youtube
Earlier this month, Rachel Hundley, a 35-year-old woman who serves on city council in Sonoma, California, and is currently running for reelection, received an anonymous email calling for her to drop out of the race. The sender called her "immoral and unethical," and included a link to a now-defunct website called "Rachel Hundley Exposed," which featured pictures culled from Hundley's social-media profiles of her at Burning Man in her bra and underwear. Her friends told her to ignore it. Instead, Hundley chose to respond publicly, posting a four-and-a-half minute YouTube video in which she says she will not be "slut-shamed" into quitting.
"I was threatened by an anonymous coward," Hundley said in the video, posted last week. She said the email was "nothing short of extortion," and also posted a screenshot of the message, which calls her history "highly troubling" and says, "Sonoma needs moral and ethical leadership our children can look up to, and our community can trust. You do not measure up."
"What was especially disturbing in this era of #MeToo was the attempt to slut-shame me for celebrating my body, and for my attendance at Burning Man," she said, explaining, "For that last several years at Burning Man, I have voluntarily managed a well-known wine bar that's associated with a consent-focused, sex-positive-themed camp."
Hundley goes on to say that the website, which was reportedly created by a group called "Sonoma Citizens for Peace and Cooperation" relies "solely on unfounded accusations and slut-shaming," and that "its purpose is to make me afraid, to silence another strong female voice by scaring me out of this election and denying you the right to make a choice."
As the Washington Post points out, though every politician has to deal with critics and trolls, it's female candidates more so than their male counterparts who are most often subjected to the distribution of "extremely humiliating or sexually charged images."
"Whether it's slut-shaming or trying to humiliate a woman because of something she did in her past that's linked to sexuality, that kind of activity still happens more to women than men," Jennifer Lawless, a University of Virginia professor who studies the intersection of gender and politics told the Post. "Tapping into a woman's sexuality is seen as a way to undermine her credibility and undercut her experience."
The tactic did not work on Hundley, though. "I am here today to tell my faceless bullies that I cannot be shamed into quitting because I am not ashamed," she said.