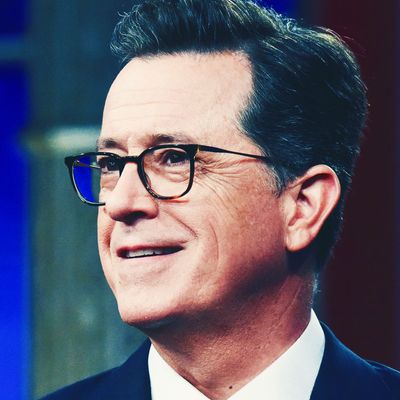 Stephen Colbert.
Photo: Scott Kowalchyk/CBS via Getty Images
Stephen Colbert recently delivered a powerful Late Show monologue, in which he took his boss — Les Moonves — to task after decades of sexual-harassment allegations against the CBS exec emerged. By speaking out against Moonves, Colbert proved himself to be an ally in the fight against systemic abuse women have long endured at the hands of powerful men. Now, in an interview with the New York Times, Colbert opened up about his efforts to give women and people of color a seat at the table on his show.
Speaking with Sopan Deb for a TimesTalks conversation, Colbert was asked about the overall lack of diversity in the writers rooms of comedy programs — as the writing staffs have long been dominated by white men. Colbert replied that he had been "frustrated" by a seeming inability to find diverse talents for his previous show, until he realized that "the usual process" wouldn't help him get an "unusual room." He told the Times:
"It wasn't until we said, no please, don't send us anyone but women. Because we would say, you know it's very important, we want writers of color, we want women, and you would get 150 packets and there would be eight women. And we're like, 'God, that's so frustrating.' Until I said no, only women, and then I got 87 women."
Colbert said that he then thought, "Where were these people before?," which led to the realization of his "naiveté." He said, "We realized we had to take an extraordinary step to get an extraordinary room. And now it's half, you know, white guys and half either women or writers of color."
Watch the interview here.