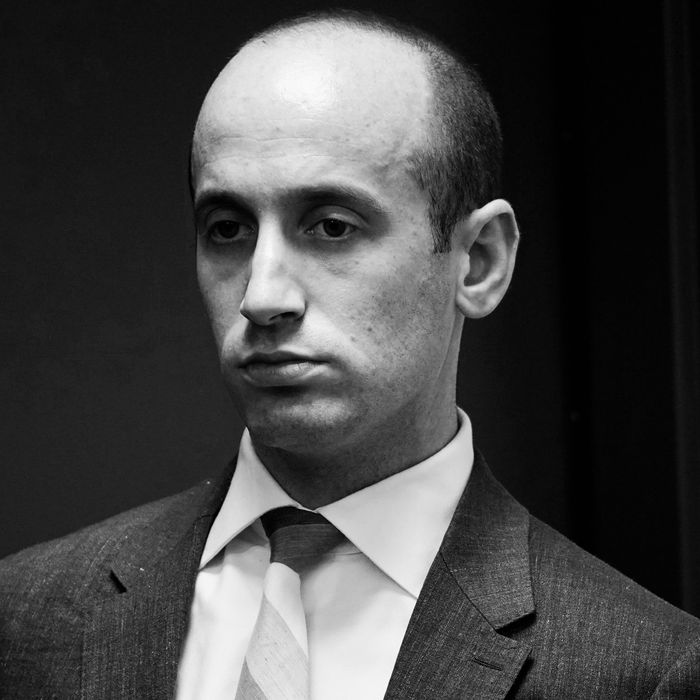 Stephen Miller.
Photo: MANDEL NGAN/AFP/Getty Images
As White House adviser Stephen Miller continues to push forward brutal "zero-tolerance" immigration policies, the apparent napper's uncle is now calling him out for hypocrisy in a blistering op-ed. Writing for Politico, he points out that their own family benefitted from the very immigration policies that the Trump administration is reportedly trying to reverse.
Neuropsychologist David S. Glosser — whose sister is Miller's mother — reveals that years ago, members of their family were able to immigrate to the U.S. because of "chain migration," which allowed a relative to sponsor their entry into the country. Now, Glosser writes for Politico, "I have watched with dismay and increasing horror as my nephew, who is an educated man and well aware of his heritage, has become the architect of immigration policies that repudiate the very foundation of our family's life in this country."
He continues:
I shudder at the thought of what would have become of the Glossers had the same policies Stephen so coolly espouses — the travel ban, the radical decrease in refugees, the separation of children from their parents, and even talk of limiting citizenship for legal immigrants — been in effect when Wolf-Leib [Glosser] made his desperate bid for freedom. 
Glosser writes that the family, fortunately, came to the U.S. "just a few years before the fear and prejudice of the 'America First' nativists of the day closed" the borders to Jewish refugees. If Glossers had waited, they "would likely have been murdered by the Nazis along with all but seven of the 2,000 Jews who remained in Antopol."
Miller's uncle also writes that the family's welcome to the U.S. "was not always a warm one," but that they "had the protection of the law, there was no state sponsored violence against us, no kidnapping of our male children, and we enjoyed good relations with our neighbors." And yet, he adds, both President Donald Trump (whose grandparents were immigrants) and Miller "repeat the insults and false accusations of earlier generations against these refugees to make them seem less than human."
Read the full essay here.