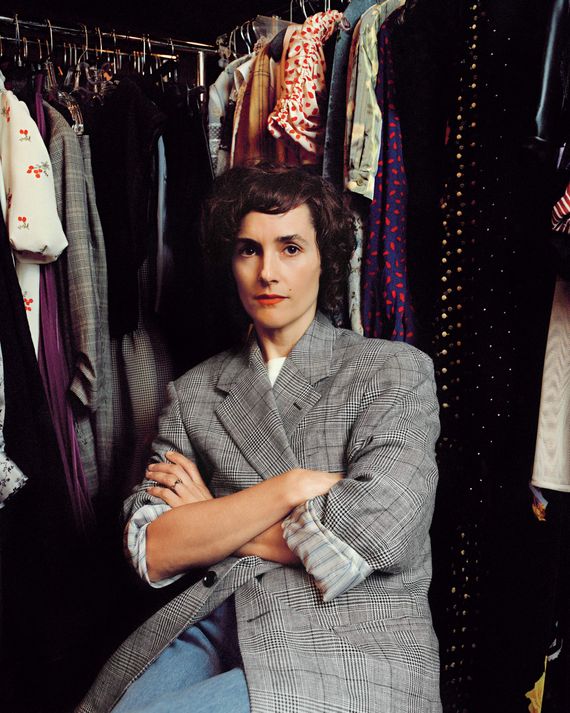 Jacket by Versace, at 647 Fifth Ave. T-shirt by Hanes x Karla, at xkarla.com. Jeans by Jesse Kamm, at jessekamm.world.
Photo: ryan pfluger
Everyone gets dressed in the morning, but few people make it look as easy as Justin Bieber. His shoes do not lace; they slide. His baggy bottoms seem to have a pact with gravity (unless belted with a shoestring), and his T-shirts hang at varying lengths of extra-long.
This summer, GQ admiringly declared that Bieber doesn't seem to give "one single solitary fuck when it comes to getting dressed," while Vanity Fair concluded that he appeared to try "even less hard" than his sartorially haphazard contemporaries Jonah Hill and Pete Davidson. It may look like Bieber tripped and fell into his designer clothes, but in fact one woman works very hard to orchestrate this effortlessness. Her name is Karla Welch.
Okay … the hotel slippers Bieber wore on the streets of New York this summer were improvised, but a large percentage of his wardrobe is supplied by Welch and her team — as it has been for the past six years, including for his tours, music videos, and red-carpet appearances. (Yes, Welch will have a hand in Bieber and Hailey Baldwin's wedding — whenever that happens — but that's all she'll say on the matter.)
"What I love about him is that he loves [clothes]," Welch says of Bieber, "but he isn't thinking about the look after he walks out the door. He's fearless."
Bieber credits Welch for helping him put together "authentic" outfits. "She knows my taste so well and is always introducing me to new brands and styles," he told us in a characteristically effortless email. "She is very collaborative."
And then some. When Bieber wanted extra-long T-shirts, Welch had a tailor extend their length by hand — eventually inspiring her collaboration with Hanes. Last summer, an armored car showed up at Welch's studio carrying (almost) the entire Louis Vuitton x Supreme collection, which she'd ordered on Bieber's behalf. And as for the shoestring belt he recently wore to hold up his $1,540 Vetements pants in DJ Khaled's "No Brainer" video: That was her doing, too. By the time I arrived at her Hollywood-based studio in July, I didn't need to ask whom the Hawaiian-print shirts piled by her desk were for.
Bieber's everyday looks may be the source of public fascination, but he's an exception for Welch. She is emphatically not a "real-life" stylist. Her 20-plus clients include red-carpet heavy hitters like Tracee Ellis Ross, Sarah Paulson, Amy Poehler, Olivia Wilde, Elisabeth Moss, Ruth Negga, and the musical artist Lorde. "A lot of my girls will be like, 'Should I buy this?' and I'll be like, 'Yeah!' But a walk to the coffee shop is not what I'm going to do," Welch says.
Instead, she focuses on the "moments," to use fashionspeak, that shape the public narrative of a celebrity.
In 2014, Welch says she "broke the mold" by putting a very pregnant Wilde in a very tight, emerald-green sequined Gucci gown: "We got a pregnant woman on the 'Best Dressed' list!" Two years later, she helped elevate Negga — a relative unknown at the time — into someone the New York Times called a "fashion darling" of awards season with a custom Louis Vuitton dress that resembled armor and took 120 hours to make. (Negga is also now one of the faces of Vuitton.) With Bieber, she inspired a new wave of high-fashion merch when she put him in a $1,500 Fear of God Nirvana T-shirt at the 2015 American Music Awards and collaborated on the Metallica-themed "Purpose"-tour wardrobe.
"Karla makes me look like my best self," says Ross, who, with Welch's assistance, has reached something close to icon status (although her vast "dad sneaker" collection is her own doing). "It's not about what's in, what's cool, or what's expected. She makes my childhood fashion dreams come to life. We are never going for a style, we are going for a feeling. I'm always asking, 'What story do I want to tell?,' and Karla helps to make it happen."
At the Met Gala, for example, Ross appeared to have ignored the event's Catholic theme, wearing a hot-pink Michael Kors gown that made her look like a Day-Glo Jackie O. But Welch explained the thought behind the look on Instagram: "On the 3rd Sunday of Advent, Cardinals wear pink to prepare for the Coming Joy!" (The Coming Joy being Jesus's birth.) Ross didn't land on Vogue's "Best Dressed" list, but no matter: She looked like no one else. "I want to be on both: best and worst," Welch says of the red-carpet rankings. "I want people to feel something."
Welch, who is 43, has always been in the recommendation business, first as a maître d' at a restaurant in her native Canada, then as a sommelier in her early 20s. Growing up, she worked in her father's menswear haberdashery, dusting the shelves and eventually helping on the buying side. When she realized her passion wasn't in food, fashion was a natural next step. Her big break came in 2006, when Brooke Wall, founder of the Wall Group — a top talent agency — followed her around at Barneys in Los Angeles as she pulled clothes for a client one day. Wall signed her on the spot.
On the day we met, in Los Angeles, Welch was wearing "basically the same thing" Wall first spotted her in: a cropped T-shirt from her own Hanes x Karla collection, high-waisted flare jeans (she also has a Levi's collaboration), and Birkenstock sandals designed by Rick Owens. A self-described "Céline woman" of the Phoebe Philo era, she has the casualness of Bieber but the refinement of a woman you could spend your life trying to emulate. Her Hanes crop top was within my grasp, though, and after putting one on back home in New York, I viscerally understood the ineffable rightness of Welch's aesthetic. The humble shirt has boxy, masculine sleeves and a high collar but ends half an inch above where my unbecomingly tall pants begin, revealing the tiniest bit of flesh. Perfection in a crop top sounds silly, but there it was. I wore it to the office, which was a risk, but I felt completely at ease, like all my sartorial puzzles had been solved.
Welch's studio is filled with racks and racks of clothing with her clients' names on them — none of which will stay longer than a few weeks at a time. The remaining floor space is dedicated to every shape, size, and style of shoe you can imagine, with clutches piled on shelves and hats hanging from the rafters. (Bieber has his own corner by the front door dedicated to Adidas and Vans sneakers.) Before someone arrives for a fitting, Welch does several rounds of edits, usually presenting a rack's worth of options. If you expect more, you might want to start looking for another stylist. "When [my clients] walk in that door, I already know what I want them to wear," Welch tells me. "I don't second-guess myself."
And her clients don't either. "Even when I'm scared and feel slightly unsure about a particular choice, I always defer to her," Paulson says. "And I have never regretted it. Not once."
When Paulson was nominated for two Emmys in 2016, she remembers getting a text message from Welch that read: "Where are you right now? I will have your dress in my hands in two hours. I need you to try it on immediately. It's the one." So Paulson got in her car and drove to Welch's studio, where she was presented with a "sparkly green Prada confection." "When I put it on, we looked at each other and smiled so broadly. And then we both just started crying," Paulson says. "It was really moving to me. Our joy was interchangeable."
Part of Welch's job is chasing down the looks she wants, which means keeping up with emerging brands on Instagram, as well as cultivating personal relationships with major fashion designers like Valentino's Pierpaolo Piccioli — something she describes as one of the "best parts" of the job. This helps her score the gowns every big-name stylist is fighting for and get a newcomer like Negga in brands like Marc Jacobs before she's earned any red-carpet cred. She says she emailed Prada every single day until she got her hands on a slime-green plastic-fringe dress from the fall 2018 collection: "I need that dress. It has to be mine. Come onnnnnnnnnn!" Paulson wore it to the premiere of Ocean's 8.
Welch is a meticulous planner, but her instincts are perhaps most apparent in a pinch. For example, one night in April, she received a text message from the actress Busy Philipps saying that a turquoise bolo tie, which was supposed to go with her hot-pink shirt and blazer, was missing from a trunk Welch's team had sent. "I could have easily said, 'Oh, your look is fine without a bolo tie,' " Welch says. "But I wanted that fucking bolo tie." So she tracked one down, and it was worth it. Publications like Us Weekly immediately commented on Philipps's red-carpet accessory, spurring a mini-trend.
Welch, who last year was ranked No. 1 on The Hollywood Reporter's annual power-stylist list, can't articulate exactly how she makes the choices she does. All she'll say is that she strives for the "nonobvious." Not that there's anything wrong with the traditionally sexy or pretty "crowd-pleaser," she hastens to add, but she wants the pink Valentino dress with scalloped edges that transformed Paulson into an elegantly layered cake, or the Chanel disco-ball dress with feather trim that Ross wore to the Emmys last year.
She'll pair suits with sneakers; leather jackets with evening dresses; and crop tops with sequined pants. She loves big sleeves and high necks, with collars buttoned all the way up. The right choice is often the wrong one.
According to THR, the key ingredients for a successful stylist are "taste, star power … social-media impact, and relevance in the awards-season conversation." But these things are what Bieber would call "no-brainers." What distinguishes Welch is her ability to dress women with personality (and Bieber) in clothes that serve them, as opposed to the other way around. They're the most beautiful weirdos in the room. Which makes them, oddly enough, more objects of aspiration than the celebrities who sashay down the red carpet in princess dresses that you forget about the next day.
One reason she attracts such an all-star cast of bold, confident clients may be that Welch herself stands for something — unlike many of her more buttoned-up stylist peers. Welch's Instagram bio reads "The Resistance," and in addition to using her feed to promote her clients, she has raised awareness about migrant children recently separated from their families, shared quotes by James Baldwin, and posted instructions on how to call your senator. Her Levi's collaboration benefited Everytown for Gun Safety, and she was also an outspoken supporter of Time's Up; she applauded her clients' decision to wear black to the Golden Globes last year and donated her usual fee to the group.
"I'm not just going to post shoes," Welch says, before switching from her Canadian niceness to a southern sort of brashness, possibly picked up from years styling a Nashville-based band. "You're damn straight I'm going to say what I believe in. If that has consequences, I think the consequences of being quiet are way bigger."
Throughout our day together, Welch would pause to text Ross back about the latest political fiasco to cross her newsfeed. "We try stuff on, giggle, play in the clothes, and then we text a lot … like, a lot," Ross says. "We are both die-hard feminists who die for fashion. Neither one of us is afraid to go there."
Perhaps, more than slide sandals, that's the secret to dressing without effort: First you have to live without fear.
*This article appears in the August 20, 2018, issue of New York Magazine. Subscribe Now!