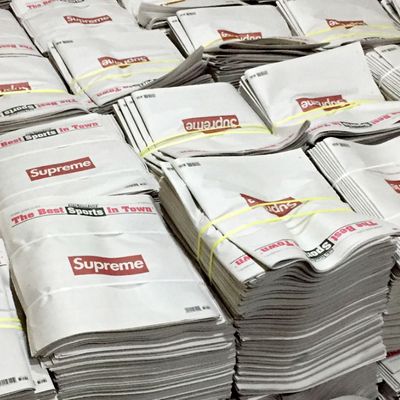 As part of Supreme's fall 2018 drop, which was revealed today and hits stores August 16, the New York skate brand collaborated with the New York Post on a special-edition promotional cover. Instead of front page news and a grabby headline, Monday's paper featured Supreme's iconic red box logo.
"We've never done something quite like this," the Post's CEO and publisher, Jesse Angelo, told the Cut this morning. The paper has previously done wrap covers with entertainment, retail, and hospitality partners, but never the entire newspaper from front to back with one brand. Supreme, which, ironically, rarely does press, could not be immediately reached for comment.
Naturally, this collaboration prompted Supreme fans and scalpers to raid their local bodegas for copies of the paper this morning. (I ventured out in the rain at about 8:30 a.m. in Crown Heights, but there were none to be found nearby.) While supplies last, special editions can be found at any of the Post's normal distribution points across the East Coast, as well as in Miami and Los Angeles. Angelo also confirmed that more copies were printed than normal, (the Post says its average weekday print circulation is 199,135), although he couldn't give an exact number yet.
Some copies of the Supreme edition are already being flipped on resale sites like eBay and Grailed, with prices currently hovering around $10. (The paper costs $1.00.) One Grailed vendor is currently offering 100 copies for $750 — a steal! Perry Levy, a Williamsburg resident who is selling a bundle of 30 on Grailed for $250, told me that by around 10:30 a.m., he'd already visited over 50 bodegas. As for how much a cover like this costs a brand like Supreme, the Post declined to say.
"I've never wanted a newspaper so bad in my life until now," wrote one commenter on Supreme's Instagram video, which shows the paper being printed at the crack of dawn. This was the first time buying the print edition of the Post for some customers (it would have been mine); some had never paid for any newspaper before.
"This is the first time I ever bought a newspaper," one 18-year-old Grailed vendor, who prefers to go by @psychespleasures, told me. He'd spent the morning driving around New Jersey, selling mostly to international customers along the way at $10 a pop. To be considerate, he left one or two copies of the Post at each spot, "just in case someone actually wanted to read it."
The collaboration certainly brought together unlikely demographics, especially considering that the Post has a historically conservative bent, unlike Supreme. But in Angelo's opinion there's actually an "enormous amount of kinship between the brands," from the design of their logos to the red-and-white color schemes, as well as their New York roots.
Funnily enough, this is not the Post's first fashion collaboration. Alexander Wang released a limited-edition "Page Six" capsule collection last season. It featured headlines and ads from the 1980s and coincided with the paper's 40th anniversary. Supreme will also release a newsprint sweater for fall, and brands like Off-White, Balenciaga, and Sacai have all had some take on "fake news" in recent seasons.
"We just thought it was a really cool, fun idea," says Angelo. "If it brings new consumers to our brand, hopefully they read the paper and like what they see." But even if they just follow @nypost on Instagram, that's cool, too.