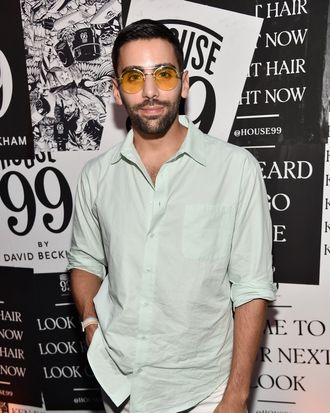 Phillip Picardi.
Photo: Frazer Harrison/Getty Images for House 99 by David Beckham
Phillip Picardi, the 27-year-old chief content officer at Teen Vogue, is leaving Condé Nast. He will be the next editor-in-chief at Out, a magazine centered around LGBTQ culture.
Picardi was 26 when he became the head of Teen Vogue, and launched Them, Condé Nast's first LGBTQ-focused publication. He is widely known for taking Teen Vogue in a more progressive direction.
"I am super honored to be taking the helm at Out, which is a legacy LGBTQ publication," Mr. Picardi told The Wall Street Journal, which announced the news. "I'm looking forward to reimagining what Out looks like for the modern queer audience and preparing it for the future."
The company has not yet named the person who will take Picardi's place. He is one of several people who have left Condé Nast over the last year. Elaine Welteroth, former editor-in-chief of Teen Vogue, left the company shortly after it was announced that there would no longer be a print edition of the magazine. Glamour editor-in-chief Cindi Leive left late in 2017 as well. Rumors that Anna Wintour would be leaving Vogue were shut down by the company in April.