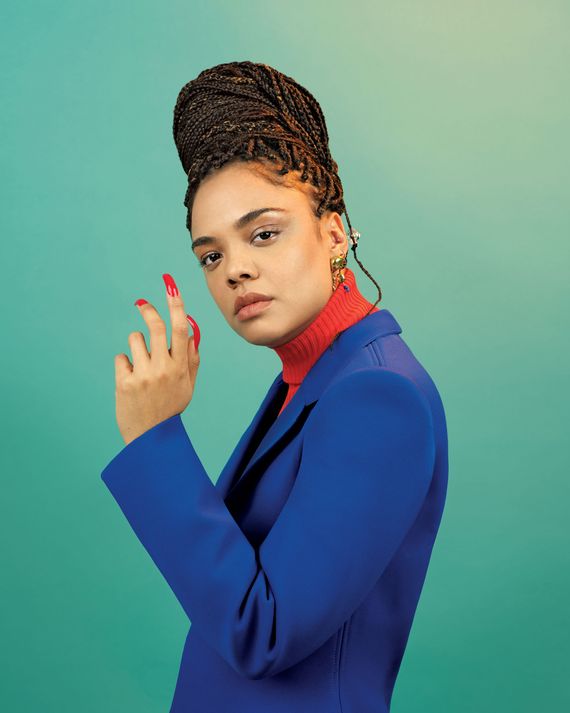 Jacket and turtleneck by Balenciaga, at balenciaga.com. Earrings by Leigh Miller, at leighmiller.us.
Photo: Awol Erizku
It's unclear, still, who is to blame for the situation that occurred at Frank's Cocktail Lounge in Fort Greene, Brooklyn. It could easily be the weather. The night air is the sort of steam-room moist-hot that allows for only one of two states of being: lethargic or horny. Even inside, with A/C on, our thighs stick to the bar's cracked red vinyl seats. Or it could be the music. We've been passing my iPhone back and forth, loading the bar's app-controlled jukebox with our favorite songs. One of us accidentally queues the same reggaeton song three times, and the pelvic-thrusting bass line shifts the mood. Or maybe it's just Frank's. With its glowing red lights and heavy pours, it's always sort of been a pickup spot, which Tessa Thompson is beginning to suspect, I suspect, because she flat-out asks me, "Did you low-key bring me to a pickup spot?"
Whatever the reason, the conditions are perfect for Louie to approach our table. Let me tell you about suave-ass Louie — a 60-something Dominican man in a fitted black T-shirt, knee-length denim shorts, sneakers so white he must use shoe polish. He's got a shine to him: baby-oiled-up skin, gelled-back salt-and-pepper curls, a gleaming gold chain.
"Louie," he says, looking right into Thompson's eyes, by way of introduction or an attempt at hypnosis.
"Tessa," she responds, either hypnotized or just confused.
"Tessa. Yeah, you look really familiar. I can't place it. It's not a line. I know people use it, but it's not a cheesy line. But Tessa …" She responds with a firm "Nice to meet you, Louie," meant to get him to leave, which, to his credit, he does.
Thompson isn't bothered. It happens a lot. "I don't know if it's like I have a recognizable face or if I look different enough in the things that I've done, but I love that people really know that they know me but they can't place it.
Sometimes it's just like, 'Do you know my cousin?' Like, 'Did I meet you at Ruth's party?' " She thinks for a second, maybe wondering if Louie would have ever gotten to Creed or Thor. She shrugs. "It's probably his cousin."
It's true that on this night, instead of giving off high-beam movie-star wattage, her light is more that of the most attractive woman in the bar, albeit one with better styling and the natural swagger to pull off ass-length braids. She's in a black tube top, shorts, and a drape-y fishnet jacket. Her black mules have a bright-blue ball where the heel should be. Perhaps she is vibrating with "regular person" energy because she just spent the day doing regular-person things: getting her aura read in Chinatown — it's very green and yellow right now because she's too in her head and needs a nap — and visiting a cat café, even though she hates cats, with her mom, who loves them.
Since last fall, when she played Valkyrie, an alcoholic warrior, in Thor: Ragnarok, she's had a stretch of movies you'd think would make her highly recognizable to everyone. Thompson's Valkyrie was a huge deal (and a huge troll to obstinate Marvel nerds)—the character is usually blonde and Nordic, but Thompson's was biracial and bisexual. Then came Josie, a brilliant astrophysicist in the female-led sci-fi flick Annihilation, and season two of Westworld, in which she plays a sanguine, duplicitous executive, followed by her role this summer as the rainbow-haired performance-art activist Detroit in the instant cult fave Sorry to Bother You. And just to make sure you never mistake her for your cousin ever again, she's got the Creed sequel in November. So, frankly, I'd sooner believe that Louie had the confidence to use a pickup line on a famous actress than that he had not seen a movie poster in the past two years. But either way, here he is again, and this time Louie — Louie! Louie!! — is going to shoot his damn shot.
"Hey, Tessa," he interrupts Thompson. "Mind if I buy you another one?," gesturing to her almost empty gin-and-tonic with extra limes.
(I cannot believe what I'm watching.)
"You know, that's so sweet of you," she starts to respond.
"It's up to you," he says, bowing gently.
(Oh my God.)
"But I can't have another one."
"Well, that's good enough. Duly noted — "
(LOUIE, YOU LOVE TESSA. I AM SORRY.)
"Really appreciate it."
"Duly noted." He retreats.
I feel so deeply for Louie. He is all of us in this cultural moment, drawn to Tessa Thompson's magnetism but unable to hold on to it himself. She seems engineered for contemporary stardom, checking off several boxes at once: beautiful, a woman of color, sexually fluid, socially conscious, politically aware, using her social-media platform for good but also for our entertainment. In one interview, she made a comment about loving goats, and an entire Twitter account dedicated to photos of her juxtaposed with pictures of goats who looked like her popped up. "The internet makes everything a thing," she says.
Thompson says, over and over, how private she is, but she also seems keenly aware of her effect on people, how they always want to know more — everything! — about her, or buy her a drink, or see her in movies. My meeting with Thompson started in a cab ride to the bar, chatting about her auditions. "I just meet people where they are and know the ways in which they want to engage," she says coolly of casting agents and directors. "What an audience wants you to do is to make them feel like they can relax into their seat and trust you. That they can go on the journey with you," which can also be said of her online fans, and, well, poor Louie, too.
There's so much Sade on the bar's jukebox. Thompson flips through the catalogue on my phone, then launches into an anecdote about an ex-boyfriend whose parents would always have sex to Sade. Her own sex playlist in high school was mostly Portishead. "It was so emo, and so embarrassing. But it's good sex music." She slides my phone back to me, song choices made: "Emotional Rescue," by the Rolling Stones, "I'll Never Fall in Love Again," by Bobbie Gentry, and two Amy Winehouse songs. I follow with David Bowie and some Erykah Badu. She adds "To Zion," the Lauryn Hill song she listened to repeatedly on the set of Creed II to help her get into the mind-set of her character, Bianca.
This movie finds Bianca, a hearing-impaired singer and the film's emotional rock, pregnant, in love, and living with Michael B. Jordan, which isn't exactly where Thompson's at in her personal life. "I currently don't have time to date," she says. "Also, because dating right now requires that somebody gets on a plane, which is fine, but that's a lot to ask when you're first … It's a lot of expectation." She's skeptical of online dating, though she admits to once catfishing people with her friends on a dating app, largely as a social experiment. "It didn't go well. We had some passive-aggressive and some just like aggressive messages being, like, 'You're not real!' And I was like, 'And you're right, I'm not!' Delete." She takes back my phone.
When Thompson was younger, she used to sneak into Frank's. She was born and raised in Los Angeles, where she still lives, but her dad had moved to Brooklyn. She recalls spending her summers sweating, roaming around at night, going to public pools, seeing plays. Now her dad, a musician who goes by Chocolate Genius, Inc., lives in a small Northern California hippie beach hamlet and runs a restaurant and inn. Whenever Thompson gets a break, she works at the bar, making little gem salads for guests and playing DJ with her little sister.
Even growing up, Thompson loved playing with identity. Sometimes she'd dress up like a boy. Sometimes she'd make videos impersonating Downtown Julie Brown hosting MTV. Her dad would work the camera and edit the footage with her. She would call and leave him voice-mails in different characters. (He's kept the tape.) She got her first TV role in 2005, an episode of Cold Case, followed by a stint on Veronica Mars. Then came the movie roles, most notably Sam White, a headstrong biracial campus activist, in Dear White People, and Diane Nash in Ava DuVernay's Selma. There's a through-line to her acting choices: While some tackle race head-on, others buck Hollywood ideas of what roles people of color can inhabit. She's never the "sassy black friend" or "sidekick." Her Annihilation character, Josie, could have (and a few years ago likely would have) been played by a white actress. Same with Valkyrie.
She drains the last of her drink and suggests grabbing a slice and walking around the block. Her dad's former home isn't too far from the bar, and she wants me to see it.
It's wild moving around the neighborhood with her. We're just out in the world, ambling along, eating pizza, sort of drunk. A child on the street shouts, "I like your shoes!" Thompson asks if Brooklyn Moon is still open — it is. She used to go there and listen to slam poetry, she says, and then tells me about visiting the set of Spike Lee's He Got Game as a teenager. Online, everything she does is examined from all angles, but tonight nobody bothers us.
The Tessa discourse lately has been loud and demanding, starting with this year's Met Gala, her first and possibly the blackest ever. There she was at the after-party, in a now internet-famous moment, posing with everyone cool and black in Hollywood: John Boyega, Issa Rae, Lena Waithe, Chadwick Boseman — and Frances McDormand, who accidentally photobombed them. ("We were like, you? You're good. You can stay.") The moment evoked a class photo for this year's black Zeitgeist. "It was suddenly so black in the hallway, and we were all like, Oh my gosh, let's take a picture. You'd see people running to get people. It felt significant."
The interest in Thompson reached a frenzy this spring when she appeared in Afrofuturist R&B singer Janelle Monáe's video, "Pynk" as a human-size clitoris. Neither of them has ever confirmed their romantic relationship, but their rumored union provided a kind of wish fulfillment for their many fans. To watch two black women express themselves on their own terms was thrilling. People couldn't resist speculating, a lot. What does it mean when they show physical affection on the red carpet together? What does it mean that Monáe came out as pansexual in a recent Rolling Stone interview? What does it mean that Thompson starred as Monáe's love interest in a music video for a song all about vaginas?
In June, Thompson told the website The Edit that she's bisexual and seemed to confirm that, at least at some point, she and Monáe were dating. But she has since declared on Twitter that they are not a couple. I talk to her a few weeks after the tweet. "I still haven't read that piece. I was just speaking candidly. I wasn't there to sort of make any declarations," she explains in calm, unmodulated tones.
But are they together? "The truth is Janelle and I are both in a space where we're trying to push boundaries in terms of the idea of what space a woman of color can occupy." She goes on, saying that they are both people who "believe fiercely that people should be free to love who they love," but aren't interested in "super-binary conversations" about "identity or sexuality." It's something they stand for "separately," but then she adds, "And in our friendship we celebrate that we're like-minded in that space, too." Then she tells me how Greta Garbo, whose movies she's been devouring, allegedly had affairs with women. (She also mentions that Garbo rarely gave interviews.) "And while I found that interesting about her, honestly, when I got done reading about her on Wikipedia, it only just made me want to watch more of her films. I guess that's sort of the way I feel in general, which is I just want to center the conversation around my work."
Is that an answer? Or three? A riddle? A puzzle? Does it matter? She knows she can't control how people talk about her and how much they talk about her and how they interpret what she says in interviews (even this one). But she can lead them on a journey, and she does so, expertly. She can tweet pictures of goats. Or she can post pictures of her and Monáe that inspire erotic fan fiction. She might not want to answer the questions, but she sure does a good job of prodding us to ask.
It's ten or so, and the air has turned to straight-up sludge — so thick you could suspend solids in it. Pizza grease and sweat are mixing together on both of our faces, but on hers, it has the same effect as Chanel moisturizer. We've found her dad's brownstone after walking for a few blocks in the wrong direction. Her family lived on the lower level. She points to a window and remembers sitting in it. She points to the stoop and recalls seeing the kids from Kids like every other teen who sat on their stoops in Fort Greene in the '90s. A little white dog runs up to us, Josie the Maltipoo. While the owner prattles on about how odd it is for Josie to be this loving, Thompson scoops up the dog and cuddles it. Josie starts eating Thompson's braids. Nobody told this little white thing not to touch a black woman's braids, I guess.
She puts the dog down. We start walking, winding our way to the end of a night and the conversation. She wonders aloud if she'd ever move to New York full time, maybe to do a play. She misses the stoop culture.
We pass by a group of teenage boys listening to hip-hop, hanging out in a garage, drinking and bullshitting, and both of us stand by wondering if we can join the living organism that is a New York summer-night party. "We'd make their night," I joke. "Should we do it?" she dares. There's a moment of hesitation, and then Thompson decides to call a car back to the city. Smart. But man, can you imagine the Instagrams?
*This article appears in the August 20, 2018, issue of New York Magazine. Subscribe Now!