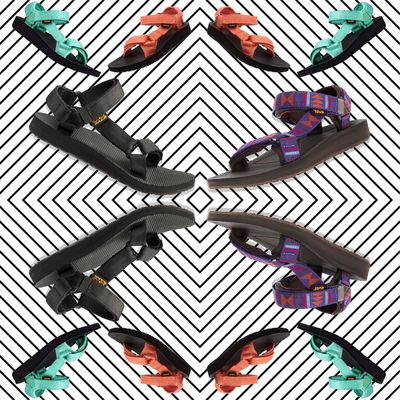 Photo-Illustration: Courtesy of the Retailer
This is a story about perseverance. A story about embracing change, and accepting the unexpected. A story about a woman who was profoundly altered on a physical, emotional, and spiritual level.
This is a story about me buying Tevas.
The first time I even entertained the thought of purchasing a pair of the '90s most ubiquitous sport sandals was last summer, when I was training for my first marathon and nearing the end of a 16-mile run. It was a scorcher of a day and I, a rookie and an idiot, hadn't yet realized you weren't supposed to wear cotton socks for long runs. My feet had been reduced to two swollen, sweaty, blistering flesh-bricks. As I dragged myself home, I caught sight of a woman blissfully strolling around in Tevas and stared at her feet for what was definitely a weird amount of time. They looked so breezy, so airy and comfortable. I yearned for that cushioned embrace.
But I quickly pushed the Tevas out of my mind, mostly because I had an implicit childhood bias against them. I was raised by frugal immigrant parents in suburban Connecticut, where we were surrounded by white people wearing Tevas, Life Is Good T-shirts, and Uggs — items that were viewed as not only irredeemably ugly but also criminally expensive. But I must've mentioned the Tevas in passing because, in April, my mother texted me asking what I wanted for my birthday in a couple of months. She then clarified: "Do you want me to get you those white people sandals."
I couldn't do that to her. I couldn't do that to my ancestors (ancient Egyptians, a people who wore far more stylish sandals). This was a journey I would have to embark on myself.
Now, I understand that Tevas have recently undergone a fashion renaissance. There was the collaboration with Opening Ceremony, the normcore and gorpcore trends, the Teva-like sandals on the runway at Copenhagen Fashion Week. This is where I have to stop and explain that the fashion element would not translate on me. I knew that Tevas would inevitably make me look like a person who owns a CBD dog treat business, has seen Rusted Root in concert multiple times, and — most horrifying of all — played ultimate frisbee in college.
I didn't care: the more forbidden and foolish they seemed, the more I desperately wanted a pair. I frequently tweeted about my desire, and found my followers to be both encouraging enablers and also the type of people who recommended I try Chacos instead. (I'm not that depraved.) I spent an alarming amount of free time furtively and maniacally scrolling through various available models. When I finally found one I wanted — the Original Universal in Moxie Textured Legion Blue — they were out in my size, so I checked the Tevas website and Amazon.com multiple times a day to see if they were back in stock. At a particularly low point in my quest, I embarked on a live chat with an exceedingly polite and kind Tevas rep named Victoria.
(08:16:10 PM) Gabriella: Hello! Just wondering when the Women's Original Universal in MOXIE TEXTURED LEGION BLUE will be back in stock in a size 9?

(08:18:53 PM) Victoria: As of right now we do not have a date for restocking that item. I apologize!

(08:20:54 PM) Gabriella: No problem! Do you have any restocking dates in general for universal Tevas

(08:21:39 PM) Victoria: The company does not release restocking dates to us. I am so sorry. (08:24:37 PM) Victoria: Since I have not heard from you for several minutes I am going to have to end the chat session. If you need further assistance please open another chat session so that we may make sure you receive all of the assistance you need. It has been my pleasure to chat with you and hope you have a great day!

(08:24:40 PM) *** Victoria left the chat ***
I wasn't sure how long I could hold out.
What finally pushed me over the edge was the three pairs of sandals I own all breaking in the span of a week. This was a sign from the Tevas gods (they're named Brad and Jake and would love for you to try their homemade rawnola after you crush this hike): it was time. I ended up opting for a slightly more intense and substantial pair — the Original Universal Premier in Beach Break Deep Wisteria — that was also slightly more expensive.
I've now had my Tevas for almost two weeks and my official review is that I love and treasure them very much. They're stupidly comfortable and hold up in even the frequent surprise thunderstorms we've been having this summer. I've worn them everywhere from the beach to work to silently in my own apartment just so I can admire them, and I look forward to bringing them to their natural habitat (upstate New York) later this month.
I also feel like I've been Red Pilled but exclusively in relation to Tevas. I notice other people wearing Tevas constantly now, like a whole new world has opened up to me. I have become a Tevas evangelist: I keep threatening to purchase my partner (look, when Tevas are involved, partner is the only appropriate word) a pair, and I will, even if he insists "I don't want them" and "please don't buy them." And it's definitely a placebo effect, but it's possible my Tevas have made me, a completely unchill person, slightly chiller. I find myself frequently using the sunglasses guy and hang loose emojis, and contemplating which linen pants I should buy. It's nice.
Ultimately, the Tevas life may choose some people, but I aggressively chose the Tevas life. I chose it, and I strapped it firmly to my feet.
Photo: Courtesy of the Retailer
Photo: Courtesy of the Retailer
If you buy something through our links, New York may earn an affiliate commission.