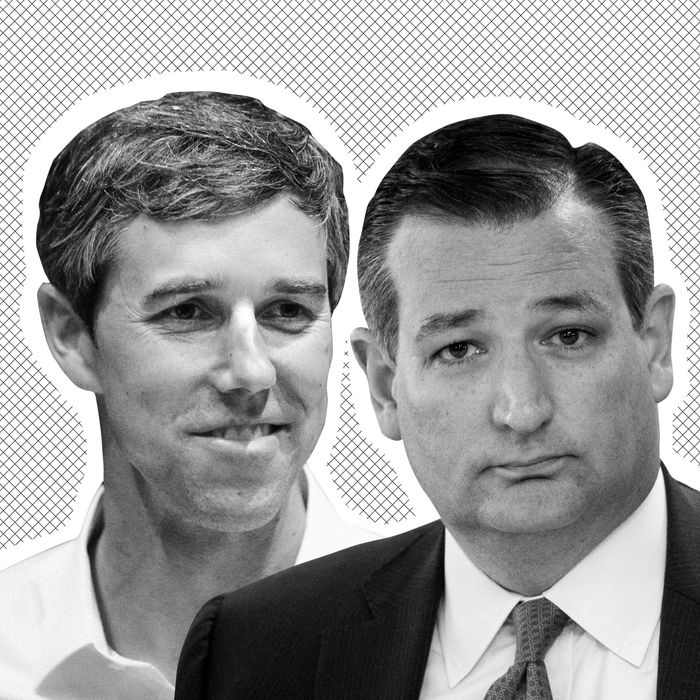 Beto O'Rourke, Ted Cruz.
Photo: Getty Images
This November, Texas voters will go to the polls to choose between current United States senator and possible Zodiac Killer Ted Cruz or his Democratic challenger, Beto O'Rourke. With polls indicating that O'Rourke has all but closed the gap between the two of them, the Texas Republican party has unveiled a foolproof new political strategy that involves … making O'Rourke look extremely cool, fun, and — some might say — attractive.
Several posts sent from the official Texas GOP Twitter account ragged on O'Rourke for canceling Friday's debate against Cruz. First, they attacked him for, uh, knowing how to skateboard.
Next, they sent out a picture of his 1993 record, The El Paso Pussycats. He released it with his punk band Foss, in which he was the bassist. (Fun fact: O'Rourke is 45, somehow only two years younger than Cruz.)
Then, finally, they posted his mugshot from a 1998 DWI arrest.
The string of tweets, which backfired spectacularly, concluded the way these things often do: with an insistence from the Texas GOP that they were not, under any circumstances, owned.