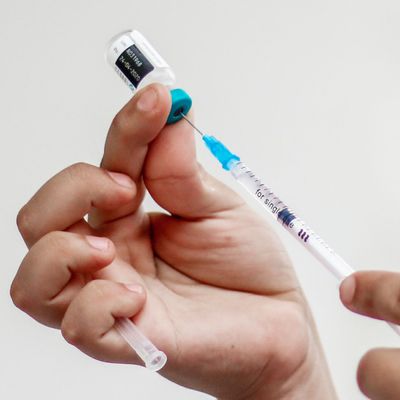 Photo: SCHNEYDER MENDOZA/AFP/Getty Images
A nurse at the Texas Children's Hospital, where a child tested positive for measles, was fired after posting about it on an anti-vaccination Facebook group, ABC News reports.
"We were made aware that one of our nurses posted protected health information regarding a patient on social media," the hospital said in a statement Tuesday night. "We take these matters very seriously as the privacy and well-being of our patients is always a top priority. After an internal investigation, this individual is no longer with the organization."
The hospital says she disclosed information about the young boy on the "Proud Parents of Unvaccinated Children - Texas" Facebook page, which has since been deleted. According to screenshots of the post taken by one parent, the nurse wrote:
I think it's easy for us nonvaxxers to make assumptions but most of us have never and will never see one of theses diseases…[F]or the first time in my career I saw measles this week. Actually most of my coworkers and the ER docs saw measles for the first time as well. And honestly, it was rough. The kid was super sick. Sick enough to be admitted to the ICU and he looked miserable. By no means have I changed my vax stance, and I never will. But I just wanted to share my experience and how much worse it was than I expected.



The child's diagnosis is the eighth case of measles in Texas this year. More than 100 Americans have been diagnosed within the past year, according to the Centers for Disease Control and Prevention. Vaccine refusal among parents is on the rise, despite evidence that vaccines save children's lives, protecting against highly preventable diseases like measles. While some anti-vaxxers have emerged in the media spotlight in recent years, very few medical professionals have spoken out against vaccines.
The Texas Children's Hospital has noted that "the views of this employee do not represent that of the organization." The institution is currently working to identify other children who may have come into contact with the affected child and assess their risk.
"Measles is such a concern, because one, it's preventable. We have a vaccination that can prevent it," said Dr. Umair Shah, executive director of the Harris County, Texas, Health System. "And two, it's so easily transmittable to someone else. … Vaccines save lives."