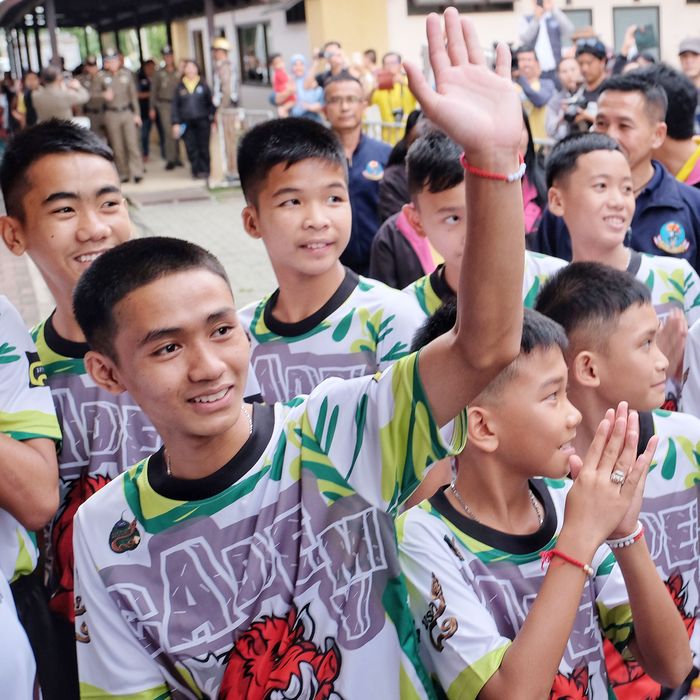 Thai soccer team.
Photo: Linh Pham/Getty Images
In early July, 12 Thai soccer players and their coach found themselves trapped in northern Thailand's monsoon-flooded Tham Luang Nang Non cave system, where they resided for more than two nightmarish weeks. During the ordeal, they were subjected to conditions that weakened their immune systems, and feared they'd never get out alive; now, over a month later, the boys say the experience taught them about love, and that they're already looking to the future.
In an exclusive interview with ABC, 25-year-old coach Ekapol Chantawong opened up about the thoughts that went through his head upon realizing that he and his team were stuck, and how he had to regain his composure before speaking with the boys, who were between the ages of 11 to 16.
"I tried not to tell the boys that we got stuck in the cave," he said. "I only told them something positive. I told the boys that we just had to wait for a bit longer, then the water may go down and we could get out. I tried not to make them panic. If I told them that we got stuck in the cave, the boys would get panicked."
Over the two-week-long period in which the team was trapped, Thai navy SEALs dove into the flooded cave to deliver food, medical care, and oxygen — a task that was incredibly dangerous, as one rescue diver died as he was returning from his trip to the boys. Both caring for and rescuing the boys was a concerted effort from the Thai government and navy SEALs.
"We learned about love by receiving love from everyone," one of the boys, Adul Samon, 14, told ABC. "I would like to thank everybody. You all love me and I love everyone," he added. "I feel like people around the world are my parents."
Just over a month after being rescued, the boys are already thinking about what they hope to do with their rest of their lives; a handful hope to be Navy SEALs one day. But as for the others, they're simply thankful to have made it out of a dangerous situation alive and to still have a future.
"I want to be a mechanic, to fix cars," 13-year-old Mongkhon Boonpiam told ABC. Natthawut Thakhamsong, 14, wants to be an architect. An overwhelming number of the boys want to be professional athletes, representing their country on the national soccer team one day.
"I want to play soccer," Adul said. "I want to be like [Cristiano] Ronaldo and [Lionel] Messi."
You can watch the full interview World News Tonight at 6:30 p.m., on Nightline at 12:35 a.m. Friday, and on 20/20 at 10 p.m. Saturday.