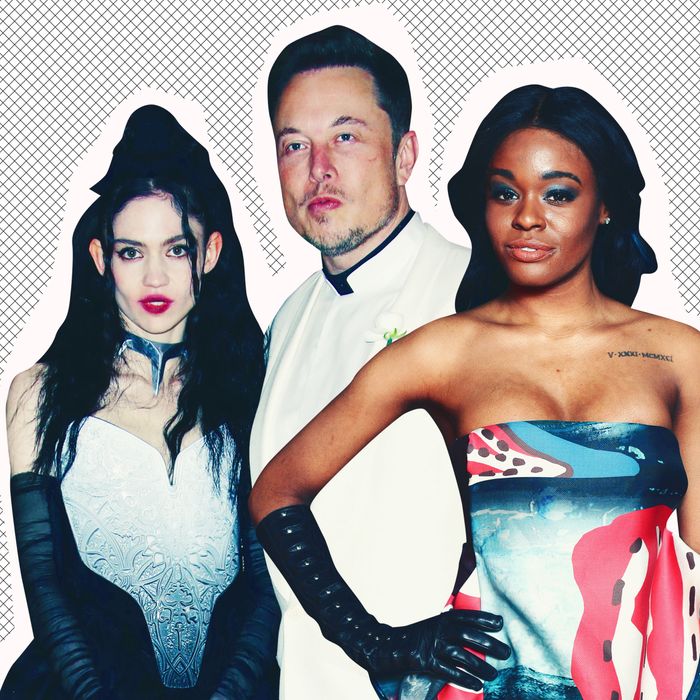 Friends.
Photo-Illustration: Getty Images
The ongoing battle of Banks, Grimes, and Musk v. Our Collective Sanity rages on. The latest assault against our rapidly deteriorating grasp on reality? Texts allegedly exchanged between Grimes and Azealia Banks about Elon Musk's supposed stock fumble, the size of his D, and also the "invisible world."
First, a quick(ish) recap for everyone who have successfully convinced themselves that this saga has been nothing more than a delirious fever dream. Back in May, tech billionaire Elon Musk and musical space nymph Grimes made their debut as a couple at the Met Gala. The pair spent their summer pretty much how you'd imagine — Grimes defended Musk against his reported union-busting efforts; Musk got embroiled in farting-unicorn drama, and then called one of the Thai cave rescuers a pedophile.
Then, at the beginning of August, Azealia Banks got involved. In a series of Instagram Stories, the rapper wrote that Grimes had invited her to Musk's mansion in L.A. to work on Banks's second album, but when she got there, Grimes spent the whole weekend comforting Musk, who had tweeted out that he was considering taking his company Tesla private for $420 a share. Banks indicated that Musk had been tripping on acid when he sent the tweet, and that afterward he freaked out because he hadn't secured the funding to take his company private.
She compared the episode to an "episode of Get Out," and later called Grimes a "dirty-sneaker-inbred-out of the woods-Pabst beer pussy methhead-junkie" and Musk a "beta male who took steroids and got hairplugs to convince himself he was alpha."
Before I go on, feel free to take a minute to focus on your breath, or run your hand along the firm, solid top of a table — anything that will anchor you in this moment, in reality. Because there is, in fact, more.
This weekend, Twitter user @fuckrashida posted what appear to be screenshots of Banks's Instagram Stories, which included a series of Signal messages between Grimes and Banks. In them, Grimes says Musk has "a fake made up accent" and "he has this weird accent that doesn't actually exist," and he has "a giant dick" and "like wow the russians want elon dead."
Now, Banks has shared what appears to be another screenshot of a conversation with Grimes, in which Grimes says Musk "got into weed cuz of me" and is "super entertained by 420," and he set the price of his stock at 420 "for a laugh," and also she wants to find Banks a boyfriend so the two women can be pregnant at the same time.
Banks responded:
"I'm like a very fierce protector of children and I can see them in the invisible world."
Grimes, and also the rest of us, wondered, "[W]hat's the invisible world?" but Banks didn't post her answer, so for now at least we are still in the dark.
Also this weekend, Musk and Grimes unfollowed each other on Instagram, and Musk appears now to have deleted his account. What does all of this mean? Probably nothing because, as this story proves, reality is an illusion, and life is meaningless. Also, I guess it's only a matter of time until Bobby Flay gets involved?