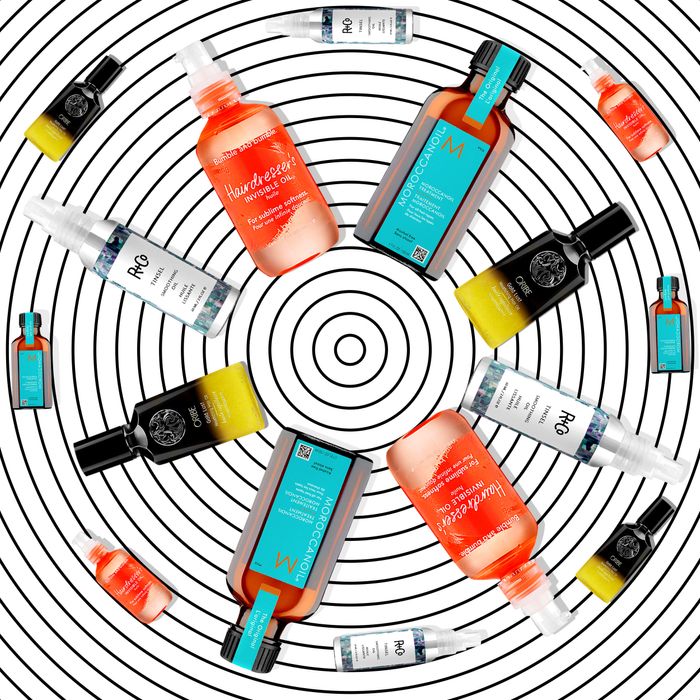 Photo: Courtesy of the Retailer
Oily hair is bad, but hair with oil on it can be good – in fact, it can be great. This is particularly true when the oil is a hair oil, typically a special blend of the beauty world's golden children (first names: argan, jojoba, almond, coconut; last names: oil), which moonlight as frizz-tamers, shine-boosters, and intense moisturizers when applied sparingly to hair. The best hair oils won't weigh things down. Think of them, instead, as leave-in conditioner's fancier cousins — the kind who always look put-together, gravitate toward shiny things, and are most tolerable in small doses. Here, ten concentrated vials of goodness that can help hair recover from almost anything (dullness, damage, dryness) it's been suffering through, especially at the tail end of summer.
If You Want to Feel Very Fancy
Created by hair artist Bob Recine, the author of Alchemy of Beauty, this hair oil is appropriately aesthetically pleasing and very potion-like. A blend of eight oils, it's great for anyone who sees their hair-care routine as a precise ritual. Summon your inner Marcia Brady and add two drops to dry hair before brushing through with a boar bristle brush a highly specific number of times (Recine recommends two to three minutes total). This oil also makes for a great shelfie, if you're into that kind of thing.
If You Hang Out With Heat-Styling Tools
Yes, most hair oils are invisible, but this one gets its name for its ability to form an undetectable protective barrier early on in your styling routine. Apply this throughout damp hair before using any sort of heat-styling tool and you'll be completely covered without feeling dragged down.
If You Wish Your Hair Were More Photogenic
If you're all about catching that light, R+Co's high-shine hair oil will be the perfect finishing touch after you're done styling. Just a pump or two applied as a final step is like highlighter for your hair.
If You're Into Cult Favorites
When the phrase "hair oil" is muttered (or in this case, typed), this teal and brown bottle of 100 percent pure argan oil typically comes to mind. Known for its distinctive scent, piles of beauty awards, and recurring invites to red carpets and NYFW via celebrity hairstylists, this trusted hair oil is consistently praised for its deep-conditioning abilities.
If You're Still Afraid of Hair Oil Halfway Through This Roundup
If you have grease-prone hair that causes you to clutch to dry shampoo for dear life, an already product-heavy hair routine, or a fear of oil in general, this lightweight product is your best bet. It's aptly named ghost oil because the formula is so thin it passes through hair with little resistance and no residue, leaving behind only the haunting effects of its presence (namely smooth hair). It also has a bright, citrus-y scent, so it's definitely a friendly ghost.
If You're in Dire Need of Some Damage Control
If you're looking to give dry or damaged hair an overhaul, this blend of argan and moisturizing babassu oils will help get you there. Treat it like a leave-in conditioner and apply it throughout damp hair post-showers until your hair starts feeling like itself again.
If You Want to Smell Worldly
Jen Atkin, founder of Ouai and hairstylist to the Kardashians, has a knack for creating amazing scents and this oil is further proof. This formula is packed with lesser-known oils like ama, borage, and baobab to help reduce frizz, plus galanga root extract to protect color-treated hair from fading. Better yet, it comes in Atkin's Rue St. Honoré fragrance so you'll feel like you're shopping in Paris with your flyaway-free hair.
If You're at a Drugstore Right Now
Effective hair oils at drugstore prices do exist! This well-rounded oil is suited for all hair types and covers all the bases in the shine, moisture, and manageability departments, making it an easy option for introducing a hair oil into any hair-care routine.
If Your Hair Always Feels Parched Post-Shampoo
Is your hair feeling a little too squeaky clean after your shampoos? To prevent stripping your hair of natural moisture after every wash, try using a fast-absorbing hair oil like this formula as a pre-shampoo treatment. Think of it as double-cleansing your hair: Apply the oil to dry, brushed hair before you step in the shower, then rinse it out to lock in extra moisture before the lather hits.
If You Take Beauty Sleep Seriously
Oribe is known for its luxurious hair products and Gold Lust is one of its best spokesproducts. Fully soak up this "liquid gold" blend of argan oil, jasmine oil, and shea butter by using it as an overnight treatment. Apply to to dry or slightly damp hair and prepare your hair for the best beauty sleep its ever had.
If you buy something through our links, New York may earn an affiliate commission.