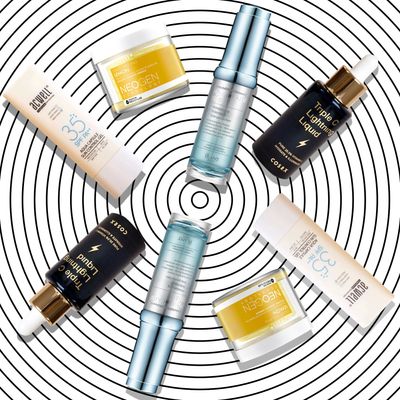 By now Korean beauty is hardly a skin-care secret, but I still know plenty of black women who think that it won't work for them. Often they're (understandably) put off by the marketing, which isn't exactly inclusive. But the truth is that the K-beauty process is ideal for black women because it focuses on hydration, exfoliation, and sun care — three things that are essential for all skin types, but are especially important for anyone who's worried about hyperpigmentation.
In my slow transformation into a skin-care junkie, I've come to rely on certain K-beauty products. The regimen can take a long time and you have to stick with it, but it really works — which is more than I can say for many other routines I've tried. Is it a quick fix? Absolutely not. But if you're struggling with dark acne marks, or dull tone and texture, this process works.
My tip is to start as soon as you get home, so that you can do the steps while you're eating or watching TV. I certainly have nights when I don't do the entire routine, but I have never regretted double-cleansing at night because it significantly decreased my breakouts. And I swear my face is notably brighter and more hydrated than it used to be.
I talked to Charlotte Cho, co-founder and chief curator of Korean beauty site Soko Glam, about the best K-beauty products for black women. Below are her recommendations, along with a few others I've come to love along the way.
The Best Brightening Product
Products like this one are often marketed as "whitening," but don't be alarmed — it's a mistranslation. According to Cho, there will be no melanin lost with this product. Instead, it will make your skin look brighter, with a dewy glow. (If you're interested, The Klog has a great piece on brightening products and how they work.)
"To combat sunspots, acne marks, and other forms of hyperpigmentation, look for products that contain vitamin C and use ample SPF protection," says Cho. "Vitamin C protects your skin from UV photo damage, increases collagen production, and reduces dark marks. Corsx's Triple C Lightning Liquid is packed with a high concentration of pure ascorbic acid, so it gets to work quickly, targeting pigmentation and evening out your skin tone."
For women who are struggling with hyperpigmentation or acne, hydration will help skin look even better. "This hyaluronic acid ampoule is formulated with 100 percent pure sodium hyaluronate to protect your skin from further water loss while balancing its water and oil content," explains Cho. If that sounds like AP Chemistry to you, look at it this way: An ampoule is basically a supercharged serum with higher concentrations of active ingredients, and hyaluronic acid is an excellent moisturizer, so this stuff is a shortcut to plump, happy, moisture-rich skin.
Cho argues that sunscreen is the best cream you can buy. "UV rays from the sun can cause premature wrinkles, pigmentation, and dull skin. And when you wear sunscreen every day, you reduce your risk of skin cancer by 50 percent," she says. Wearing sun protection is also the best thing you can do to prevent pigmentation, no matter your skin type. Says Cho, "You might not know this, but pimples are actually inflamed wounds and they need to be protected from the sun's harsh UV rays, which cause post-inflammatory pigmentation." The great thing about the Aqua Capsule Sun Control Gel is that it has no white cast, so you can layer it under makeup.
The Exfoliating Pads That Erased My Acne Scars
These totally turned around my acne scars by sloughing off all the dead skin cells. They have two sides: a soft and soothing side, and a rough gauze-y side that physically exfoliates your skin while the formula chemically exfoliates it. The formula is also full of AHAs and lemon extract for extra brightening, so even if you don't struggle with acne, they're great for giving your skin a light but effective overhaul.
A Wildly Effective Face Mask
I try to use a sheet mask at least every other night to lock in all the serums and boost all the effort I'm putting in. I like this one from Karuna because it's affordable enough to use regularly, but does an amazing job at deep conditioning and has lots of chemical exfoliators to shrink pores and help with dark marks. The lemon and pineapple extract in the formula exfoliate dull skin and promote cell turnover. Even on the days when my skin has the worst breakouts, this helps exfoliate gently, with no redness or stinging, so my skin can recover faster.
A Spray for Hydrated Skin
I can't say it too many times: Hydration is key for keeping that melanin glowing. I am one of those annoying people who sprays their face every hour. My husband always tells me that people are judging me when I do this at restaurants, in cabs, or on the street, but I truly do not care because I want dewy skin.
A Serum to Keep Your Skin Happy
I may be be bougie, but I cannot afford to buy SK II's essence, no matter how many great reviews there are. Luckily, this is a good substitute. Everyone always talks about Vitamin C being the best thing for brightening, but what they don't tell you is that when Vitamin C products are paired with niacinamide, the dark marks go away a lot faster. If you're doing a lot of exfoliating, acne treatments, or other intensive skin-polishing, this will help keep your face feeling balanced and refreshed.
If you buy something through our links, New York may earn an affiliate commission.