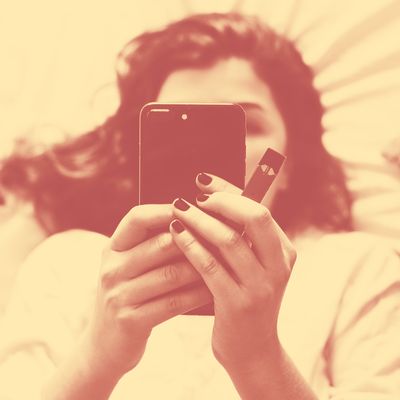 Photo: Gabby Jones/Bloomberg via Getty Images
Juul, the ultra-trendy brand of e-cigarettes known for their thin, streamlined appearance and wide visibility across social media, is currently under investigation by the FDA for marketing tactics the agency says were explicitly designed to target teen customers. In an interview with the New York Times, Massachusetts attorney general Maura Healey, who is also investigating Juul, said the company's strategy is about "getting kids to start vaping, and make money and have them as customers for life."
Though Juul's initial ad campaigns from 2015 included only models age 21 or over (and e-cigarette sales, like cigarettes, are restricted to those over age 18), the splashy design, minimalist lettering, and youthful styling suggested some brand awareness that teens would take interest. Indeed, a former senior manager who spoke anonymously to the Times said that "he and others in the company were well aware [the ads] could appeal to [teenagers]."
Juul later changed its marketing, deciding only to feature models age 35 and older in its ads, claiming that its target demographic is adult smokers who might be interested in a less-dangerous alternative. In June of this year, the company changed its policy again, now featuring only real customers who have made the switch from cigarettes to vaping.
Still, it's clear to anyone who's ever been on Instagram or Twitter that Juuls belong to the teens, who have made the product a verb, indicative of a lifestyle choice: "juuling." And though studies do suggest vaping is less harmful than smoking cigarettes, Juul use is not without risk. In his original statement, FDA commissioner Scott Gottlieb wrote that "The nicotine in these products can rewire an adolescent's brain, leading to years of addiction."
In response to the FDA's request for internal documents, Juul stated that they've converted one million smokers to e-cigarettes, but that information is based on a self-reported survey on its own website, which is hardly an objective, reliable resource. And according to studies, claims that these products can be used transitionally on the way to quitting are dubious at best. In fact, the opposite may be true: research suggests that e-cigarette use among teens can result in increased cigarette use later on. Whether they lead to worse-for-you forms of smoking or not, e-cigarettes themselves are addictive, and full of carcinogenic chemicals, just like their predecessors. That the packaging looks better, and the product smells and tastes better, only further masks the e-cigarettes' negative health consequences, say health advocacy groups who've commended the FDA for its investigation. Sorry, teens: smoking (even … electronically) is still bad for you.