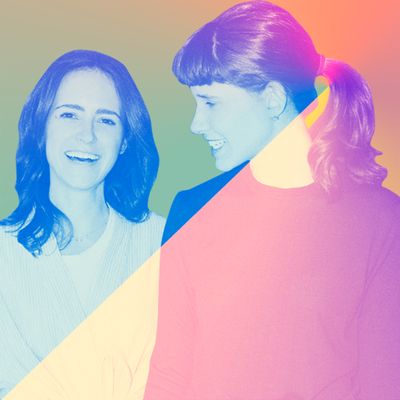 Photo: Courtesy of Tenoverten.
Tenoverten founders Adair Ilyinsky and Nadine Abramcyk met through ex-boyfriends back in 2004. They both enjoyed getting their nails done, so they'd meet at salons in their West Village neighborhood and take notes.
"We kept talking about how we could improve upon the model," remembers Abramcyk. "We'd think, Why are the bathrooms always so dirty? Why aren't there better polish selections?"
Wouldn't the place be so much nicer if the staff was wearing uniforms? added Ilyinsky. "We mentally made a checklist of how we'd do it differently if we did it." And there it was, that white space, just begging them to fill it.
Both were content at their jobs — Abramcyk, a former publicist at Time magazine had recently opened Mick Margo, a high-end clothing shop in the the Village, and Ilyinsky was thriving as a financial analyst at Coach.
"Neither of us was like, 'Oh God, I hate what I'm doing," remembers Abramcyk. "But the idea was just too compelling."
Tenoverten opened in 2010. The cozy, chic second-floor lair in Tribeca played cool music, customers were handed iPads, and the polish offerings came from Chanel and NARS. One year later, their own in-house polish followed, and expansion to Austin and Los Angeles, along with three more NYC locations.
These days, Ilyinsky and Abramcyk are honing in on "clean" beauty. Nontoxic cuticle oil, nail dryer, and polish remover currently exist, but formulas are in the works to cover every element of the manicure and pedicure process. Next year, the line will go into Target.
"We're like each other's spouses," laughs Ilyinsky. "We inherently understand when the other needs a little help. We even finish each other's sentences. It's no wonder our staff calls us 'Nadair.'" Nadair spoke with the Cut about their favorite "natural" deodorants, napping for health, and the best recipe for soft-shell crab.
Bath or shower?
AI: Shower, it's genetic. I use Good Soap bars from Whole Foods.
NA: I'm obsessed with taking hot baths and dry-brush before.
Fragrance of choice?
AI: Growing up, my mother never wore fragrances because of allergies, and now as a result I don't really wear perfume either.
NA: Me, neither.
Deodorant of choice?
AI: Soapwalla Deodorant Cream.
NA: Agent Nateur.
Favorite scented candle?
AI: Coven No. 1 (soy), Diptyque Figuier, and Cire Trudon Abd El Kader.
NA: Keap Wild Figs.
What, if anything, is usually on your lips?
AI: Chanel Rouge Allure in Pirate.
NA: Olio e Osso — in Clear or Crimson.
What shade, if any, is usually on your toes and/or hands?
AI: Fingers in Tenoverten Ludlow and buff toenails.
NA: Tenoverten in Canal, a new summer 2018 shade.
Gel is …
AI: Too good to be true (damaging was my second answer).
NA: Not worth the long-term damage to your nails!
What's your desert-island beauty item that's not nail related?
AI: Kimiko Super Fine Eyebrow Pencil Automatique.
NA: Shu Uemura eyelash curler.
What do you splurge on?
AI: Plantings for my urban garden from Flower Girl NYC, stationery from the Printery in Oyster Bay.
NA: Shoes.
Bed linens brand?
AI: Matouk and quatrefoil quilts from Matteo.
NA: Matteo.
Daily carryall of choice?
AI: Loewe small hammock bag.
NA: Dragon Grace basket bag.
Work shoe of choice?
AI: Manolo Blahnik Okaya mule.
NA: Chanel flats.
Casual shoe of choice?
AI: Repetto Brigitte Ballerina in black.
NA: Veja white sneakers.
What clothes do you chill in at home?
AI: Vintage Levi's and a T-shirt from THE GREAT.
NA: My Hatch cashmere robe.
What fashion look do you not get?
AI: Still trying to process the fanny-pack comeback.
NA: The whole pajama look.
What item is currently at the top of your fashion wish list?
AI: CVC Stones necklace.
NA: Brock Collection Darwin Dress.
Who was your idol as a kid?
AI: Oprah.
NA: Kate Moss.
Who's your idol now?
AI: Michael Bloomberg (for committing $80 million to flip the House).
NA: Oprah.
Favorite podcasts?
AI: The Daily, The Goop Podcast, and Oprah's SuperSoul Conversations.
NA: How I Built This, Oprah Soul Series, 33voices Startups & Venture.
What phrase or word are you known for saying?
AI: "Worst is first!" I have a propensity to avoid things.
NA: "You get what you get and you don't get upset," said only to my kids.
What word do you overuse?
AI: Completely, totally, like, super … I'm guilty of all of the qualifiers.
NA: "Damn It."
What drives you crazy?
AI: Stop-and-go driving. I'm extremely prone to carsickness.
NA: Grown-ups going solo without kids to Disney World or Land.
Last great book you read?
AI: I'm reading Modern Lovers by Emma Straub because I'm trying to cut out TV before bed. Sadly, I think the last book (or magazine for that matter) I actually finished was pre-kids.
NA: My Absolute Darling by Gabriel Tallent.
How do you cure a cold?
AI: Sleep! I was taught that it's the cure-all. To this day, when I call my mother to talk about a legitimate problem, she's says, "Do you need a nap?"
NA: Homeopathic remedies from Boiron, starting with Coldcalm.
Where do you go when you need quiet?
AI: My bedroom. Sometimes I hide out when my kids don't know I'm home.
NA: My bath.
What do you think Pantone's color of 2019 should be?
AI: French Blue.
NA: Yves Klein Blue.
What stresses you out if you're running low on it?
AI: Phone battery!
NA: My Metagenics Probiotics.
What do you wish you had invented?
AI: The whole Frozen franchise.
NA: The iPhone — I cannot believe how it plays into peoples lives.
Whose is currently "nailing" it?
AI: Meghan Markle's nails looked perfect for the royal wedding. Also, moms-to-be who are taking prenatal vitamins have the longest, strongest, and fastest-growing nails. Best nails also go to women (and men) who get weekly manicures and religiously moisturize their hands and cuticles at home.
NA: Michelle Lee — editor-in-chief of Allure.
Favorite Instagram?
AI: Nordic Style Report.
NA: Bonberi.
Favorite meal and where?
AI: Soft-shell crab and we have a preferred recipe we make at home.
NA: The kale salad at Tiny's & the Bar Upstairs.
Most recently binged TV show?
AI: Billions.
NA: The Crown.
What product (or polish shade?) in your domain is misunderstood and should be a best seller?
Both: I don't think our customers quite understand how revolutionary our Non-Acetone Polish Remover and Finishing Hand Cleanser Cloths are. It has no bad smells. It's naturally scented with rose essential oil. You can use them anywhere, anytime — on a plane, in the car, in bed — without offense (or dirty looks).
What do you foresee as the top beauty trends in 2018?
AI: We've seen a seismic shift toward "clean" beauty and nontoxic ingredients. I discovered a nontoxic beauty store in Old Lyme, Connecticut. I thought, If a place like this can exist in this tiny village, that is an indicator that people are concerned about beauty ingredients.
NA: A real movement toward the masses getting behind buying safer beauty options. For me, it's also about sifting through all the information and figuring out what really is beneficial. You're taking all these supplements, but are you actually feeling better? You're reading all these books, but are you seeing your friends? I'm really excited about safety, so hopefully that can stave off some major health issues.
If you won the Powerball tomorrow, what are the first five things you would do? (After, of course, donating the majority of it to your top charities …)
AI: Hire a private chef to get us out of our vicious Seamless cycle. Take our kids and extended family on an African safari. I was lucky enough to spend some time at the Lewa Wildlife Conservancy in Kenya and it was a life-altering experience. Keep a pied-à-terre on the Place des Vosges. Splurge on a Verdura cuff à la Coco Chanel. Compound my fortune by investing in other female-founded, nontoxic beauty brands.
NA: Charter a plane and take my entire family to Uruguay for a month, where I would rent an ocean-side house large enough for all 15 of us. Buy a home on the ocean in Amagansett. Invest in a major art collection. Buy a horse for my daughter, who is obsessed. Create a trust that gives funding to provide education through college for those who are most deserving and in need. I was given an opportunity to succeed by my parents and have never taken it for granted. The biggest gift would be able to share that with others.