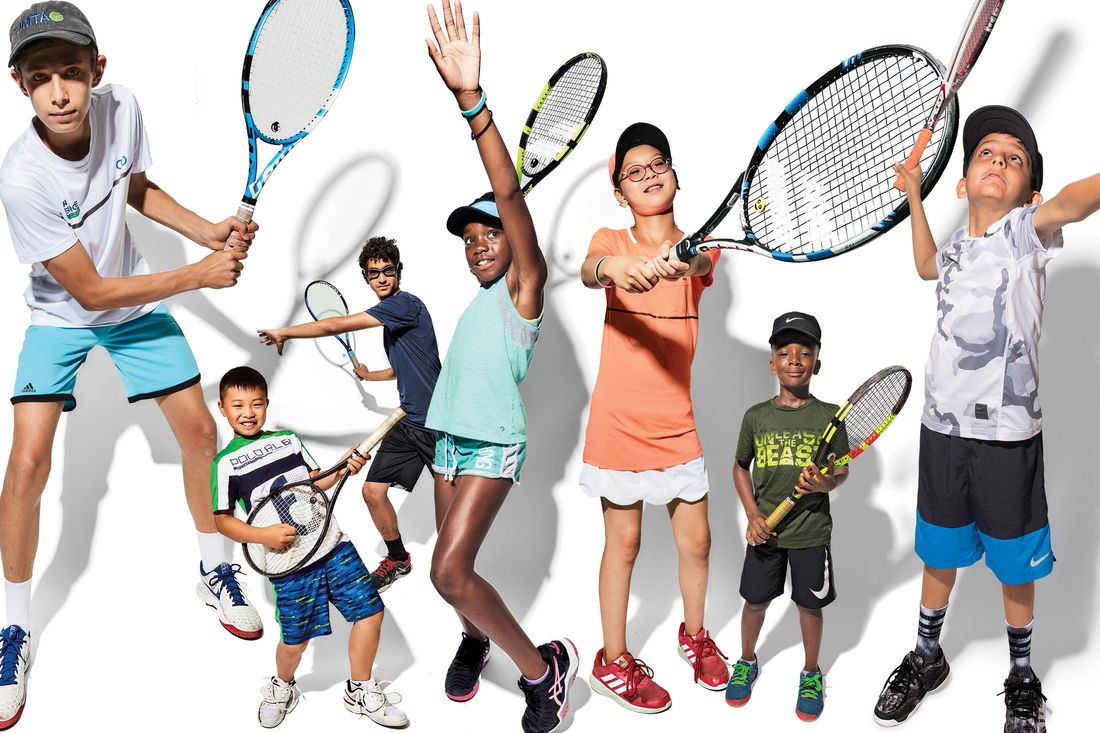 From left: Ariel Blanke, 16; Jesse Yang, 10; Adem Agdelhadi, 14; Geneva Austin, 10; Amanda Chen, 11; John Henry Mills, 9; and Raghav Jhamb, 8.
Photo: Bobby Doherty/New York Magazine
Ariel Blanke, 16
How often do you practice?
Twice per week. When I play, the only thing I really want to do is win. At the beginning, I'm always a bit bad. I try to be calm. But a bit of rage does help.
Adem Agdelhadi, 14
What do you do to warm up?
We do these things called power repeats, where they pair people up based on speed. I'm really fast — actually, I'm the fastest one at the camp. And the fitness trainer was confused because there was basically no one who could race me.
Amanda Chen, 11
Who's your favorite player?
Serena and Venus. I also like Roger Federer and Rafael Nadal. I actually think my reason for liking Federer is because my first tennis racket said ROGER FEDERER on it.
John Henry Mills, 9
Who do you like to play tennis with?
My sister Champagne. She is good. But when I beat her, she complains and whines and cries her head off.
Lara Afolayanka, 11, Student
How long have you played tennis?
Since I was 4 and a half. My dad was watching a lot of tennis on TV then and thought maybe I should try it. I've always been very competitive. When I was little, I played a lot of video games with my older brothers, like Mario and this series called Cooking Mama. I'd get mad if I lost. I'd usually stop playing and need a couple of minutes to calm down. But I'm working on being calm about losing when I play tennis. I try to keep the anger inside of me.
How often do you practice?
Right now, because it's summer, five days a week and seven hours a day.
Who's the hardest kid to beat?
For me, a girl named Victoria. She is 18 years old, I think. It's good for me, because sometimes I need to play people who are better than me. Sometimes I can get points on her. Usually she'll end up getting more points on me.
What do you do when you're not playing tennis?
I like to make crafts. Sometimes I make cash registers out of cardboard.
Photographed at the John McEnroe Tennis Academy on Randalls Island.
*This article appears in the August 20, 2018, issue of New York Magazine. Subscribe Now!