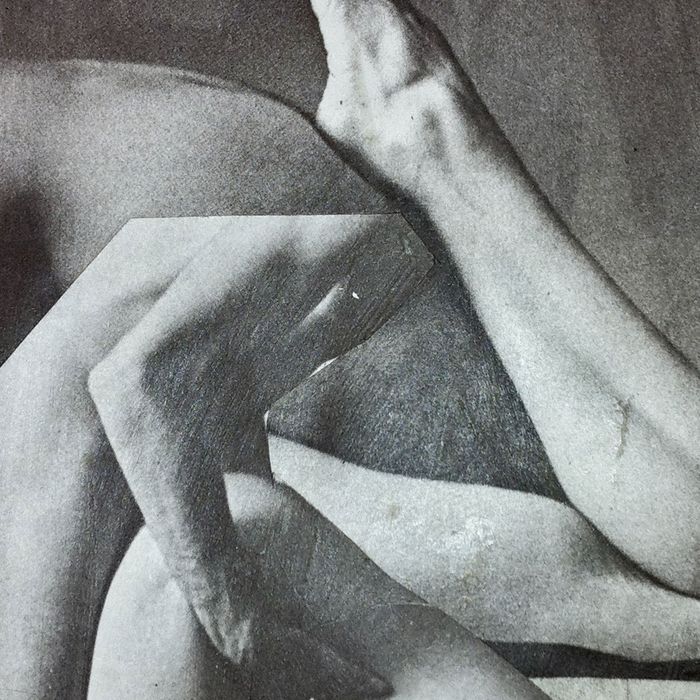 Photo-Illustration: James Gallagher
Get Sex Diaries every week.
New York's Sex Diaries series asks anonymous city dwellers to record a week in their sex lives — with comic, tragic, often sexy, and always revealing results. This week, a 29-year-old accountant feeling smitten but wary of her latest fling: 29, divorced, queer, Las Vegas.
Day One
9 a.m. I wake up hungover at M's. We met on Tinder and have been having incredibly good, passionate sex for three months. But now, I'm cringing over the conversation we had last night: I decided to take the plunge and ask M if we could see more of each other. After a bottle of wine, I told him I'd even consider not seeing other people if that's what it would take to see him more often. He said it wasn't really fair to see each other at that capacity, if we're just going to inevitably leave one another because of a deal-breaker. What this means is: I don't ever want to have children, much less his.
9:10 a.m. M leaves me naked in bed to run out for coffee. I love sleepovers and coffee in bed.
11:30 a.m. I drive home and cry a little because I know I need to stop seeing M. I'm clearly catching feelings.
A little more about me and feelings: I met my ex-husband in NYC in 2010, we moved to Vegas in 2012, married in 2014,  and divorced June 2017. Bottom line is, I became less and less attracted to him as a life or sexual partner. I cringed when he touched me; I was unable to get wet. I stuck around for so long because the one thing I love most in the world is our dog, and I knew he'd get custody. I'm too selfish a person to take care of anything by myself.
3 p.m. I text M a simple breakup and a song that perfectly expresses how I feel. He writes back that it was nice knowing me.
5:45 p.m. I WhatsApp my Ex-Boyfriend that I need his dick. We've been on and off my entire adult life. Now, we have the ultimate friends-with-benefits relationship. He lives in L.A., so I make plans to stay the night Thursday before I spend the weekend with my parents.
Day Two
7 a.m. My eyes are puffy from crying yesterday. I throw my eye cream in the freezer and hope for the best.
8 a.m. My job is stressful: I work as a tax accountant in a law firm. Plus, there's been talk lately that the partners are going to move the tax department out of the main office, which is located in a fancy outdoor shopping mall. I'm a bougie millennial who enjoys the convenience of Sephora a few steps from the office …
9:30 a.m. My supervisor expresses some concern. It's probably because she can see how puffy my eyes are. I vaguely tell her it's been a rough weekend and ask for a comp day off to go see my family in California. It's a half-truth. She knows I put in 80-hour weeks during the tax busy season so it's immediately approved and my PTO stays intact.
12:45 p.m. I match with a handsome, bald cop on Coffee Meets Bagel. He obviously has children, which had always been a deal-breaker for me. But I bet he doesn't want any children from me. We dive into DMs.
5 p.m. I leave the office on time, knowing that I don't need stay late or try so hard anymore.
9:30 p.m. When I'm stressed, I don't eat much. I crawl into bed with some snacks, smoke some weed, and try to sleep.
Day Three
8:30 a.m. The move is announced as official, and everyone in accounting is extremely unhappy we have to move to a shitty office building soon. I'm secretly confident that I can land a better job at an accounting firm for more money.
6 p.m. I download Bumble again. I take a long pause when the app asks if I'm interested in men, women, or both. Loaded question. I've always loved women, but men are so easy. I choose just men. I can't handle women right now. I swipe right on a handsome guy with amazing blue eyes. But I prepare for the worst because he only has one picture and no profile. I already feel like a fool.
6:17 p.m. Blue Eyes and I match. My first message to him is, "This is a fake profile, right?"
8:30 p.m. I've been glued to my phone, immersed in flirty, smart conversation with Blue Eyes. I tell him we can meet tomorrow or once I'm back from LA. He chooses tomorrow.
10:45 p.m. I'm enamoured with Blue Eyes and happy that I've barely thought of M. I get stoned to fall asleep.
Day Four
10:30 a.m. Work is so stressful. It's just a long, boring day of stress.
5:45 p.m. I arrive at my long-time brow waxer. Nothing makes me feel more confident than a fresh wax.
8:10 p.m. I send my brother the usual before I meet a stranger: photo, number, and the location of our date. He confirms receipt.
8:30 p.m. Blue Eyes and I immediately hit it off as we gripe about how we value our time. We'd both rather throw money at a problem if it means being able to focus our attention on something more worthy. He's just as handsome and charming in real life, your classic anti-corporate-job guy — one part consultant, one part real-estate investor, one part contractor.
9:30 p.m. We can't stop talking and haven't even ordered food yet. I can't believe how similar we are. But I also can't help but think my intense attraction has narcissistic undertones.
11:30 p.m. I'm exhausted and ready to go home. Blue Eyes walks me to my car. Turns out he doesn't live here (red flag). I offer him a ride back to his hotel.
11:45 p.m. We're parked in front of his hotel. He confirms the date I'll be back from L.A. because he wants to see me again, then he leans over to kiss me. It's the least awkward first kiss I've ever had. We keep kissing and he slips me some tongue. He pulls back with a boyish grin, half-apologizing for getting greedy.
Day Five
10 a.m. Blue Eyes doesn't text but SnapChats (another red flag!). We Snap back and forth a bit. I also firm up plans with Ex-Boyfriend since I'm driving to L.A. tonight. I can't wait until he ties me up …
12 p.m. Lunch with the tax director. He asks the group directly if anyone is looking to leave the firm. I say yes and tell him the company has lost my loyalty. Others follow suit, but still, he probably knows that I'm one of the few driven enough to actually leave.
3 p.m. Cop and I have been hitting it off on CMB. He knows I can't meet this week but is eager to set a date next week. I want to see more of Blue Eyes so I don't commit to firm plans with Cop, blaming it on work.
10:30 p.m. My drive to L.A. is delayed because of some tire work for my car but I drive fast and make it in just under four hours. Ex-Boyfriend and I share a joint, then he makes me dinner, and I hop in the shower. As I towel off in his bedroom, he comes in, turns off the lights, and ties me to his bed. I love the feel of his rock-climbing-calloused hands all over my body.
Day Six
9:45 a.m. Ex-Boyfriend tries to guilt me because we slept in. I shrug it off and tell him I deserve to sleep in on my days off.
10:15 a.m. I treat him to some nitro cold-brew lattes for breakfast. We catch each other up on our dating lives and share intimate details about our conquests. He informs me that as of last night he's finally achieved a hat trick: three women in three nights. I'm not jealous anymore these days and enjoy this intimate level of support from someone who has known me so well for so long.
11 a.m. My phone has not stopped buzzing from exchanges with Cop and Blue Eyes. I check my text thread with M. Nothing. I try not to care.
12:30 p.m. At lunch. Only in L.A. will you find kale in your house salad at a Japanese ramen house. I never take photos of my food, but Cop requested so I oblige.
2:45 p.m. I've been running errands with Ex-Boyfriend because he doesn't have a car. I don't mind because I want his muscular body on mine and I know he'll show me some gratitude later on.
3:30 p.m. We take a break from errands so he can do just that. I tell him that the post-divorce sex I've been having over the past year has been better than any sex I ever had pre-divorce and pre-marriage. He makes a joke about how that's a blow to our past lives because we dated when I was in high school and in-between other men before I met my ex-husband. I bask in how easy and fun things are with him.
6 p.m. He wants to cook me dinner because he knows I can't and don't cook. I pay for his groceries and he jokes about how he feels like a prostitute. I always enjoy our power dynamic.
9 p.m. I pack my things and prepare to drive two hours to my parents' house. Ex-Boyfriend has a late date with someone we refer to as Young Girl, which means we're not having sex again this trip.
11:20 p.m. Arrive at my parents' house and hug my mother. I'm happy with the relationship we've developed since I poured my heart out to her about my unhappy marriage last year. I couldn't stop telling her blunt truths about myself and now we're at a point where I can speak freely to her. I even told her I may get serious with a girl one day and her reaction was appropriate. She was supportive and curious, saying that it would be a little weird for her, but that she'd be happy if I could just be myself and find happiness.
12:45 a.m. Out of respect, I get stoned in my parents' guest-room closet with my weed pen so no one can smell it. I could go outside … but that's too much work.
Day Seven
10 a.m. Blue Eyes and I Snap as I sip on some coffee. He asks me if I'm ready for a wall of text that will take me on an emotional roller coaster. For privacy, I retreat to my guest room. Bring it on.
10:10 a.m. Whoa. I had identified a few red flags since meeting Blue Eyes so I was somewhat prepared for this, but still. In short: He wasn't prepared to meet someone like me. He even lied about his name, it turns out. He says he really valued meeting me, but doesn't want to waste my time because he's so riddled with baggage that it might be years before he has his shit together. I breathe a huge sigh of relief and Snap him, "I deeply relate and my baggage from the last year alone heavily weighs on me. I'm not capable of a relationship right now or maybe ever. I'm not interested in being your friend but I want to continue seeing you and get under you." He's surprised and delighted at my response. But I'm not satisfied yet. I ask if he's married.
10:15 a.m. He replies, "Yes, I am married to an amazing girl but we've been separated for three years. That's all I want to share about that for the moment." In my inherent mistrust of the world, I take that with a large grain of salt and assume he's married-married. Yesterday, I was proud that I'd never cheated on or with anyone. Today, I realize that I would gladly be the other woman if it means spending more time with Blue Eyes. We make plans to see each other as soon as I'm back in town tomorrow.
10:30 a.m. My mother comes to check on me and tells me we're headed to the casino, so I throw on some lipstick and eyeliner.
4 p.m. We leave the casino. I'm up $40; everyone else either won or broke even. Victory.
4:30 p.m. I excuse myself from our little family reunion to take a nap. I smoke some indica and fall asleep, not waking up until my mother calls me to the dinner table hours later.
Day Seven
11 a.m. I wake up to a sweet Snap from Blue Eyes. I know I'll be exhausted when I get home, so I ask him if we can just order in and hang out in his hotel room. He knows I'll be in the car for hours today and tells me I can look forward to an amazing massage where he'll work out all my knots. Damn.
11:30 a.m. Over coffee, I tell my mother about M, Cop, and Blue Eyes. She doesn't understand my need for so many men but genuinely cares to learn more. I tell her it's because I'm deeply lonely but fiercely independent. I explain how each serves to fill certain voids in my life.
2:30 p.m. I hit the road for Las Vegas. I can't wait to feel Blue Eyes's hands on me.
6:45 p.m. I pull up to his hotel and he meets me out front with a parking pass. Who says romance is dead?
7 p.m. We decide on room-service pizza and smoke some weed. It's strange to hear him give his real name over the phone. But then he kisses me and it feels so natural. I love the way he touches me. He gives me an incredible massage, which is saying a lot since I book regular massages.
8 p.m. We eat some pizza. We talk about how refreshing it's been to know and talk to each other — our brains seem to work the same.
9 p.m. I'm so ready to have him take me but I hate calling the shots in the bedroom so I submit to his pacing. He slowly takes off my clothes, one piece at a time, kissing me or my body the entire time. I want him so bad. He goes down on me for longer than I've let anyone else. His foreplay is so selfless yet once he penetrates me, his selfish side takes over …
10 p.m. After he comes I tell him it's my turn. He asks how he can help and I tell him to finger me, touch me, and kiss my breasts while I use my vibrator. His selfless side is back and I come as soon as I feel his warm breath exhaling near my clit. We smoke some more weed and he asks me to stay the night. I shouldn't be surprised that we both love the same intimate things like cuddling and sleepovers.
11:59 p.m. Still naked and stoned, we haven't stopped talking. I'm going to be so tired tomorrow. Not sure where any of this is going, but so far, no regrets.
Get Sex Diaries every week.
Want to submit a sex diary? Email sexdiaries@nymag.com and tell us a little about yourself.