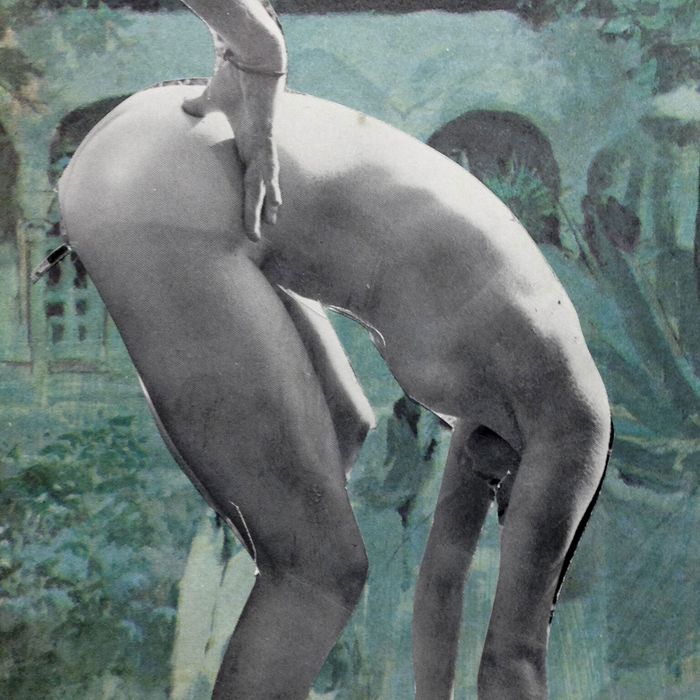 New York's Sex Diaries series asks anonymous city dwellers to record a week in their sex lives — with comic, tragic, often sexy, and always revealing results. This week, a woman struggling with anxiety and an ex she can't quit: 24, pansexual, female, Austin, property manager.
DAY ONE
9 a.m. I snooze my alarm for the third time. I always set it early with the intention of getting up and working out but I never, ever do. I roll over to see my ex sleeping like a baby next to me, with our dogs flanking us. We broke up about seven months ago, but I still stay with him regularly and basically take care of him the way I did when we were in a relationship. We broke up because things just sort of fell apart and we needed growth as individuals outside of a couple. We were together for just under two years. Probably took things too fast in the beginning.
I always have crippling anxiety in the mornings, but being snuggled in between all the warm bodies and pillows calms me and I fall back asleep as I pet my pup's ear.
10 a.m. I finally force myself out of bed to get ready to go to work. This typically requires zero effort as I usually show up in some sort of dressed-up version of PJs. I work for a small family business and started as their nanny years ago. It's all very casual, laid-back, and comfortable. I'm basically family. I feed both pups, hit the bowl a couple of times, kiss my ex on the forehead before walking out the door.
11 a.m. Arrive at work. Man, my fucking anxiety is really out of control today. Sad thing is, I can't even really explain what I'm so stressed about.
1 p.m. My good friend W texts me about our evening plans at a hotel near my work. He and his wife M have a beautiful open relationship … and I've agreed to meet them for some fun. They've both already seen me naked and watched me get myself off (my friend has photographed me nude), so this doesn't feel like a big leap. Most important, they have never made me feel anything but safe and comfortable. Still, I'm just a little bit nervous.
5 p.m. Leaving work and headed to the hotel. Brought my razor and a change of clothes so I can get cleaned up at the hotel.
5:20 p.m. I get to the hotel. W has left to get food and drinks for us, and M answers the door in a tiny tank and her panties. I hop in the shower and when I get out I ask M to give me a massage. This is sure to get the foreplay started; plus, I have chronic back pain.
6 p.m. W gets to the room and makes drinks for everyone. We start discussing our boundaries for the evening and what we are expecting and then they both proceed to continue giving me a full body massage. Once I'm nice and oily, M starts to go down on me. Her touch is so gentle and completely sublime. She eats me out until I come and then it's my turn to watch M and W together. I watch as he teases her through her thin silk panties and touch myself until I come again.
This back and forth goes on for what feels like hours and finally I leave around 9, so that they can finish together. That's their thing: he doesn't touch anyone but her, but I'm okay with it. I would happily watch them fuck and get off while they do so, if I ever have the chance though.
9 p.m. I head back down to my ex's apartment, which is really our old apartment. I'm still reeling and so, so horny. I rinse off in the shower and hang out with my ex and our pups before I lie down and masturbate.
Midnight My ex comes to bed uncharacteristically early — usually it's somewhere between 3 and 5 a.m. because he's nocturnal. I roll over to spoon him for a minute the way I always do for a few minutes before I turn over and continue hugging my body pillow. When I roll over, so does he … and then he grabs me by the waist and pulls me in close. I wish for this every single night. He grabs my face and we kiss. My ex is the only person I enjoy kissing right now. He sticks his hands down my panties and then we have sex for the next hour until we both come. We know each other's bodies so well.
DAY TWO
6 a.m. I wake up with knots in my stomach, unable to get a full breath of air, and shaking. Yay for another regularly scheduled panic attack. WTF is wrong with me? I've always struggled with my mental health and truly this breakup was the best because I have come SO FAR. I just can't seem to conquer this crippling anxiety.
7 a.m. My ex gets up to leave for work. I feed the dogs, take a hit, and lie back down to try and get maybe one more hour of sleep. That doesn't happen.
9 a.m. I finally get up, walk the dogs, and then smoke an entire bowl before I throw on some clothes and head out to work.
11 a.m. As soon as I get to work my boss's 18-month-old son says my name excitedly. It melts my heart. I'm super maternal; I love kids and am great with them. I often even assume the role of caregiver, but I don't see kids in my future. About two years ago I found out I was pregnant while in Europe on a study abroad. It was my ex's and we decided an abortion was the right decision. I still know it was the right thing to do, but this little boy with his big blue eyes and curly mess of hair looks a little like me … It's hard not to imagine what if every now and then.
6 p.m. I get home to the doggies, walk them, feed them, and then we all assume our regular cuddle-puddle positions on the couch while we wait for my ex to get home. I romanticize our relationship and desperately want him back, but I know our breakup was necessary for so many reasons. It doesn't help that I spend so much time with him still. I originally moved out after the breakup, but then decided to sell all of my belongings, sublet my place, and buy a Sprinter van to convert into a tiny house on wheels. As the conversion happens I've just been couch- and bed-surfing across the city, but most nights I end up back in our old California king next to him.
8 p.m. My ex gets home. We don't talk about the night before — we just get high and eat all the snacks until we're bloated and then I go to bed. No snuggles, no touching, no kisses. It's all very platonic tonight.
DAY THREE
6:30 a.m. Surprise: a panic attack. Self-medicate by hitting the bowl and then I lie back down to shake in bed until I have to get up.
12 p.m. Man, I just can't relax today. I can feel my stress acne flaring up, and I'm starting to get hives on my neck and hand. Typical. I need to get into the water today.
4 p.m. I haul ass out of work to Barton Springs. My safe haven. It's been record-breaking temperatures every single day lately. I live for sunshine and being near a body of water, and I always keep a suit and towel in my van ready to go.
4:45 p.m. I pick a sunny spot on the hill, lay out my blanket, slather on some SPF, take my top off, and let the sun bake my bare skin until I'm nothing but a puddle of sweat. Once I can't bear it anymore I go jump into the chilly springs. It's 67 degrees in the water as opposed to the triple digits outside and the temperature takes my breath away for a few moments before I swim a few laps and return to my little spot in the sun.
5:45 p.m. The group of foreign men next to me (I think they're speaking French) are having a hard time not staring at my breasts as I lay out. I don't really mind. I can be a little bit of an exhibitionist.
7 p.m. I pack up my things after another dip in the springs and head home. It's time to smoke.
9 p.m. My ex works late tonight so I get ready for bed, watch a little bit of porn, and masturbate before I go to sleep.
DAY FOUR
7 a.m. Wow, my anxiety let me sleep in a little today. Not as shaky or nauseous this morning either. It'll be a good day!
9 a.m. I pack up my few belongings and my pup and then we head to my friends' apartment.
9:30 a.m. I get to my friends' N and P's place. They're making breakfast so I sit and eat with them before heading to work. I brought my dog so I wouldn't have an excuse to go back down to my ex's after work. I need a little distance … definitely getting too attached again.
4 p.m. Decide to have another therapy session with the sun at Barton Springs today. It's just as lovely.
8 p.m. My friends get home from date night. They're married — we often joke about how I'm their third. There's no romantic feelings, but I am very attached to them both and have been a part of their relationship since day one. I convince N to go to the strip club with me tonight, so we get ready to go out together.
9 p.m. Well. It's a bit early to be at a strip club. We're having an okay time, but our hearts aren't in it. We decide not to stay out late.
DAY FIVE
10 a.m. At work, daydreaming about what I want and who I want in life … I'm pansexual but feel like I'm constantly evolving and learning more about myself and how to love others. I'm clearly still in love with my ex, and on a bit of a sexual rampage if you will. I think casual sex ONLY is the answer right now.
5 p.m. Here I am, back at my ex's. He left early this morning to go home for a wedding this weekend so I'm staying here to take care of both dogs. I decide to stay in and have a self-care evening watching shit rom-coms and snuggling these dogs. I text K, a guy I fucked once before I dated my ex. We make plans to go to his place tomorrow.
DAY SIX
8 a.m. I can't sleep in these days no matter how hard I try.
12 p.m. Right after I get to K's apartment, he fixes me a mimosa. He's kind of a strange character and honestly we don't have anything in common other than a mutual physical attraction.
1 p.m. After he eats, we head to the pool. We are the only ones there and he can't keep his hands off of me …
2 p.m. We get back to his place and hop in the shower to rinse off. My showers are usually five minutes or less — I hop out quickly and wait around for K. He takes forever so I hit his bong and lie on the couch.
2:30 p.m. He finishes what I can only assume is his full grooming routine and comes into the living room. I walk over to him and we kiss. Ugh, why do people always want to kiss? He's okay, I guess. He starts to rub my clit and moves my panties to the side. Finally. We have sex and both come.
3 p.m. We head out to get some sushi and then he wants to buy some fish for his tank. He's so strange, but whatever — he's good in bed and I'm always hunting for someone who can give me multiple orgasms.
4:45 p.m. I get ready to head home to check on the pups. He tries to get me to stay and have sex again … and although I could happily come again I like the power of saying no when someone wants me. Also, these dogs are my children and I never want them to be alone too long.
DAY SEVEN
12 p.m. I've been lazy all morning, just kind of hanging around the house with the dogs, again acting like they're my children. On the subject of children and family … I grew up conservative Christian, blah blah blah. I was molested by a family member (extremely common, in my opinion). Seems cold to be so casual about it, but sadly it's more or less the same for most people. In my experience, at least.
4 p.m. Still binge-watching TV shows I've seen a hundred times. My ex gets home from the airport and has to go into work. His job is genuinely life-sucking.
11 p.m. My ex gets home from work. I want to hug him and smother him with kisses and my overwhelming affection for him, but I don't. Instead, I go to bed and text J that I will stop by after work tomorrow. Then I masturbate, and cry myself to sleep.
Want to submit a sex diary? Email sexdiaries@nymag.com and tell us a little about yourself.