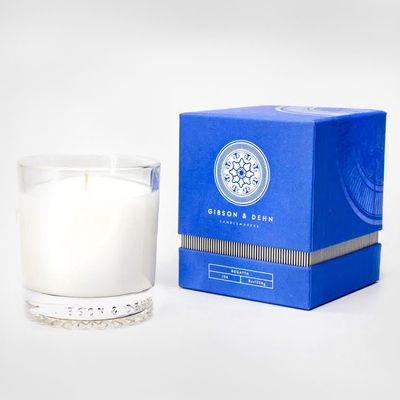 Photo: Courtesy of Gibson & Dehn
Do you remember that episode of Friends — I'm sorry, but I have no other way to start but this; you'll soon understand why — where Rachel was dating a guy named Danny and Danny invited her to his housewarming party at the last minute, so in order to seem non-desperate Rachel made up the excuse that she had to go to a "gala" that night? Danny asked, "What's the gala for?" And Rachel said, "It's a, um, it's, ah, a regatta gala." Remember? And Danny said, "Oh, do you sail?" And Rachel said, "No, but I support it." Remember?
I am sure that for the rest of my life I will never be able to hear the word "regatta" and not think of "regatta gala." (The same is not true for "gala," I assume because I hear "gala" more often than I hear the word "regatta.") This is essentially irrelevant but I bring it up because this candle, from Gibson & Dehn is called, guess what — do you have a guess? — "Regatta"! Like the scene! It's from their Coastline collection, and here is how they describe it:
A fresh mix of aquatic accords blended with sea moss and the essence of salt air. Bracing spring breezes add to the electricity of collegiate regattas, attended annually in Saratoga by rowing teams from across the country.
Of course, a fresh mix of aquatic accords blended with sea moss and the essence of salt air sounds like a lovely candle to remember the ocean by, particularly if we do not live close to the ocean. But is it?
Is the candle good?
It's good. Clean, relaxed. I'm not sure the scent screams sea, but it does hint at it — a little salty, a little oceany. Personally, it's not as disgusting as I would prefer. I think a comprehensive sea candle would include a little bit of a gross fishy element somewhere in there. Since it doesn't have the "sunscreen" note you get in some other aquatic candles, a scent that hits you over the head and screams BEACH!, I think maybe it should have a little gross fish element. But that's just me. Maybe you prefer your candles to have no disgusting scent elements. Luckily for both of us it takes all kinds.
Also I have to admit I've never been to a regatta (gala), so maybe they only smell collegiate and clean and not disgusting.
How much does it cost, and how long will it last?
The candle costs $38 and burn time is 50–60 hours. This seems to check out. I like a candle you can just burn, and burn, and burn.
When should you burn this candle?
There are a few hot weeks left in the summer season, and I would suggest burning this candle during the weekdays when it's so hot and you know the weekend is going to be shitty and all you want to do is go to the beach but you can't. Then in autumn I would suggest burning this candle while you're in a sweater remembering your collegiate regatta days, or while you watch The Social Network, which is my other "regatta" cultural reference point:
Who should buy this candle?
Rachel should buy this candle to fool Danny!