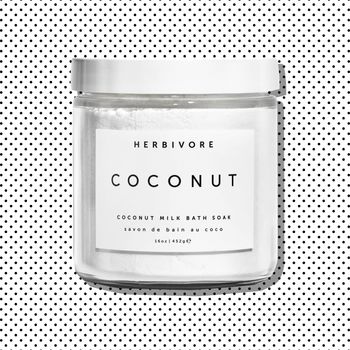 Photo: Courtesy of the Retailer
I am that weirdo who eats soup and drinks hot coffee in the summer. Summer is hot, but I like to be hotter, and not in the way that necessitates spending a lot of time at Pilates studios. I like to enter my apartment, crank the AC on high, and then make a warm bath. Maybe this sounds like a nightmare to you or maybe it sounds like I'm preparing to poach myself, but to me, it's the perfect Friday night.
For the perfect summer bath, I dump in a generous amount of Herbivore's Coconut Milk Bath Soak. It's a bath powder that feels like powdered milk — there's actual evaporated coconut milk in the formula. If you're concerned that this will make your bathroom smell like Thai takeout, don't worry. The bath soak has the gentle, yummy smell of coconut and vanilla — sort of like a not-too-sweet coconut pudding. It's not too saccharine and it won't cling to your skin.
Soaking in the bath with this stuff is pretty good, but the best part is getting out of it and seeing how soft your skin feels. "It's like bathing in velvet," one Sephora reviewer commented. I've always found slathering myself in body lotion to be a chore (there's just so much surface area to cover), and this soak is like the most relaxing possible alternative.
If you buy something through our links, New York may earn an affiliate commission.