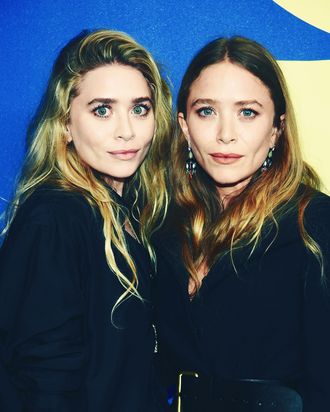 Mary-Kate and Ashley Olsen.
Photo: Dimitrios Kambouris/Getty Images
Alas, Mary-Kate and Ashley Olsen are not taking over Céline this fall, despite our best wishes. But they are finally launching menswear for their own brand, The Row. So, that's something to celebrate.
It's been a long time coming. In 2016, the Olsens quietly started selling men's pieces out of their New York and Los Angeles stores in an effort to "wear-test" different styles and get feedback from customers. Unlike the rest of the fashion industry, the Olsens are intent on taking their time. They also don't like to make a fuss. Come October, though, they'll start selling a full menswear collection, which will include impeccably tailored suits from Japan, shirts from France, Italian knits in colors like "mauve" and "plum," and American-made T-shirts and denim. So, the exact opposite of slide sandals and baggy gym shorts, which menswear enthusiasts are tripping over right now.
In an interview with WSJ. Magazine, the Olsens shared that they were inspired to create clothes "for the husband" of The Row's female clientele. (Mary-Kate's real-life husband, Olivier Sarkozy is a "habitual suit wearer," and brother of France's former suit-wearing president, Nicolas Sarkozy.) The reason it took so long, though, is that they labored over the details. They visited factories all over the world, and even considered — in millimeters — just how high their high-waisted pants should go.
"There's something about a slightly higher rise that is quite sexy," Ashley told WSJ. Wow. Quite sexy! Time to hike up those pants, husbands.