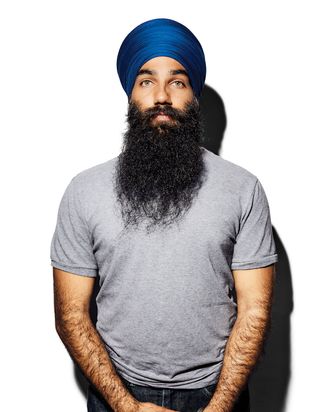 "If you ever see a dude in a turban Rollerblading around Manhattan — well, that's probably me."
Photo: Bobby Doherty/New York Magazine
Harpreet Singh Mann, Software Engineer
Are you on your lunch break?
Yes, my office is around the corner. I'm a software engineer at this start-up called Signifier. I've only been there about a year — before that, I was working in Toronto, which is the best city in the world, I believe.
So why did you come here?
I know, right? People keep saying "We're trying to leave, and you're coming into this country!" But I met a beautiful American woman. And that's why.
What's your impression of New York?
It's awesome. But I do think Canada is a better country for Sikhs. Since I moved to the U.S., I've been assaulted twice for wearing my turban. Back at home, I have a Sikh friend who's a member of federal Parliament. But I have found a wonderful Sikh community here — I try to go to temple in New Jersey or Queens once a week.
What else do you get up to in the city?
Well, I eat. Big fan of By Chloe. Do you know it? Their guac burgers are awesome. And I Rollerblade. If you ever see a dude in a turban Rollerblading around Manhattan — well, that's probably me.
Age: 31.
Reading: Sapiens, by Yuval Noah Harari.
Watching: "I just finished The Handmaid's Tale. Which is pretty …reflective of the current times. And Margaret Atwood really holds it down for Canada."
Listening: "When I'm coding, I listen to '90s rap: Mos Def, Common, Wu-Tang. But also alternative rock. And in the morning, I listen to Sikh religious hymns. It's peaceful."
*This article appears in the August 6, 2018, issue of New York Magazine. Subscribe Now!