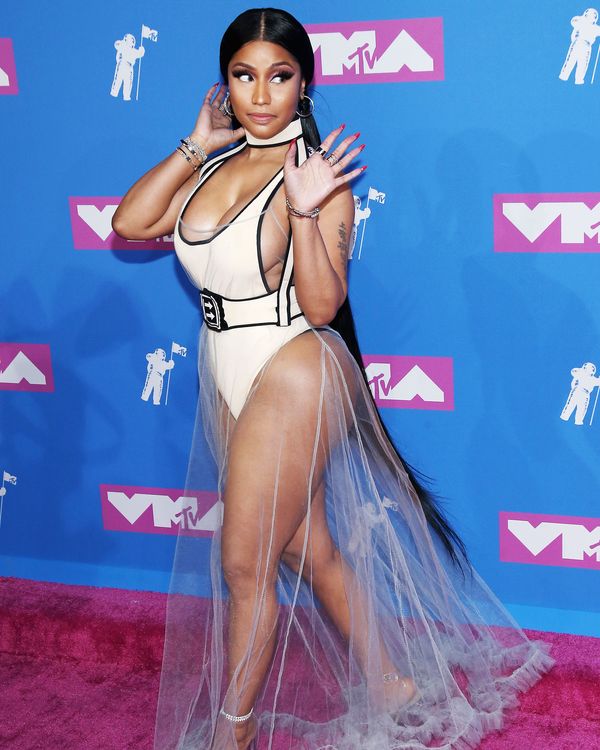 Nicki Minaj.
Photo: Paul Zimmerman/WireImage/Getty Images
The MTV VMAs 2018 never fail to disappoint when it comes to celebrity messiness. It is the awards show to air grievances, make political statements, and show up with a newsworthy new love affair on the red carpet. Below are the best, weirdest, and most absurd moments from the VMAs.
When Pete Davidson wore a (homemade?) bracelet with the initials for "Ariana Grande Davidson" on it.
Ari and Pete made their red-carpet debut as a couple at the VMAs, and as with other public outings, it revealed that the two are excessively enamored with each other. Pete's "AGD" bracelet appears to be homemade, and apparently stands for "Ariana Grande Davidson." How … affectionate.
When the Backstreet Boys Awkwardly Attempted a Comeback
The boy band that stole the hearts of so many back in the early 2000s now comprises five middle-aged men singing songs addressed to a fictional woman unsettlingly referred to as 'baby.' The Backstreet Boys don't inspire the same kind of swooning they used to, but that didn't stop their red-carpet performance. Later, they humiliated themselves on stage while trying to present an award.
When Cardi B pretended to breastfeed while opening the show.
Cardi B further normalizing breastfeeding in public by pretending to do it at the VMAs! "I am the empress," she said on stage, while holding a fake swaddled baby. "The liberals voted for me."
When Nicki Minaj corrected Tiffany Haddish.
Tiffany Haddish made a small joke about Fifth Harmony during her opening monologue, but moments later, Nicki Minaj reminded Tiffany not to mess with Normani.
When J.Lo rode the only working train in New York City.
Jennifer Lopez was the recipient of the 2018 Video Vanguard Award, and her entire night, from her performance to A.Rod's adoration, was incredible. But perhaps the most stunning part of J.Lo's dazzling performance was the fact she successfully took New York City transit anywhere. Even if it was just across the stage at Radio City Music Hall.
When Nicki Minaj performed at the Oculus.
Nicki seemed to make a miraculous jump from Radio City Music hall in midtown to the Oculus Center in Lower Manhattan in a matter of minutes, with a full costume change. While she's crazy talented, there's no way to make it 50 blocks in New York that fast. It turns out her performance was prerecorded, which is how she was able to go from checking Tiffany Haddish to rapping about Odell Beckham.
When Maluma thirst-trapped all of Radio City Music Hall.
The Colombian pop star made his VMAs debut with a performance of his song "Felices Los Cuatros" while wearing a printed suit — with no shirt underneath. As he danced across the stage surrounded by a dozen gold-clad women, he swished around his mane of hair and even received a full on-the-mouth kiss from one dancer.