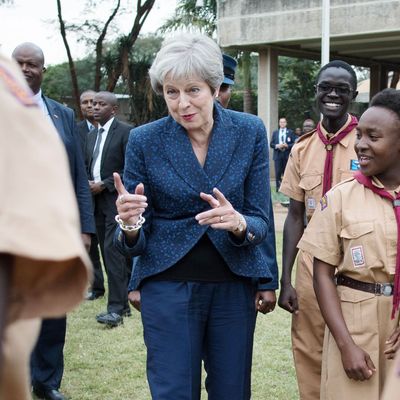 Theresa May in Kenya.
Photo: Stefan Rousseau - PA Images/PA Images via Getty Images
On the first day of British prime minister Theresa May's trip across the African continent, she danced in Cape Town, South Africa, contorting her body in attempt to mirror the two-step movements of school children. As many online would observe, she failed to display any sort of rhythm.
It appears merciless scrutiny from the internet hasn't swayed May from trying again. On the final day of her trip, she again tried to learn some new moves with scouts at the United Nations campus in Nairobi, Kenya.
What ensued was May engaging in some sort mechanical motion with her arms, knees bent as if preparing to land after a long fall. She's hunched over, taking on a hawkish stance, as she repeatedly shrugs her shoulders and spins in circles, bringing to mind visions of a roomba.
There's no telling why May chose to do this. While it is not unusual for visiting heads of state to engage cultural dances with nations they are visiting, May's dancing fails to serve as an act of diplomacy, as the Guardian pointed out.
Her dance was nicknamed the "Maybot" by various people online, and many posted redubbed videos of May to Twitter. After a review of several clips, it is clear that no matter what song you put May's movements to, she is still a little off beat.
May's moves certainly won't land her on Dancing With the Stars, but maybe with time the "Maybot" will become an acceptable dance move.