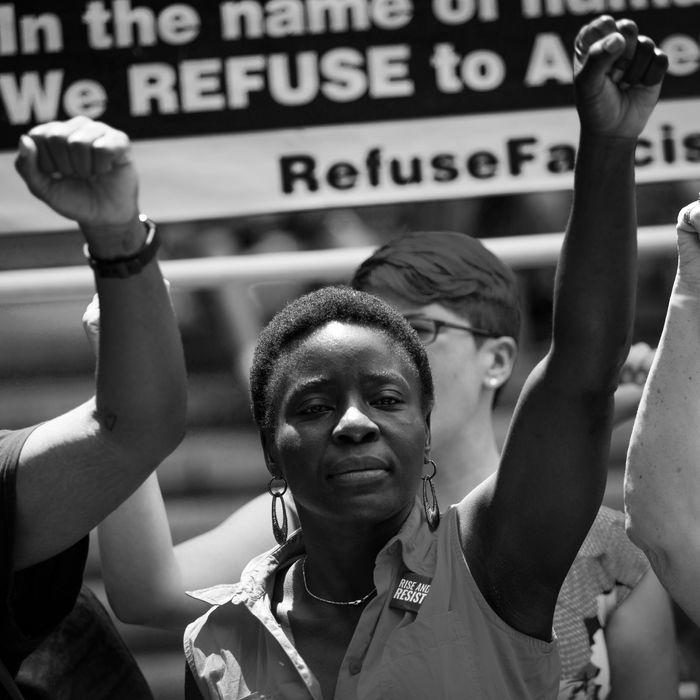 Therese Patricia Okoumou.
Photo: Kevin Hagen/Getty Images
The woman who climbed the Statue of Liberty on July 4, Therese Patricia Okoumou, continued her political activism during Sunday's protest against Brett Kavanaugh in New York City. Okoumou climbed Lady Liberty in protest of President Trump's immigration policies, and her act of protest gained her national recognition.
Dressed in her same "Be Best" dress that she wore to her trial for trespassing charges, she announced that she was protesting Kavanaugh because of her own reproductive history.
"I've had two abortions in my life and I am proud," Okoumou said, according to Yahoo News. "As a woman, it's my body and it's my choice, America."
According Okoumou, she had her first abortion while she was 18 and still living in the Democratic Republic of Congo. The second occurred after she came to the U.S. — she described the process as relatively simple.
"At the time, I didn't think it was hard. I went to one place and right away it was done. Like piece of cake, no problems," said Okoumou. "Now there are forces out there, men especially, who want to have a say in what women can and cannot do with their bodies."
Many activists worry that Brett Kavanaugh's nomination to the Supreme Court will have disastrous effects on reproductive rights in the United States. In 2017, Kavanaugh blocked an undocumented teenager from getting an abortion, and many worry that he will help the Trump administration overturn Roe v. Wade.